CLASS OF 2011 | 2019 | ISSUE 2
Class of 2011, in very sad news, Sam Silver '08 writes, "I am deeply saddened to share with you the news of Zachary Rosen's passing on May 18. Zack suffered in his last several years from schizophrenia, which ultimately took his life. He will be remembered by many as a brilliant musician (playing bass in seemingly every campus band), a powerful thinker, and a singularly generous friend. A memorial for Zack will be held on Sunday, Sept. 8 at 2:30 p.m. at Roulette, 509 Atlantic Ave, Brooklyn; members of the Wesleyan community who wish to stay informed may contact Zack's father, Bob Rosen at brosen@kqandr.com, with the subject 'Zachary Rosen Memorial.'"
Cheryl Tan, in Singapore, is acting, teaching voice, and striving to be slightly less confused about adulthood. She's procrastinating on some grant applications right now. She just finished a play called Displaced Persons' Welcome Dinner for the Singapore International Festival of the Arts. It was about humanitarian aid workers and it was a serious wringer. She's booked up for the rest of the year, which is pretty great, and has gotten into plants. She scored an Australian agent and wants to get more training, maybe in France. She had a dream about Wesleyan yesterday and it made her sad upon waking. Insta @cherylchittytan.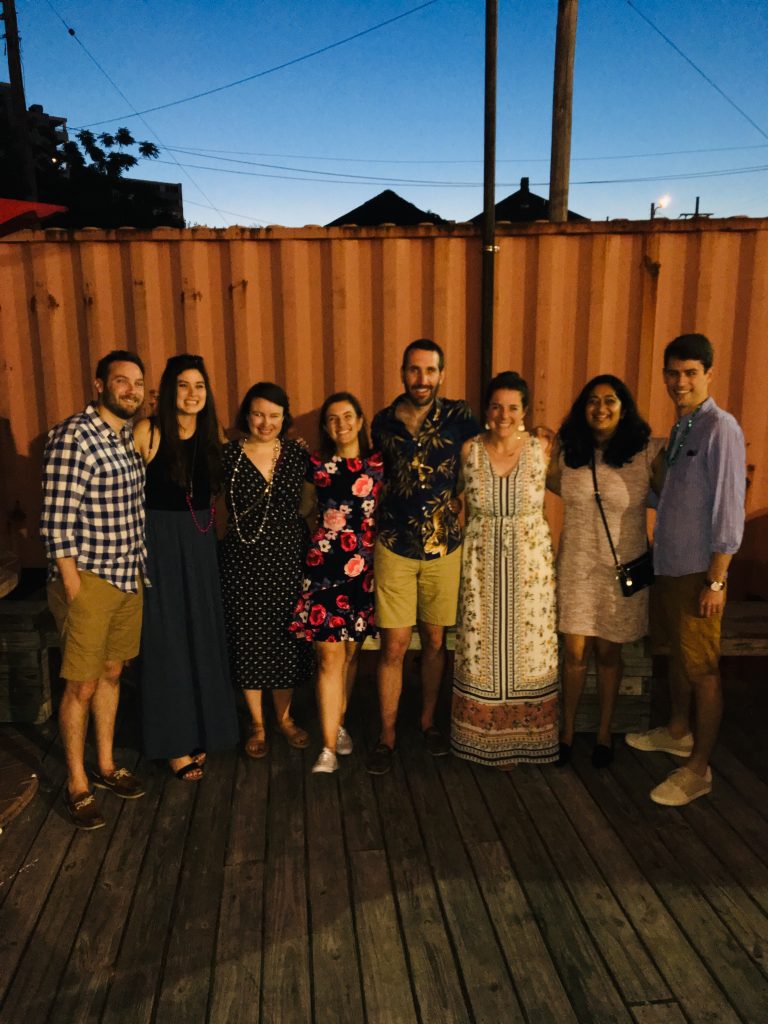 Corinne Duffy and husband Daniel Levine and Shipra Panicker, Jamie Thabault, Juliet Nebolon, and Chris Michael gathered to celebrate the wedding of Amanda Baker in New Orleans. They enjoyed a second line dance, creole barbecue, New Orleans culture, and 90-degree temperatures. They look forward to celebrating the marriage of Juliet and Chris later this summer!
Maryann Platt reports, "I got my PhD in neuroscience from Columbia in May!" Jared Gimbel writes, "I'm living in Brooklyn and presented at the Polyglot Gathering in Bratislava about the Kiribati and Niuean languages."
Congratulations to Julia Heffelfinger and Rick Maynard who are getting married next month in Rhode Island. Julia reports, "There will be a big Wes crew at our wedding!"
Matthew Narkaus writes, "James He, Tommie Lark '12, and I started a sustainable hemp clothing brand back at Wesleyan. Since graduation, we've made leaps and bounds in the hemp space and consider ourselves a frontrunner in hemp apparel today. Our vision has come to fruition in the past year with the passing of the Farm Bill, making it legal to grow hemp in all 50 states. In addition, we were able to secure a strategic investment from former NFL legend and cannabis activist Ricky Williams. Check out our website, superegoworld.com."
Last but not least, make sure to check out Wesleyan Journey (wesleyan.edu/wesleyanjourney) for a great update on Jessica Chukwu.
As always, thanks for the updates. I always enjoy hearing from everyone. Keep them coming!
Allie Southam | asoutham@wesleyan.edu