CLASS OF 2010 | 2019 | ISSUE 2
Greetings, Class of 2010! Here are a few updates from our classmates around the world:
First, tons of marriage news! Last August, Sean Foley married Liz Collins and received a master's degree from St. John's College in Annapolis.
Ben Smolen married Carolyn Cohen '12 on April 27 in a ceremony at Cielo Farms in Malibu, Calif. Siddhartha Aneja served as Ben's best man and delivered an outstanding speech. Simon Reinhardt also took part in the ceremony as an usher.
Elizabeth Larner married Bryan Leonard in a beautiful outdoor ceremony in Lancaster, S.C., on May 18. Liz's former "Haus"-mate Gwynne Hunter was a bridesmaid, and Elizabeth's brother, Aaron Larner '08, was a groomsman.
Sam Schilit '10, MA'11 graduated from Harvard Medical School with a PhD in genetics and genomics in March. Three weeks later, she married Jeremy Rosenweig and celebrated with David Baranger, Franni Paley, Emily Hoffman, Emily Sheehan, Chris Ceccolini '11, Jordan Gratch '13, Bill Kaplan '09, Annina DeLeo '09, Joshua Parks '09, Becky Eidelman '11, Todd Rosenthal, Kelsey Tyssowski '11, and Ian Coss '11.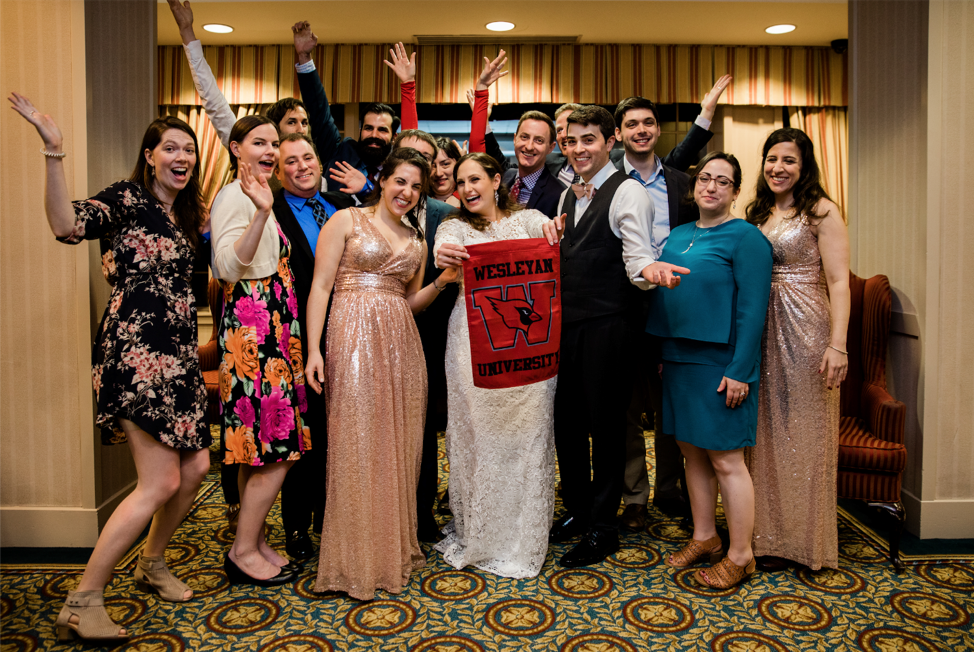 Jiun Kimm is marrying her soulmate in this summer. She met her soon-to-be husband randomly at a bar in Koreatown three years ago. Emily Johnston, Eric Daniels, and Simone Jennings will be walking down the aisle with her as part of her bridal party. Jiun started a new job as Squarespace's diversity and inclusion lead. She is working on designing and leading the company's first retreat for Employee Resource Group (ERG) Co-Chairs. She will be joined at the retreat by Squarespace colleagues Julian Applebaum '13 and Maimouna Siby '16.
Lucas Hidalgo contributes: "I moved from NYC last summer and am now living in Austin with my fiancé." Lucas is working in operations for a charter school and progressing towards a career as a school administrator.
Melina Aguilar is back in Ponce, Puerto Rico, and has founded her own social enterprise on cultural tourism named Isla Caribe. Their goal is to create jobs in the southern part of the island and expose the rich culture and history of Puerto Rico. Melina has gotten many visits from classmates, and suggests that if you want a break, visit the south of Puerto Rico.
Luke Pang reports: "Some of us in Asia are unable to attend the Wes Reunion next May so we are planning to organize a reunion in Tokyo at the end of May 2020. Any alumni who are interested in joining the fun, please contact me (lukepkf@gmail.com), Keisuke Yamashita (yamasubmarine@gmail.com), or Ginger Tangpianpant (patana.tangpianpant@gmail.com).
Eugenie Carabatsos and Nick Miller '09 welcomed future Cardinal Josephine Carabatsos Miller ('37) on March 21.
Finally, yours truly will be moving to D.C. this summer for a third tour with the Navy JAG Corps, this time in their appellate review division. Here's hoping there are still some 2010 Cardinals floating around the District. I would like to find some happy hour company.
Thank you to everyone who submitted inputs for this column (even you, Tim Archibald, though your poem did not make the cut due to some dicey copyright concerns). As always, feel free to pass along your life updates anytime to me.
David Layne | dlayne@wesleyan.edu