CLASS OF 2011 | 2018 | ISSUE 1
Hi, Class of 2011. Lots of updates to report!
Allie Diamond writes "I'm engaged and in my third year of my PhD in clinical psychology at Berkeley, studying future thinking in anxiety and depressive disorders using person-specific methodologies. And I'm loving living in the Bay Area!"
From Ilaria (Wolfe) O'Keefe: "We have three kids—6, 4, and 6 months—and I am in the middle of the first year of homeschooling with the oldest. I work as a doula and do singing projects on the side. This year will be a big one for us, as my husband finishes grad school and we figure out where to go next!"
After traveling in Greenland, Jared Gimbel presented at the 2017 Polyglot Conference in Reykjavik on using video games to learn languages. He has a YouTube channel with educational and comedic content. Kaverini: Nuuk Adventures, his first video game, is still in development, in addition to a smaller side project about Nauru.
Qianqian Lin writes, "Eli Fox-Epstein and I got married in 2016. Paul Linton officiated, and a few other Wes alumni from 2011 attended. We also closed on our first condo this past August and have been doing renovations galore! To help pay the mortgage, Robert Boutelle lives with us! In career news, I graduated from the MBA program at UCLA, where I was classmates again with Anjana Rimal."
Sally Edmonds writes, "This year was a busy one for me. I married Sam Maritim '10 and gave birth to our daughter Athena Cheboss Maritim in October. We are now living in New Haven, Conn."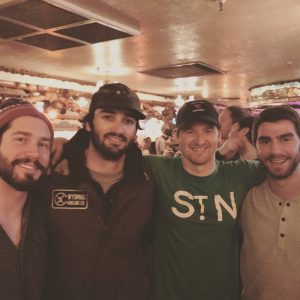 And from Todd Keats, "Adam Kaiser '13 and I played for the New York St. Nicks Hockey Club against Tom Hartnett '14 of the Jackson Hole Moose in Jackson, Wy. The St. Nick's beat the Moose 4-3 and 6-3 on Friday and Saturday, respectively, in front of sellout crowds of 1,500. Brad Improta '14 was in attendance, but was recovering from an injury. We enjoyed skiing at Jackson Hole Mountain Resort and the nightlife at the Million Dollar Cowboy Bar."
Thanks for your contributions. It's always nice to see what everyone is up to.
Allie Southam | asoutham@wesleyan.edu