CLASS OF 2010 | 2018 | ISSUE 1
Greetings, Class of 2010! I hope you enjoy the following updates from our classmates around the world:
Carla Becerra is getting married in September and moving to New Haven.
Abby Sedney is "happily living in Fraser, Colo., as a failed ski bum with my Springer Spaniel, Luna Tuna." Abby was promoted to senior rental manager at Winter Park Resort, a part of the new Alterra Mountain Company.
Eli Bronner contributes the following on Michael Gittes, "who is going to be showing at the National Portrait Gallery in London this year, as part of the Michael Jackson show, On the Wall. Eli adds, "It's a big deal to be included in the show, so it's telling of how well Michael's art career is going." He partnered with Michael on several endeavors throughout the art world and said On the Wall was especially fun.
Sandie Weisberger "just relocated (with her fiancé and dog, Boone) to Copenhagen, Denmark, to start a job working as in-house counsel at Novo Nordisk."
Jonna Humphries is now at Moog Music Inc., leading marketing for their annual music and technology festival, Moogfest. "We are behind the world's most iconic synthesizers used by artists from Stevie Wonder to Hans Zimmer to Kanye West to Suzanne Ciani to Frank Ocean." Jonna leads a dinner series called Women to Watch, sponsored by Google, that brings together women from various industries.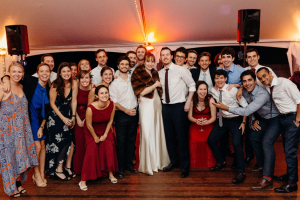 Christopher Coleman and Jessica Levin '11 were married on Oct. 14 at the Woolverton Inn in Stockton, N.J. Their wedding party included Erik Holum, Nelson Norsworthy, Diego Bleifuss Prados, Haleigh Smith '11, Lily Fesler '11, Maryann Platt '11, and Avinash Sridhar, who officiated the ceremony, along with a large contingent of Wes alumni who attended the wedding. Chris and Jess moved from LA to Chicago and are excited to start their next chapter!
Right after graduating from her master's program at the Graduate Institute of Geneva, Melina Natalie Aguilar, returned to her hometown, Ponce, Puerto Rico, to assist in post-Hurricane Maria relief efforts. She co-founded a local nonprofit called Conexion Caribe to provide relief to those devastated by the natural disaster in the southern part of Puerto Rico. Melina has founded an enterprise to develop sustainable tourism experiences and exportation of locally made products from the south of Puerto Rico called Isla Caribe. More info can be found at islacaribe.co.
Jessie Schiewe "is launching an online publication dedicated to alternative journalism this spring. Called OK Whatever (okwhatever.org), the site focuses on weird and strange news events and stories, with an insouciant, silly bent. Be it paranormal, fantastical, controversial, or just downright bizarre, OK Whatever aims to cover it. We are accepting art and writing submissions. Email jessie@okwhatever.org."
Lucas Hidalgo is engaged to Palmer Thornton and is a site coordinator of the 21st Century Community Learning Center Programs and youth advocate at the High School for Health Careers and Sciences in NYC.
Alice Maggio is back in school at Tufts University, in the Urban and Environmental Policy and Planning program. She's living in Medford, so let her know if you're in the area and you want to go contra dancing, swing dancing, or Sacred Harp singing.
Chelsea Sprayregen is the CEO and co-founder of an early stage social enterprise, Pie for Providers (formerly known as Provide). They are using technology to help child care providers build stronger businesses. She launched the company while an MBA candidate at Chicago Booth, where she just graduated.
Gavin Brennan contributes a brief reminder that "the Philadelphia Eagles are Super Bowl Champions!" Gavin may try to slide this note into each column through January 2019.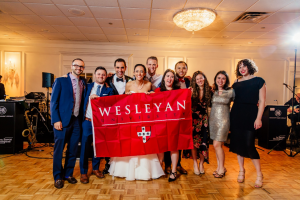 Finally, nine years after meeting on the lawn of 105 Cross, Jess Brownfeld and Eric Spierer tied the knot in November. Fellow Cardinals in attendance include Matt Nestler, Dan Bloom, Sam Decock, Hilary Burke Chan, AJ Chan '11, Elana Metsch-Ampel '12, Gianna Palmer, Cara Weinberger, and Vin Broderick '75.
That's all for this issue! As always, feel free to pass along your life updates anytime.
David Layne | dlayne@wesleyan.edu