CLASS OF 2007 | 2018 | ISSUE 1
Hello classmates! Megan (Kretz) Harrington here to give you the latest news. From career advancements to new family additions, we've been busy.
Kara Schnoes writes, "Kim Davies recently married a great guy named Jesse Blitzstein. The wedding was held in Philadelphia last September. And Julia Mergendoller had her first little one, Aviv Gilbyrd, in November."
Cortney (Tetrault) Duncan welcomed a baby boy, Blake Alexander Duncan, on Nov. 27. She is still working at the Kent School.
Kathleen Day shares news of more potential alumni. She had a daughter, Natalie, born in 2016. She is a project manager for Preservation of Affordable Housing, Inc., a nonprofit affordable housing developer based. She writes, "I am enormously fortunate that my partner takes care of our daughter full-time."
Kathleen adds, "We caught up with Janine (Criscuolo) and Ben Sax and their adorable daughter Zoë over the summer during their visit from Los Angeles. Liam McAlpine and his husband, Sam Gulino, also visited from Philadelphia."
Matthew Brownstein writes, "I live in NYC with my wife, Hillary, and my 11/2 year old son, Felix. I taught for eight years in middle and high school levels and now I am in the world of administration. I am an assistant principal at an elementary school in Queens. Yvonne Berkel '90 is a wonderful teacher at my school."
Laura Catana lives in Havana, Cuba, and is the label manager at Havana's first independent urban music label, Guampara Music. She is also opening an Afrocuban house of music and culture, a space to help connect foreign travelers with the local music and arts scene in Havana. Look out for Guampara 165, opening in summer 2018! She also works in tourism in Havana, so feel free to find her and ask for some travel help if you're planning to head to the island soon!
Matthew Gregory and wife Lena moved to Boston after living in the Bay Area. They are expecting their first child, a boy, in April.
Victoria (Santoro) Mair married William Mair on Oct. 28 in Somerville, Mass. A strong Wesleyan contingent was present for the nuptials! Additionally, Victoria was recently voted a shareholder at her law firm.
Jesse Nasta has some exciting career news to report, saying, "I completed my PhD in history at Northwestern University last summer. This year, I am a visiting assistant professor of African American Studies at Wesleyan. I would always be very happy to see any classmates who are passing through campus."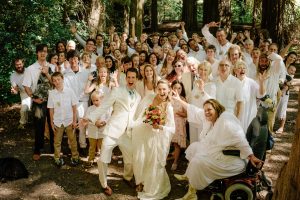 Meanwhile, Ian MacLeod organized his own mini-reunion over this summer. He reports, "I married Jennifer Brownfield on July 15 in the Humboldt Redwoods State Park in California. Tim Radcliff, Piotr Brzezinski, and Alex Early were in attendance. We all had a great time!"
And finally, Scout James reports that he will be performing in his final show at Juilliard—Waiting for Godot—before he graduates with an MFA in May.
Please keep sending your updates, career news, and life events to us.
Megan Harrington | wesleyan007@gmail.com
Victoria Belyavsky Pinsky | victoriapinsky@gmail.com