CLASS OF 1997 | 2017 | ISSUE 3
Hi, Class of 1997. Thanks for writing in to share the lovely ways you are making the world a better place through your talents, your work and your love for your families and communities.
Huge congratulations to Joshua Dubler, assistant professor of religion at the University of Rochester, who is one of 33 national recipients of a 2016 Carnegie Award for his work studying prison abolition. More details here.
Alek Friedman Lev writes, "Desperately jealous of the amazing work that my WOW-buddy Mia Lobel has done producing the fantastic Revisionist History podcast with Malcolm Gladwell, I am hosting and producing Talking Buster Keaton, a podcast about the life and work of the great filmmaker. We talk to Leonard Matlin, Teller (of Penn & Teller fame) and our very own Jeanine Basinger. Go to talkingbusterkeaton.com."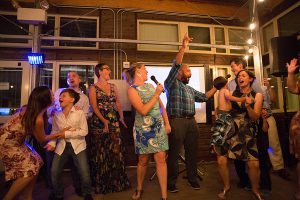 Congratulations to Trevor Griffey and Allison Perlman on their summer wedding in Seattle. They had a huge Wesleyan Greenhouse 1993-94 posse at the wedding. Courtney Cavellier, Jennifer Kelly-Dewitt and Mike Shen, Kevin Strait, Maria Magana, Ama Greenrose, Sabelo Narasimhan, Caleb Tucker-Raymond, and Caroline Cummins. Plus, Brodie Welch '98, Lauren Berliner '98, Monique Daviau (Smith '98, attended Wesleyan for a year), Sarah Wilkes '00, Chris Wade '00, Katrin Wilde '92, and Abby Bass '98 were in attendance.
Andrew Frishman and Leigh Needleman '96 continue to love living just outside Central Square in Cambridge, Mass. Their two kids attend a Spanish/English bilingual immersion school, together with other Wes kiddos, including Laura Warren '98's. Andrew is the co-executive director of Big Picture Learning (bigpicture.org). They are doing amazing work to improve the education system in many places across the U.S. and internationally. Leigh started a new position last year as a liaison between architects and scientists assisting with the coordination of the design and construction of a very large new Harvard School for Engineering and Applied Sciences building just across the Charles River in Allston, Boston. And in their spare free time, they hang out with Jesse '06 and Annie Leavitt '06, and Christian Housh, and a number of other Wes folks.
Monica White is in England, teaching medieval Russian studies at the University of Nottingham. She recently visited Kazan and Vladimir with some of her students (Monica, please send us pictures —sounds amazing). In August, she was "delighted to get a visit" from Professor Emeritus Duffy White '62 and his wife Izzy, who came to the University of Nottingham campus for lunch. "We enjoyed catching up about travels to Russia, our students, and research."
Kevin O'Leary cannot believe it's been 20 years since we've graduated. Neither can we, Kevin, neither can we. He's living in Park Slope, Brooklyn, with husband Brian Esser and their sons Keith, 6, and Jason, 3. Kevin is a book collaborator/guide on numerous projects, including Gabrielle Union's We're Going to Need More Wine and Bob Roth's Transcendental Meditation, Strength in Stillness. Kevin's husband is a family law attorney and advocate for same-sex families, and "he is the bee's knees."
We look forward to hearing from you via e-mail. Your class co-secretaries,
Jessica Shea Lehmann | jessica.lehmann@gmail.com
Sasha Lewis Reisen | alewisreisen@gmail.com