CLASS OF 1999 | 2018 | ISSUE 1
Jeff Blumenthal is modeling the spatial distribution of oyster drill snails (urosalpinx cinerea) across various environmental conditions in Richardson Bay, Calif. If he does a good job, SFSU will give him a master's degree. He rents a house in Albany, Calif., with a girlfriend, two dogs, two roommates, some bicycles, and an old car with a lot of Richardson Bay mud on it.
Last spring, Aimee Dawson was in New York for a course in narrative medicine and stayed with Bessie Wilkerson, woke up to a view of the sunrise over the water in Hastings-on-Hudson, and met her two sweet children. On the same trip, she accidentally walked by Trump Tower with Aaron Yowell, but scampered safely home across the border to Quebec where they are well.
Greg Brodsky and his wife, Heather, were married in late 2016, moved from Somerville to Jamaica Plain, Mass., and welcomed baby boy Oscar on Dec. 4.
Eli Beckerman is happy to announce the birth of his first child, Maya Beckerman-Greenberg, on Jan. 26. He's psyched to be a new old dad.
Tara Cohen and her partner, Jess, welcomed their second child into the world, Sage Humphrey Cohen-Flintoft. Sage brings lots of joy to his parents and big brother Oscar (the dog and cats aren't so sure.) Tara grows more and more accustomed to the four-season lifestyle of Ann Arbor, Mich., but still experiences occasional pangs of homesickness for the Bay Area. Last November marked one year at her new job managing the Community Development Block Grant Program.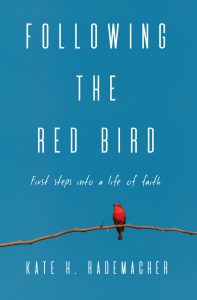 Kate Holbein Rademacher lives in Chapel Hill, N.C., with her husband, David, stepson Soren, and daughter Lila. She works in international public health with a focus on increasing access to birth control in developing countries. She got a fun surprise on her 40th birthday from Elsie Kagan, who showed up at her door unannounced. In addition to visits with Elsie and Carl Robichaud, Kate enjoys hanging out with Brook Wilensky-Lanford (who also lives in Chapel Hill), Erica Carpenter Witsell '97, who lives in Asheville, N.C., and Shanna Handel (who also has a daughter named Lyla). Kate visited Mia Lipman Irwin and her husband in Seattle. Kate had her debut memoir published, Following the Red Bird. Kate is in regular touch with Gary Comstock, retired sociology professor and chaplain at Wesleyan, and she's grateful for his support as she was writing and publishing the book.
Celina Su's first book of poetry, Landia, came out last spring. After focusing on poetry at Wesleyan, she spent her time since then on social science research. These poems draw upon more than a decade of fieldwork, collaborative projects, and long-term relationships with specific immigrant communities and social justice organizations in Southeast Asia, Latin America, and throughout the U.S.
Leila Buck's American Dreams & Arabian Nights was performed Dec. 7-8 at BRIC House Artist Studio in Brooklyn. Weaving storytelling, dreams, music, and more, this playful work-in-progress invites audiences into an interactive exploration of who we let into our hearts, families, and nations—and how those choices shape who we are.
Marianna Ellenberg's new play, Pawel & Ebola, was performed at The Kitchen in NYC in February.
After 14 years in TV news, Aaron Weiss jumped into environmental advocacy a couple of years ago. He's at the Center for Western Priorities, defending America's public lands and holding Interior Secretary Ryan Zinke's feet to the fire. He also hosts CWP's Go West, Young Podcast, which has been a blast. It's been great meeting all the Wes alumni in the conservation community. He and his wife, Lauren, live in the mountains outside of Denver with two kids, two dogs, two cats, a handful of chickens, and however many elk happen to be wandering through the front yard.
Last year, Danielle Lazier moved her real estate business to Compass. She works hard and still has fun selling San Francisco real estate. Her twins, Phoenix and Ari, are nearly 2 now, and they moved into a new home in Noe Valley.
Zack Becker's wife, Amy Martin, is running for judge in one of the criminal district courts in Harris County, Texas (facebook.com/amyforjudge).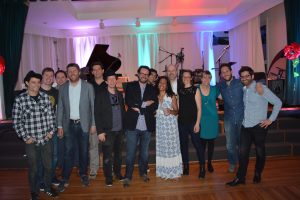 In 2017, Dan Koulomzin and Divya Kumar celebrated turning 40 and being together for 20 years, and they had the good fortune of celebrating with many Wes alumni and a fantastic Wes band!
In February, Kevin went to the Stone & Rail, a great new restaurant that just opened in Glen Rock, N.J. He spotted one of the owners working to make sure they were off to a great start, and it was none other than classmate Dave Feit! Food was fantastic, and the crowd was a testament to great planning by Dave and team."
Speaking of 20 years, next May will be our 20th Reunion! Email Jennifer Opalacz at jopalacz@wesleyan.edu if you're interested in becoming a member of the planning committee. Hope to see you back on campus.
C. Darryl Uy | darryl.uy@gmail.com
Kevin Kumler | kevinkumler@gmail.com