CLASS OF 2009 | 2017 | ISSUE 3
Hi, 2009'ers! Below are some updates on our class:
Oriana Korol is attending graduate school at Portland State University's social work program after two years working as a wilderness therapy field guide in the desert east of Bend, Ore. She attended Maggie Starr's beautiful wedding in Hood River and ran into Noa Wotton '10 at tracker school in Portland.
Reps for Dara Jaffe and Carl Maloni confirm that the two have decided to consciously un-roommate after four years and two apartments together in Los Angeles. The split was amicable and the pair will remain friends, as well as committed parents to their shared art collection and refrigerator. They ask for their privacy to be respected at this sad time.
Claire Kaplan is finishing her MPA degree with an internship at Public Citizen in D.C.
After graduating with an MBA from the Haas School of Business at University of California, Berkeley in May, Claire Levy moved to San Francisco, where she works in product marketing at Adobe.
Chloe Wardropper completed her PhD in environmental studies from the University of Wisconsin-Madison, worked as a postdoctoral fellow at Purdue University, and started as an assistant professor in the Department of Natural Resources and Society at the University of Idaho. She also got married!
Brittany Delany writes, "Expanding my connections in the Coachella Valley and Southern California desert region, life is weaving well. I co-developed a monthly movement peer practice with Sue Roginski '87 and served as founding member of feminist creative women's collective Wyld Womxn. Work at La Quinta Arts Foundation and California Desert Arts Council keeps me on my toes for growing opportunities to help make a meaningful impact in supporting the cultural landscape. Extending a true welcome to any Wes alums looking for a special desert retreat to make, build, share, and create."
Bryan Wieland married Nicole Petitti on September 3 in Cape Cod at Wychmere Beach Club. He had many fellow Cardinals in attendance. And Russell Follansbee married Emma Nitzberg '12 on September 3.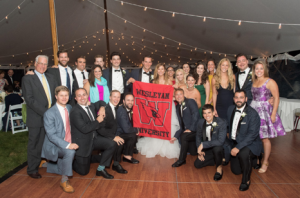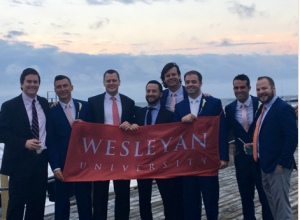 Thanks for sharing notes and please keep them coming!
Alejandro Alvarado | ale.alvarado12@gmail.com