CLASS OF 2010 | 2017 | ISSUE 3
Greetings, Class of 2010. See below for the most recent updates from our class:
Elle Celeste continues to do big things as she moves on from the White House: "On June 30 I departed the White House after two years of service to the American people and two presidents. I had the privilege to walk into work alongside some of the most creative and committed public servants I have ever met and saw firsthand how science, technology, and government can come together to propel us forward and improve the world for all people. I know that the world is safer, more accepting, more prosperous, and fairer because of the work we did together. I am now serving as a senior advisor at the National Institute of Standards and Technology while I decide what's next."
Eugenie Carabatsos and Nick Miller '09 got married in Middletown at the end of September. There were plenty of Wes alumni in attendance, including the officiant, Molly Nelson, groomsman, Andrew Bean '09, and guests Gabrielle Jehle '11, Margaret Aldredge-Diamond '11, Sam Friedman, Rebecca Friedman '11, Paul McClelland '09, Daniel Tessler '09, Sherry Cho, Eve Mayberger, Nina Wasserman, Eve Ayeroff, Sabina Friedman-Seitz '11, and Eleni Healey '11. Congratulations Eugenie and Nick!
Jesse Bordwin defended his PhD in English literature at the University of Virginia last summer.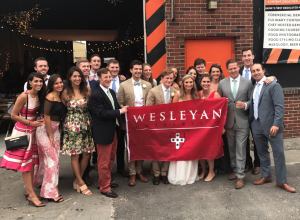 Evan Perkoski has returned to Connecticut after several years away and says, "After finishing a PhD at Penn and then a fellowship at Harvard, I moved to the University of Denver to spend a year as a postdoctoral researcher in the Josef Korbel School of International Studies. Funny enough, I ended up joining the same department where Diego Bleifuss Prados is studying for an MA, and where Erica Chenoweth, former government professor, is now teaching. Now, after a nearly seven-year hiatus, I've moved back to Connecticut as an assistant professor of political science at UConn."
Finally, Eliza Newman married Woody Redpath in a gorgeous and energetic ceremony in Portland, Maine, surrounded by plenty of fellow Cardinals. The group managed a nice picture before the party got too wild!
Thanks to everyone who submitted a note, and as always, feel free to pass along your updates anytime.
David Layne | dlayne@wesleyan.edu