CLASS OF 1992 | 2020 | ISSUE 1
Paul writes for this issue. Greetings and salutations from Washington, D.C., and happy 50th birthday to many of you who have recently celebrated, or are looking forward to a fun party, and/or fear that big number looming around the corner. I did it last year and survived. It was great to hear from so many people including some first-timers. So, without further ado . . .
Richard Dietrich co-edited In Pursuit of History: A Lifetime Collecting Colonial American Art and Artifacts. This book showcases highlights from the Dietrich American Foundation and tells the story of the collector and the foundation. The foundation was established in 1963 by H. Richard Dietrich Jr. with a focus on 18th-century American fine and decorative arts. The book was published in association with the Philadelphia Museum of Art.
Abby Saguy published her third book Come Out, Come Out, Whoever You Are. Through scores of interviews with LGBTQ+ people, undocumented immigrant youth, fat-acceptance activists, Mormon fundamentalist polygamists, and sexual harassment lawyers, the book shows how coming out has moved beyond gay and lesbian rights groups and how different groups wrestle with the politics of coming out in their efforts to resist stigma and enact social change.
Noele Nelson enjoys living in Atlanta with her spouse and working at the CDC. She's now a branch chief in the Division of Viral Hepatitis, overseeing all of the prevention activities, including vaccine research and policy. Noele had a great time visiting Martin Reames '94 and his family in Guadalajara, Mexico, where they were living for a year.
Jonathan Liebson enjoys seeing Benno Schmidt '93 in Brooklyn Heights, along with his adorable son, Charlie. Jonathan's most recent writing can be found online at The Atlantic and Tablet.
Natacha Vacroux and her philosophy professor husband, Chris Meyers, quit their jobs in Washington, D.C., last year to move to Hawaii. Natacha loves being the FEMA lead co-located in state's emergency management agency during the day, and editing Chris's third book, The Straight Dope on Drugs: A Philosophical Examination of Drugs and Drug Policy, at night. They have a killer Mai Tai recipe and look forward to hosting old college friends.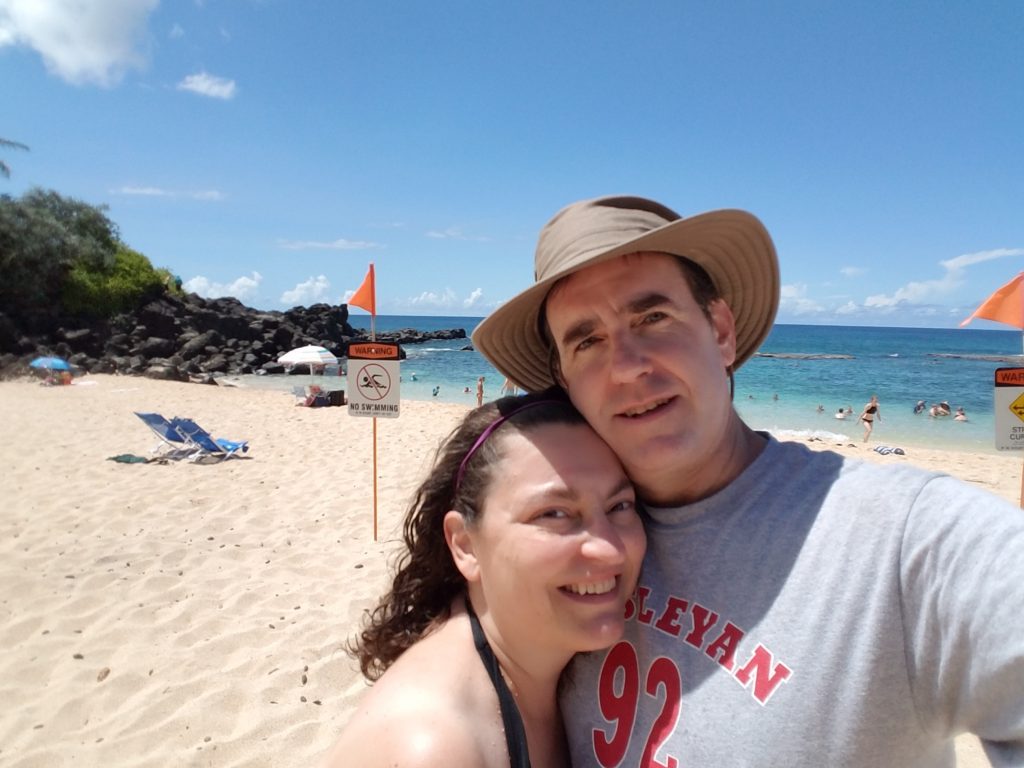 Mary Newton Lima is living in Cape Cod and commuting daily to Cambridge, Mass., where she works as the research program coordinator of the MIT Sea Grant Program, which is part of the National Sea Grant program, the research arm of NOAA. Her role is a jack-of-all-trades, primarily focusing on coordinating proposals, fellowships, and staff scientists. Her husband works with the Ocean Twilight Zone project at Woods Hole Oceanographic Institution. Their eldest daughter, Julia, is a freshman at Union College, and their youngest, Cecilia, is a sophomore in high school.
Speaking of new jobs, Chris Chesak started a new job as executive director of the 92-year-old Outdoor Writers Association of America.
After 16 years as a communication and video production professor at Franklin Pierce University, Heather Weibel Tullio decided to go back to high school. She is loving her new job as a college counselor at St. Bernard's High School in Fitchburg, Mass., where she graduated from. Her son Oliver just applied to colleges so she, along with husband Tom Tullio '90, is planning a trip to visit Carleton College in early February. They are looking forward to staying with Martin Reames '94 and his family.
Darcy Dennett is working on a new, original Netflix series called Well that premieres in the spring. She writes, "I hope those who are inspired check it out. It's been quite a journey."
Amy Smith parted ways with Headlong, the nonprofit she co-founded with Andrew Simonet and David Brick '91, and is doing freelance work as a dance and theater artist, educator, and co-facilitator of anti-racism and anti-oppression trainings. She's also teaching financial well-being to artists and giving financial management advice to organizations and individuals. Visit amyelainesmith.com if you want to be in touch.
Johanna Stoberock's novel, Pigs, was published in October. She has been traveling a lot to promote the book where she reports seeing Wesleyan friends at readings around the country. Johanna was selected as the 2019 Artist Trust/Gar LaSalle Storyteller award recipient, which recognizes "an outstanding literary artist working in fiction."
Michelle Specht, a surgeon at MGH practicing breast surgical oncology, reports that her daughter, Emma '23, is now at Wesleyan and is loving it! She is happy to report sightings of Susan Stevens and Denise Casper '90 at Soul Cycle at 5:30 a.m.
Kenko Sone, who was a Japanese government foreign service trainee at Wesleyan, is now a senior official and ambassador in charge of economic diplomacy in the Economic Affairs Bureau at the Asia-Pacific Economic Cooperation (APEC).
Finally, Amy Andrews Alznauer hits the book trifecta in 2020. Candlewick Press will be publishing The Boy Who Dreamed of Infinity, a picture book biography of the Indian mathematician Ramanujanm and Flying Paintings: The Zhou Brothers, A Story of Revolution and Art, a collaboration with the world-renowned artists about their early years. Also, Enchanted Lion Books is publishing The Strange Birds of Flannery O'Conner.
Adam Berinsky | berinsky@mit.edu 
Paul Coviello | coviellop01@alum.darden.edu