CLASS OF 1957 | 2019 | ISSUE 3
Welcome to the latest of a range of events and recollections. Janice and Ken Travis celebrated their 60th anniversary earlier in 2019. And shortly after, their grandson's wedding. Ken adds that the mother of the groom, daughter Leslie '85, was beaming throughout. The "something old" on the wedding cake was a cutter from the Travis wedding reception of 1959. Ken says that he and Janice had it washed.
Not to sound competitive—Jack Goodhue reports that he and Jane are in year 63 of their marriage. They are living the good life in Wilmington, N.C., and have since Jack's retirement at age 58 as president of an oil company in 1993. Recent trips overseas include one to Budapest and another to Southern France. They also drive cross-country once annually to California to visit their son and teenage granddaughter. Jack writes a monthly magazine column, "Your Business." He's done 307 of such since 1993 (but who's counting). At the time I am writing this, Jack says the Goodhues survived fierce storm Dorian (the 16th one they've experienced with no significant damage).
How would you like an inflation rate of 55%? That is what Naren Bali tells us is the state of the economy in Argentina. And some around here are not pleased with the Fed. Naren and spouse Margarita get by on savings and a bit of work alongside of that. He has been retired 12 years, but hires out as an IT consultant. Their daughter, born in Seattle when Naren was teaching at the University of Washington, is a professor of poli-sci at Michigan State. She has two children, ages 13 and 10. The Balis' son is also a professor (math), as is his wife, and they had their first child, a girl, earlier in 2019. Naren terms her "our new weakness." Their Buenos Aires neighborhood is pleasant and is 15 minutes from downtown by train, and they spend most of the summers at their beach house in Uruguay.
The Gordy Wilmots also celebrate an anniversary—the 30th. He and Marilyn embarked on a river cruise on the Mississippi—a steamboat from Chattanooga to New Orleans. I hope Gordy knew when to hold 'em and when to fold 'em. The Wilmots enjoy excellent health, have even joined a bowling league. They go down to Palmetto, Fla., annually, from late in the year until May. Can be reached at 941/981-9888 and would welcome classmates who may be visiting in the Tampa-Sarasota area.
Dick Cassie retired from Rutgers Dental School in March. Having been a widower for some 10 years, he has been seeing a lovely widow, Suzy Maguire, in recent years, and has moved from the Jersey shore to Newtown, Pa., to be closer to her. Recently they traveled to California to see Suzy's grandchildren and where he connected with Bill LeSuer in San Francisco. Dick's new address in Newtown is 124 Willow Drive 18940.
Catching up with Ed Parmee, writing that he had taught anthropology and community development at the University of Arizona at Tucson for 36 years. Two marriages, each for 23 years, and a daughter and two stepdaughters. There are eight grandchildren to keep Ed busy. Also keeping him well occupied is a family history project that will weigh in over 500 pages and cover several hundred years. A wide group of nations comprise the story—they range from France and Germany to South Africa and Australia. He hopes to go to publication in 2020.
Bob Gorin reports that his grandson, David Gottlieb '22, completed a successful freshman year ("Did better than I did," Bob adds). David is an Argus sportswriter. He included a photo of David in his sophomore dorm room and said, "The large banner on the wall is the 1987 Little Three hockey championship banner. David's late dad, Brian '88, was the goalie on that championship team. Shortly after Brian passed away the coach presented the banner to my daughter, Bethel '90. It had been signed by all team members. It is so appropriate that it is now back at Wesleyan."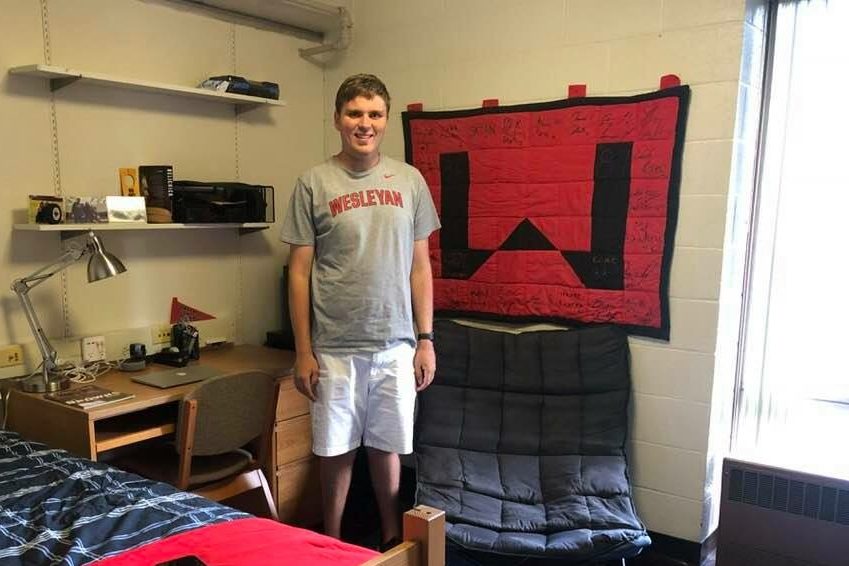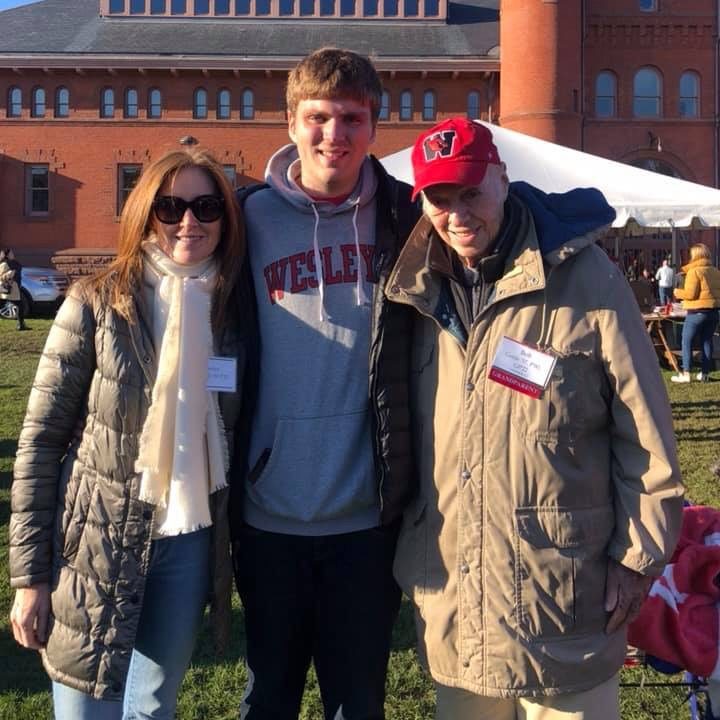 Bob Anderson has traveled to prehistoric Mexico, with Oaxaca on the Yucatan being a favorite spot. He would welcome like-interested companions who might be at least modestly conversant in Spanish. He continues with his sculpture and drawing projects.
Mike Stein died in September. An eloquent note from his son, Peter Stein '84, paid tribute to his father's 50-year U.S. government career, three years as a Marine officer, and 47 years working for the CIA. Peter made particular reference to Mike's communications skills and commented on the capital cities around the globe that duty took them to. Mike was Wes-loyal throughout. '57 has lost a great friend.
Art Typermass | joanarth64@gmail.com
144 East Ave., #302B, Norwalk, CT 06851 | 203/504-8942