CLASS OF 2008 | 2018 | ISSUE 3
Summer was full of weddings and babies for '08!
Fourteen years after meeting as freshman at Wesleyan, Constance Smith and Alexander Rosen were married in the Anderson Valley region of Mendocino County, Calif. The ceremony was officiated by Matthew Ball. Daniel Meyer, Ilona Kramer, Eric Lach, Halley Chambers, Rachel Finkelstein, Hans Hsu, Rumman Hossain, James Rosenthal, Jake Levine, Rebecca Rabison, Stephanie O'Brien, Micki Baron, Jamie Hiteshew, Kate Zyskowski, Adam Gomolin '06, Susannah Ragab '06, Kyle Gardner '06, Cara Bayles '07, AJ Chan '11, Hilary Burke '10, and Constance's sister Clare Smith '10 were in attendance. Highlights of the evening included singing the Wesleyan fight song and dancing to Mgmt's "Kids."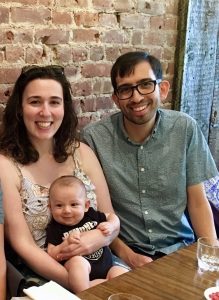 Emily Einhorn and Jeff Wong had a baby this summer, Justin Edward Einhorn-Wong, born on June 11.
Silverio J. Vasquez and Jennifer Veloz '10 got married this summer as well. Silverio writes, "If not for Wes, we would've never met!"
Rachel Bedick wasn't able to make it to the Rreunion "because I gave birth to my son Tobias on May 6. In addition to being a mom, I started a new job as a clinical social worker embedded in a pediatrician's office in Beverly, Mass., where I provide therapy to young people."
Nathan Strand and his wife relocated to Colombia, where he will be working at the U.S. Agency for International Development Mission in Bogota for the next two years. They are already enjoying the great food, mild climate, warm local culture, and abundant adventures that Colombia has to offer.
Liat Olenick canvassed so hard to elect progressive candidates who are also decent human beings.
Lynn Favin has had an incredibly busy year in Los Angeles. She signed with William Morris Endeavors for voice acting and recorded another set of characters for the Emmy award-winning animated show Robot Chicken. After performing with the Shakespeare Center of Los Angeles in Macbeth, she joined the Actor's Equity Association and was invited to be the inaugural equity guest artist for LMU's new outdoor company Shakespeare on the Bluff, starring as Desdemona in Othello and Titania in A Midsummer Night's Dream. She will be performing with them in Pericles next summer.
Alicia Collen Zeidan | acollen@wesleyan.edu