Mitch Briskin (1959-2018)
Mitch Briskin, my husband of three decades, and father to Sarah, Elizabeth and Will, died early Sunday morning, May 27, 2018, at our beloved Grand View Farm in Vermont. He died the way he lived, surrounded by his family and close friends, all of whom recounted stories of his adventures, accomplishments and generous, loving spirit.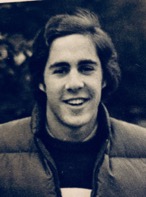 Mitch was born in Manhasset, New York, January 15, 1959. He was the first born, so his doting grandfather drove straight from work once a week to stare at the fat little boy in the crib, not even picking him up. Mitch was followed three years later by a brother, Randy, who, as the years went on, suffered the slings and arrows (literally) of sibling rivalry, culminating with the moment that Mitch aimed his BB gun directly at Randy, narrowly missing his little brother. Family gun rights were dealt a fatal blow right then and there when Mitch's mother smashed the weapon to smithereens over her knee.
Eventually, private boarding school seemed like a good solution. Mitch won a scholarship to Exeter in 10th grade. Initially, he wanted to turn down the offer because of the school's dress code, which required neckties. Mitch's clip-on was snapped off on Day 1. As student council co-president his senior year in 1977, his platform consisted of 1) eliminating said tie requirement 2) cancelling Saturday classes, and, most importantly, loosening the gender-separating parietals. He failed, of course.
At Wesleyan University, Mitch majored in history, graduating in 1981 magna cum laude and Phi Beta Kappa, among other honors. His honors thesis formed a psychological profile of Leon Trotsky, and his adviser pronounced it the most insightful undergraduate thesis he had ever read. (Which may say more about the prof's knowledge of Trotsky than anything else!)
Wesleyan was followed by a decade in Manhattan, including at New York University Law School, where Mitch was a Law Review editor and received the Order of the Coif. In those days, top law students were courted by the elite law firms with fancy summer associate positions, lubricated by lots of alcohol, shrimp and oysters. Offers flowed in. A few students, like Mitch, were also offered prestigious federal clerkships. Mitch accepted a position clerking for Judge Charles Sifton (a Carter appointee) in the Eastern District of New York.
It was a fascinating, challenging year for Mitch, who spent many nights on the couch in the judge's chambers snatching a couple of hours of sleep before returning to work, sans a shave or a toothbrush. In the late '80s, some of the cases focused on prosecuting the Bonanno crime family. Mitch would often pass one of the crime bosses in the hall on his way to the courtroom with a "dirty water dog" for the judge's lunch. Inevitably, Mitch would have to follow up that with two Rolaids for the judge in the courtroom, all while prosecutors took down racketeers and murderers. One defendant was known to call out to Mitch as he rushed to get the judge his antacids: "I'm ready for Freddy!" (the federal penitentiary).
After the clerkship, Mitch took a job at Patterson Belknap, a medium-sized firm in Rockefeller Center. He stayed about two years, and we lived on the Upper West Side, where Sarah was born in early 1990. Being a "slave of New York," as an elderly socialist neighbor in our rent- controlled building affectionately called Mitch, began to carry the ring of truth. It was time to change things up.
With baby Sarah in tow, we moved from New York to the Boston area, where my family lived. Mitch took a job at my family's chemical/oil heating business with the goal of running the business. His assignment the first day on the job was to ride a route with a truck driver, who told Mitch, "Let's just say you're O'Sullivan today."
Six years later, as general manager of the company, Mitch had outgrown the job and was restless. Thirsty to develop new skills, Mitch applied to Harvard Business School. The application (at least 20 years ago) required something like eight essays. To the question "What is your proudest accomplishment?" Mitch answered by embedding a digital photo (a brand- new technology then) of his two children, Sarah and Lizzy.
Mitch made great friends (and encountered a multitude of chiseled jaws) in the Class of 1997 at HBS. Graduating at age 37, he was one of the oldest in the class, and possibly the only one with two kids. A series of opportunities followed, mostly in private equity and investment banking, including 11 years at Stonebridge Technologies, mostly as a managing director.
Family was always Mitch's first priority, yet he worked incredibly hard and made major contributions. He was usually home for family dinners and lots of animated discussions about politics, history and books, not to mention the occasional shouting match or abrupt departure from the table, dinner half-eaten.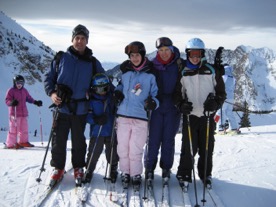 When Will was born in 1999, he quickly became known as "mini- Mitch" because of his striking likeness to his dad. Three kids, with a 10-year spread between oldest and youngest, created particular parenting challenges. How do you keep the baby happy when the oldest is 10?
Family bike rides required baby seats and eventually tandems; skiing meant backbreaking (for Mitch) harnesses for Will while the girls shooshed into the distance. He read all the Harry Potter books multiple times. He spent weekends almost invariably with the kids. We launched homemade rockets, gazed at shooting stars in August, baked bread, entered triathlons and stacked wood.
When it came to academics and critical thinking, Mitch was tough. He had high expectations but always showed unvarnished love and faith that our kids would develop their own paths and interests. (Which, in my completely impartial opinion, they've done with enthusiasm and verve, and more success than failure.)
A diagnosis of MSA five years ago changed almost everything. Within a year, Mitch was compelled to retire from his position as business development executive for a startup developing a new diabetes therapy. Over the ensuing several years he lost his ability to walk, to converse in his usual incisive, witty style, to use his fine motor skills. The list of losses is too numerous to recount here.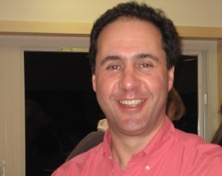 What he never lost were the qualities that made Mitch, Mitch: his bottomless wit; his endless curiosity about history, literature, the world; his generosity toward others; his love for family and friends; his innate fix-it know- how (plumbing, electricity, machines, chainsaws, pumps, etc.), though he never was able to explain to me how he did any of it.
When Mitch died early Sunday morning, I lost the love of my life, the sharpest man I've ever known, the best companion ever. Our children lost a thoroughly devoted, fun-loving father, a constant in their lives (and occasional
nudge). Friends lost one of the funniest and most dynamic intellectual sparring partners they've ever known.
Yet we also gained insight into true courage and grace; how love eases even the worst suffering; how being present is all that is needed.
Mitch will always live in our hearts and minds.