Susan Dale Eastman Allison '85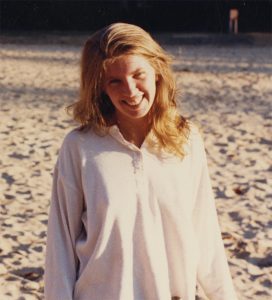 Susan Dale Eastman Allison, the first Poet Laureate of Middletown, Conn., died May 15, 2018. She was 56. An African Studies major at Wesleyan, she had spent a year of climbing and traveling in East Africa. After graduation she opened Ibis Books & Gallery in Middletown's North End. A community visionary, Susan oversaw the transformation of her bookstore in 1991 into NEAR (North End Arts Rising), Inc. The Buttonwood tree, which became an arts hub and performance space, still thriving today and providing an important gathering place in this economically-depressed part of town.
Also a gardener and a poet, Susan could often be found nurturing flowers and all sorts of plants—and writing. She held "office hours" in a local coffee shop in the last year and, as Middletown's Poet Laureate, declared by Mayor Dan Drew, wrote to celebrate the city that was her home and the people who were her community. Annie Dillard calls her second book of poetry, Down by the Riverside Ways, "…the work of a talented poet." Rennie McQuilken, Connecticut's Poet Laureate and publisher, says, "Susan Allison has done for Middletown, Conn., what Williams did for Paterson, N.J.: she has seen past its pedestrian surface to its mythical underpinnings. She has written a book whose passion, honesty, and visceral style make it an important contribution to the world of poetry." Susan has two poetry books soon to be published by Ibis Books: Poet Laureate of Middletown Proclaimed and Provoked and Be Full.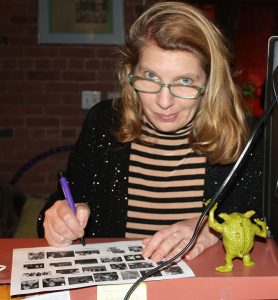 Susan is survived by her husband of 30 years, Stephan, and son, John; father Warren Eastman; sister Cynthia Eastman, her husband Angelo Farenga and their children Christopher Willis, Annie Musso, and husband Anthony and son Luca; Justine Pilar and husband Adam and children Madeline and Aiden; and brother Richard Eastman; her brother-in-law Fredrick Allison, sisters-in-law Gretchen Shannon and husband Terrence and children Sarah, and Jesse and his wife Kara; and Anne Brown and husband Steuart and daughter Allie and husband Joshua. Susan was predeceased by her mother Patricia Russell Eastman. A public celebration of Susan's life took place on June 16 at the Community Health Center in Middletown. In lieu of flowers, donations can be made to the Susan D. E. Allison Fund, Community Foundation of Middlesex County, 49 Main St., Middletown, CT 06457.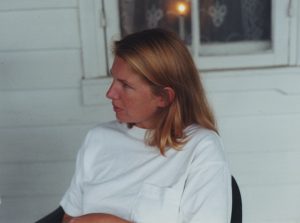 Please send remembrances to Wesleyan magazine editor Cynthia Rockwell at crockwell@wesleyan.edu to be shared with Stephan Allison, sent to class secretaries, and added here. Cynthia adds: "Susan was always a fierce advocate for all people in the community and a gentle soul. Middletown is much strengthened for having been the focus of Susan's tender mercies."
The Scott Whipple, of the Middletown Press, wrote about her passing: Middletown's first poet laureate Susan Allison, a 'visionary,' dies at 56.  
The Middletown arts community lost a woman this week many consider a visionary poetess who was also loved by all who knew her.

The city's first poet laureate, Susan Eastman Allison, died at 56 after a battle with cancer, according to her husband, Middletown's retiring Arts & Culture office coordinator Stephan Allison.

Her longtime friend Marcella Trowbridge, artistic director of Artfarm, a nonprofit, professional theater organization based in Middletown, said Susan Allison "carved out a nook and a haven in the North End for all kinds of folks."