CLASS OF 1953 | 2016 | ISSUE 2
Hal Buckingham writes: This has been a banner time for your co-scribes! We've heard from several classmates who have been silent for much too long.
First, there is Bill Evans. Bill, who left Wesleyan after our junior year to attend Hahnemann (now Drexel) Medical School and to pursue a career in medicine, elected to retire in 2010 from the Mayo Clinic in Rochester, Minn., due to macular degeneration that has left him legally blind. He was a general internist in the division of internal medicine at various Mayo locations, including Rochester and Scottsdale, Ariz. His primary interests were in the divisions of emergency medicine and international medicine at the Rochester campus. Bill lives with his wife, Susan, in Zumbrota, outside Rochester.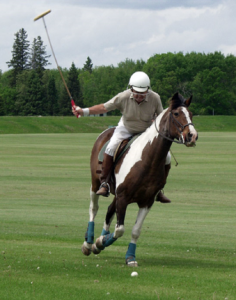 Next, how long has it been since any of us have seen or heard from Frank LaBella? Probably 64 years or even longer, as Frank explains he was a "townie" and, being a bio-chem major, maintained a high profile in the labs, but low profile elsewhere on campus. After getting a BA and MA at Wesleyan, Frank got a PhD at Emory and, since 1958, has been professor (now emeritus) in the Department of Pharmacology and Therapeutics at the University of Manitoba in Winnipeg, Manitoba, Canada. He continues his research in pharmacology and related areas this scribe considers extremely significant, but far over his head. Frank's site is well worth reading. But here's another amazing thing about Frank. He has been a polo player! Raised in Middletown and a Wesleyan grad playing polo? Frank wrote, "Although my polo playing days are over, I can still mount a horse and strike the little white ball." Compare this with the image of another hugely successful bio-chem academic classmate, Russ Doolittle, who as a freshman rode an old plow horse across the Boston Common shouting, "The British are coming." (See 1952 in Wesleyan, 2015, issue 2.) Frank married Arlyne McDowell, also of Middletown, in 1952. They have two daughters and a son and live in Winnipeg.
Then, the following arrived from Dwight Herrmann: "Sorry I have been such a poor communicator over the years, but please know I am still alive and kicking, although not as vigorously as in '52. I did play two sets of tennis this morning, and as long as my opponents hit the ball pretty close to me (very close), I play a passable game." After Wesleyan, Dwight obtained a degree from RPI in 1960 and later became a licensed professional engineer. He worked as a PE for 23 years for the Commonwealth of Pennsylvania, Public Works, representing the state with design professionals contracted for all kinds of projects, but mostly buildings. He retired in 2014. Dwight and Leslye have been married for 54 years, have four daughters (two are Wesleyan grads: "Little" Leslye Herrmann '85 and Jane Herrmann '90) and seven grandchildren. Dwight and Leslye remain in their longtime home in Lemoyne, a suburb of Harrisburg.
Another classmate who sired Wesleyan alumni is Dick Barth, Esq. And he did it in spades! Here is the list: Leanore '84; Alex '97, Esq. (who married Sarah Brodsky '97, Wesleyan's Scholar-Athlete of her class); and Michele '91 (who married Charles Still '90, Esq.). Among these, there are now 14 grandchildren, including Nick Petrillo '14 (co-captain of Wesleyan Varsity Crew). Ever modest, Dick wrote, "Nothing new." Not much!! Dick is the retired chairman and CEO of Ciba-Geigy Corp., a renowned developer, manufacturer and marketer of prescription medicines. Along the way, he served as a trustee or director of a number of institutions, including Wesleyan, New York Medical College, and the Bank of New York. You have to Google to get this information about Dick. All you can get from him is "nothing new." His one shortcoming: He produced nary a swimmer, yet he was a standout swimmer at Wesleyan, as we all remember.
How about this from Bruce Munro, another one rarely seen on these pages? "Bettie and I moved to Ashby Ponds, a 62-plus retirement community (in Ashburn, Va., near D.C.) last November. Prior to that, we were in a 52-plus community for nine years. We moved to Virginia in 2000, after 35 years doing OB/GYN in New Jersey, since both our kids live here. I have Parkinson's disease. The past year I've been hospitalized several times and spent time in rehabs for balance, gait, and infection problems. Getting old (87) ain't easy, but the alternative is worse! Looking at those massive bills, I'm very happy with Medicare. Traveling and vacationing are memories of the past, unfortunately. Wish I had more pleasant news, but that's the way it is."
In "Can You Top This?" news from John R. Jakobson: "I am happy to say that my great good friend Ron Daniel and I, who met 67 years ago on the Wesleyan campus, still rejoice in our friendship, and this May 11th we will go to Augusta National Golf Club, where Ron is a member, to play golf. We are both active in business and philanthropy and fun!" When asked after May 11 how the game had gone, John replied, "As always, spectacular in all respects. Ron has won for 67 years. He is much better than I am, but we always have fun. Wesleyan's greatest gift to me has been my friendship with Ron!"
Finally, Bill Wasch received the following e-mail from Bob Goodman, who has been a career educator and was the first headmaster of Trinity Episcopal High School in Richmond, Va.: "Will be having lunch with Zed David in about a week. We do this every spring around our two birthdays. Zed will be going back to Prague again soon to research and lecture, even though he officially retired from the Woodrow Wilson Center." [The Woodrow Wilson International Center for Scholars in DC.]
Harold C. Buckingham Jr. | hcbuckingham@daypitney.com
400 Seabury Drive, Apt. 2114
Bloomfield, CT 06002
William K. Wasch | wkwasch@gmail.com
150 Coleman Road Middletown, CT 06457