CLASS OF 1959 | 2018 | ISSUE 1.5
Dear Friends,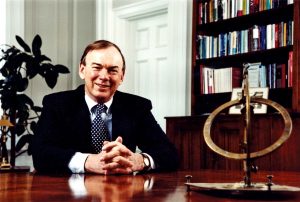 By now you probably know of the death of Doug Bennet. You can read about him in these articles in the New York Times, the Washington Post, and the Hartford Courant.
A good guy, a great friend of ours, and a great friend of Wesleyan.
He will be missed.
If anyone has reminiscences to share, please send them along.
Sincerely,
Skip, John, Bert, and Ed
Skip Silloway | ssillow@gmail.com; 801/532-4311 
John Spurdle | jspurdle@aol.com; 212/644-4858
---
Thoughts on Doug from Classmates
Tim Chapin: "Whenever Doug took on some enterprise, he quickly became the face of it, and eventually its leader.  He brought a whole new meaning to "over-achiever." He also was attentive to the more minor issues in life and a kindness and empathy for the less fortunate or those in trouble. He is the man who is missing from today's world;  we need a million more Dougs, not one less."
Dick Cadigan: "Doug had an amazing career and contributions to 'making the world better'!"
Tim Day: "It is very sad to lose another of our great classmates. Doug lived a life of distinction and brought honor to the Class of '59. May he RIP and celebrate a celestial reunion with those who proceeded him—like my roommates Terry Smith and Marty Jaskot and many other friends."
John Dennis: "When I ran for congress in 1988, Doug was a magnificent behind the scenes tutor. The political world was a new territory for me  and with all the other far more important things that were on Doug's desk, he always seemed to have time for me. More than a skilled political counselor, he was a master confidence builder. As I look back at the years of his presidency, I wonder if the greatest legacy that he left Wesleyan might possibly have been the same gift that he gave me. Confidence Builder!"
Bob McKelvey: "In reading yesterday's lengthy and laudatory NY Times obituary about our friend and classmate, Doug Bennet, detailing his contributions to education, NPR, the State Department, and the political world, I suspect that Vic Butterfield would have said: "That is what I call contributing out of proportion to his numbers." Vic would have been very proud of Doug,  as are all of us to have had Doug as a friend and classmate."
Joe Mallory: "I did not know Doug very well at Wesleyan but never heard anything but good things about him.In thinking back, I was able to recall one anecdote that might be worth adding to the collection: It was at the beginning of our junior or senior years when Dean Barlow assembled the new crop of dormitory counselors to brief them on the mission, rules, protocols, etc. As we approached the eagerly anticipated end of the meeting, the dean invited questions or comments. Whereupon, Doug raised concern regarding the policy that dorm counselors on duty during party weekends were allowed to have dates in their rooms. To this day, I remember the stunned silence that fell over the group and the dismayed looks as Dean Barlow seemed to agree that Doug's concern had merit. Of course, we had no way of knowing that somewhere in the future Doug would become president of Wesleyan University. However, after witnessing that display of strength of conviction, and in this case, raw courage, I think none of us would have been surprised."
Skip Silloway: "I did not know Doug well when at Wes. I became acquainted much later when he became president. I am grateful for his having reeled my father back into the Wes fold. He had been very much estranged for many years. Doug and Dad became great friends proving opposites attract. They exchanged visits to each others homes. The aging conservative business man and the liberal college pres. They argued each others positions over an abundance of single-malt scotch and a genuine friendship ensued. It was great for Dad to have this connection in his later years. This is a personal anecdote but how I remember Doug. It is a measure of who he was. I am grateful for the connection."
Owen Tabor: "Doug was a guy with great eyebrows. He was not particularly athletic but he gave a great effort on the soccer field. He was, we all knew, very smart. His time at NPR was remarkable and he provided a summer job for our daughter, Mary. She went on to the NY Times and a great, but shor,t career in journalism. He had plenty of social graces, a resonating voice and ready smile. When he became president of Wesleyan I thought, 'What a great choice,' and it was. Although we were not particularly close I considered him a friend and the loss is significant. He understood fraternities and their pluses and minuses, but he was a fine mind in a reasonable body with a strong heart. May flights of angels . . ."
Charlie Wrubel: "Doug was the right president for Wes during his tenure. His vision and practical application of financial strategy both energized our growth and created a sensible approach to building our  endowment. Wes should be forever grateful for his leadership."