Hi '09er's! Below are a few updated on your classmates.
Chris Mixon was married in Dallas, Texas, in October and had Steve Rebh, Pearce Talbot, Alex Segal, and Carl Maloni keeping him in check.
Max Krafft married his long-time partner, Thomas Zemp (Brown University '05), in October. Their wedding was officiated by their good friend, Bess Thaler '04, and several other Wesleyan friends joined in their summer camp-themed ceremony, including Sam Fentress '04, Dan Stillman '04, Christopher McDonald '06, Allison Hughes '06, Tristan Chirico '06, Jeffrey Rovinelli '10, Ben Morse '04, Ben Abrams '03, Abraham Lateiner '04, and Ethan Butler '04. They currently live in Guadalajara, Mexico, where Max is on a diplomatic assignment with the Foreign Service. His next assignment—to the U.S. Embassy in Oslo—begins this fall.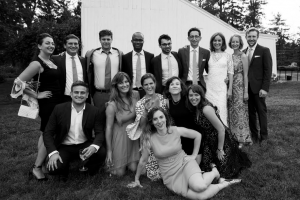 Emily Reisner is the new program director for school-based programs at Aspiranet, a nonprofit providing family and child services in the Bay Area. She oversees Mouse California, a Web-based technology platform that encourages students from underserved areas to access technology careers, and Experience Corps Bay Area, a literacy program in partnership with AARP, that recruits retired adults to volunteer as reading tutors.
Andrew Dermont married Elizabeth Wolff '06 on Sept. 10. Many Wesleyan alumni were in attendance, including Rachel Seebacher '06, Liberty Thomas McAteer '06, Alexis Krisel '10, Mufaro Dube '08, Saul Carlin '09, Emily Frost '06, Nick Bullard '06, Derek Silverman '09, Catherine Kast '09, Reid Jewett '11, Merrill Frew '07, Gianna Sobol '06, and Shaine Truscott '06. For a picture of the festivities, visit classnotes.blogs.wesleyan.edu.
Jodie Rubenstein reports that she got engaged this past year and will be getting married in September. She and her fiancé, Alex Whitaker, are moving to Denver, Colo., in May, where Jodie will continue her job as regional director at J Street.
Finally, Ally (Heaney) Lamson had a baby, Harriet, on July 3, and is working as a divorce attorney in New Jersey. Ally is going to be the maid of honor in Jodie Rubenstein's wedding!
Thanks for the updates and please keep them coming!
Alejandro Alvarado | ale.alvarado12@gmail.com