CLASS OF 1973 | 2022 | SPRING ISSUE
A number of classmates are keeping busy with their writing.
From Seattle, Washington, Stephen Sullivan writes that he has published a book, Architecture as Art: The Work of Stephen M. Sullivan, which illustrates his residential architectural practice based in the Pacific Northwest. It also describes his personal design philosophy founded both in the classics of Western architecture and in his experience and appreciation of the architecture and craft tradition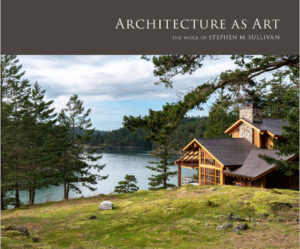 s of Japan.
The book tells the story of Stephen's development as an artist using architecture as his medium. It includes essays on his views of architectural design, which have been shaped by his personal history in the landscapes and the architecture of New England and Japan. Stephen's training as a potter informs his architecture in its interpretation of houses as "vessels of experience" and in his work's focus on materiality and the craft.
Thematic essays address topics such as the importance of intuition in the design process and the interplay of analysis with nonrational ways of thinking.
The projects display Stephen's belief in generating an architectural language unique to a design's client and its context, creating an architecture specifically tuned to its circumstances in time and place.
The book is carried by many local bookstores and can be purchased online from Elliott Bay Book Company.
Bruce Fergusson had some colorful comments. He writes, "Like everyone else, playing dodgeball with the bride of Franken-COVID variant.  Some near misses in the family but so far so good.  If only there was a vaccine to inoculate against the other 'viruses' plaguing the country." He said he was looking forward to the Seattle Rugby Club's upcoming season.  "I played for them way back when," he said. He also closely follows the Seattle Seawolves—the nearest professional team to him in Salem, Oregon—and has been since the league's inception.  He says he is still writing.  His latest novel, Triskell, came out in February.  He said, "I'm currently writing a children's book for one kid in particular: my first grandchild.  As Kieran's only three months old, it'll be a while before he's ready to read it, but it'll be there when he is."
Vinod Busjeet writes that "My novel Silent Winds, Dry Seas, published last August by Doubleday, is among NPR's Best Books of 2021."
Tim Lutz says he retired in June 2021 after teaching geology for 40 years at UPenn and West Chester University. He said his last presentation before retiring was a reflection on the influence of late Wesleyan professor Jelle de Boer on his career. He said it was part of a session to honor Jelle's legacy, organized by E&ES professors Phil Resor, Joop Varekamp (also retired in 2021), and Martha Gilmore for the Northeastern Section of the Geological Society of America.  Since retirement he said not that much has changed. He said he and his wife (also a retired geology professor) are able to continue research projects that will keep them busy for years to come. He said they are also Force of Nature volunteers for Natural Lands, an organization whose mission is to "save open space, care for nature, and connect people to the outdoors."
Tim says, "I'm looking forward to our 50th!"
It's hard to believe that I have been so busy for the past two years covering all the fallout from the coronavirus. With any luck, the situation will improve significantly by our next Class Notes as we move closer to our 50th Reunion. Speaking of which, there's an active reunion committee (Wayne Barber, Joshua Boger, Peter Cross, Michael Donnelly, Irv Estrin, John Feinblatt, Michael Fossel, Bill Gillespie, Steve Greenhouse, Mark Helfat, Diego Howard, John Huttlinger, Evans Jacobs, Rich Jasper, Ron Johnson, Mike McKenna, Ron Medley, Ellen Miyasato, Richard Orentzel, Jim Powers, Bill Quigley, Jim Raymond, Jay Rose, Tom Tokarz, Steve Torok, Charley Wayne, Donald Zilkha, Dave Zita, and yours truly) working hard on updating contact information and looking for recruits to join them as they plan for what's going to be a great occasion.
Also, I can't say enough about the incredible work that Kate Quigley Lynch has done to make us all aware of our upcoming milestone reunion. She is very interested in letting you know about what will be happening and would like to get your email addresses. You can reach her at: klynch@wesleyan.edu.
It is hard to believe it will be 50 years. It seems like yesterday that we were all wandering around Foss Hill at the Grateful Dead concert or attending fabulous concerts with Dave Mason at the hockey rink or the Youngbloods inside the McConaughey Hall dining facility. There are so many people I'd like to see, from my West College roommates my freshman year,  Tim Bahti, Paul Dietrich, and Tim Mooney; to hockey club teammates like Tim Thompson; to colleagues on the Wesleyan film board from our senior year like Fred Love; to my senior year West College roommates, Brian Mahoney, Ed Nathan, John Spike, and Paul Baumann; and not to forget numerous friends from our rugby days like Pete Cross, Mike McKenna, Dave Zita, and Bill Quigley. And to reconnect with others like Michael Donnelly, Michael Fossel, Granderson Hale, Steve Greenhouse, Mark Helfat, John Huttlinger, Evan Jacobs, Rich Jasper, Ron Medley, Jim Powers, Jay Rose, Tom Tokarz, Charley Wayne, David Feldman, Don Zilkha, just to name a few people. There are special stories about everyone I just mentioned in terms of their lives and career paths and retirement plans and the past five decades. There are others who I have not heard from in a very long time, like superstar soccer player, Michael Desmond.
Reunion is a huge opportunity to see everyone and take a walk through our past days and relish the changes. The Zilkha Art Gallery is special, and you also have to see what Jeanine Basinger has done with film studies and her legacy. When I flash back to the fall of our freshman year, I remember Jeanine taking a film class with me and John Frazier. And then she was on her way. I for one look forward to a return to Downey House—so many memories there—and a walk down High Street, which I am told Charles Dickens once called one of the most beautiful streets in the U.S. And maybe we'll have a few moments with Michael Roth, '78, Wesleyan's 16th president or some professors who you have known for decades. And after reporting for such a long time, I look forward to checking out the Wesleyan Argus, which I used to write for, including some news stories and film reviews and rugby articles under the name "Gary Owen." And on a personal note, I look forward to revisiting the Davison Art Center, where my mother Ellen "Puffin" D'Oench, was curator for decades and where she did an incredible job pioneering the collection. Then there is Main Street, Middletown, once noted as being one of the widest streets in the U.S., where there has been a virtual renaissance or restaurants that even includes Thai food. And you can cap it off with a visit to the famous O'Rourke's Diner, home of the famous steamed cheeseburger. I won't forget a choice comment made by Eddie Nathan there early one morning, and as a result of that they asked him to leave. But that is a story for another day.
Hope to see you in 2023 for our 50th.
PETER D'OENCH | pgdo10@aol.com