CLASS OF 1986 | 2018 | ISSUE 3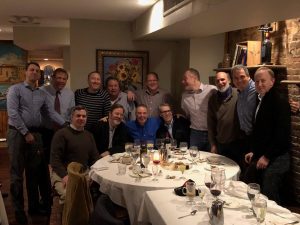 A long note from Hal Ginsberg: "Many thanks to Sandy Goldstein for organizing a Delta Tau Delta reunion in downtown Manhattan. A cross-section of mid-to-late-80s classes were there: Sandy and me, Rick Davidman '84, Soren Pfeffer '85, Steve Shackman '87, Jim Freeman '87, Bill Houston '87, Ira Skolnik '87, Dan Levy '88, Scott Ades '88, David Morse '88, Ed Thorndike '89, and Mike Marciello '89.
"Atlantic seaboard Delts from Montpelier and Boston all the way to Palm Beach traveled by plane, bus, train, car, subway, and our own two feet to share memories and catch up on a Friday night. Some hadn't seen others in well over 30 years. We started with drinks at a Union Square watering hole then proceeded to a nearby Italian restaurant where a multicourse repast was supplemented by numerous bottles of Tuscany's (near) finest. Not wanting to end the evening, we moved on for a nightcap. Steve graciously hosted a lovely brunch the next day at his apartment. It was a great weekend!"
Hal was struck by the varied professions that we entered over the years. "Perhaps unsurprisingly, some of us went into finance. Others became doctors, lawyers, and business consultants. But one of us is a wine merchant, another is a real estate agent who doubles as a burrito shop owner, a third was an art dealer, a fourth a religious studies professor. I am now in my third and fourth acts. After practicing law then operating a radio station, I have been writing freelance and am acting as co-chair for the progressive group Our Revolution in Montgomery County, Md."
Sally Spener writes, "In February, my husband and running partner, Sergio, and I completed our first marathon after taking up distance running in 2017 with the Jeff Galloway '67 training group in El Paso, Texas. By press time, we will have completed the Ciudad Juarez Marathon as well. We enjoy weekend training runs along the Rio Grande."
Hazlyn Fortune lives in Oakland and is an administrative law judge at the California Public Utilities Commission. "I've been at the Commission for over 18 years on a variety of energy and telecommunications issues. I've been a commissioner advisor and supervised a staff of nine implementing statewide energy efficiency programs. I love to garden, travel, dance, and cook, and look forward to hearing about everyone else in class notes update." 
Beth Kaufman and Mark Miller '87 shipped their daughter off to her last year of college, packed up their life, sold the Yonkers house, and moved to Harlem. "It's a year of transition and a new chapter. The move puts us closer to friends and family. It also puts us closer to Mark's new board game café, Hex & Co., on the Upper West Side. I got my certificate to teach English as a second language and I'm aiming to find work near our new home. Finally, after deciding to put our music on the back burner for a bit, I'll be taking my band down to Jamaica for one final show in late October."
John Ephron's younger son, Sam '22, just started as a freshman at Wes, happily ensconced in Butterfield C. John says it was nice to stroll the campus, and he's looking forward to getting back more often.
Jaclyn Brilliant's daughter, Josephine '18, graduated from Wesleyan in May. "It was a ton of fun for us to be back on campus for the celebration. My husband, Anthony Jenks '85, and I got to briefly catch up with Ann O'Hanlon during a trip to D.C. over Labor Day—drinks, HQ online trivia game, and nostalgia prevailed. I like to think the spirit of Jinny Kim was with us."
Jim Clark: "I'm running the World Technology Network, a global association of the most innovative people in sci-tech—helping our 1,500 elected fellows know about each other's innovations, and convening conferences with the U.N. and others on such topics as renewable energy, the future of work, and the governance of A.I.
"In addition to consulting, I'm also involved in political work, especially over the past two Trump years. Divorced 10 years, with two still-keeping-me-busy daughters (now 19 and 23), I see a lot of movies, still dance at festivals, write/perform poetry, take photos, hang out with my BFF since Wes days, Peter Benson, and marvel at the speed of time."
Andy Clibanoff and his wife, Denise, are thrilled that their children (Callie '19 and Leo '22) are at Wes. Both kids experienced "the Butts" just as Andy did when he became good friends with Tanya Kalischer '85 and Chris Coggins '85, whose son, Noah Kalischer-Coggins '22, is also living there. Andy is active in Wesleyan's Philadelphia area regional alumni group and planned a happy hour and concert by the Wes alumni duo, The Overcoats. He and Denise hosted the Philadelphia Summer Sendoff. Nearly 75 students and family members attended in August. Professionally, Andy is an organizational and leadership development coach serving the sports and entertainment, technology, health care, and entrepreneurial environments. 
Eric Howard | ehoward86@wesleyan.edu