PepPep Bachman uses her operatic experience to teach presentation skills, specifically to female executives in the U.S. and Europe. As such she finds herself commuting between two very nice spots—San Francisco/Portland and the Austrian Alps.
Geoff Ginsburg is at Duke Medical School as director of the Center for Applied Genomics and Precision Medicine, and also runs a nonprofit company, Global Genomic Medicine Collaborative, as well as two enterprises which he founded, Predigen and MeTree&You. "Keeping busy, enjoying the North Carolina beaches except for Hurricane Florence. Best wishes to classmates."
Lucy Mize travels worldwide in her work for USAID, adding Finland, Burma, and China this year to her log, additionally getting in some recreational travel when accompanying her husband Tim in his work with the World Bank. Stateside, she splits time between Vermont and the D.C. region. When in the latter, Lucy follows the MLB Nationals intensively with Bill Tabor, and reports she had nice visits there from Alicia Springer '79 and Kathy Mintz.
David Ocean is executive vice president of sales for the Four Seasons Residences, in Surf Side, Fla.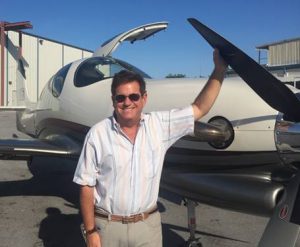 Steven Peretz practices intellectual property law in Miami, where he both grew up and eventually co-founded his legal firm 10 years ago. His daughter Sarah works as a social media influencer in Los Angeles ("I have found that following her on Instagram is the best way to know what she is doing"); son Jonathan attends college in South Florida. Steven's passion is flying. He has logged approximately 2,000 flight hours, particularly enjoying trips to the Florida Keys and the Bahamas.
Kurt Schwartz has retired from a long career in public service for the state of Massachusetts—as a police officer, EMT, state criminal prosecutor, the cabinet undersecretary, the homeland security adviser, and, finally, the emergency management director, during the past 40 years. He plans to do some homeland security and international disaster consulting, but has been "transitioning into retirement pretty easily," enjoying travel and the freedom from the call, preparation, and response to "disasters and emergencies," and is enjoying his newfound time with his wife, Susan, and their two kids (ages 25 and 29) who live nearby.
Jon Spector and his wife, Wendy, are happy in Woodstock, Vt., to where they moved from Boston four years ago. Jon stepped down from his CEO position at the Conference Board last year, for which he still provides some advising, and Wendy works part-time for the Sharon Academy. Their four boys "are doing well . . . one married, one engaged, all employed, only one off the cell phone plan." They're soon to equip their 200-year-old house with new windows and solar panels, "which is what passes for excitement in Vermont these days."
Lynn Thomas went on a terrific trip to Morocco this past February with her daughter Carolyn Grace Kimberley Helaine Thomas ("…a royal name as she is royal to us!"), who is excitedly heading off to Ithaca College this year. Lynn stays busy with her consulting firm, which focuses on training, coaching, and working with companies to learn and integrate emotional intelligence ("responsible for 80 percent of our personal and professional success") into their working culture.
James Washington and his wife, MaryLu, are into their first year of empty-nesthood. Jim is director of admissions for strategic initiatives at Dartmouth. He continues publishing poetry—in the digital Bloodroot Literary Magazine—and is studying for his second master's degree, in creative writing, in Dartmouth's Master of Arts in Liberal Studies Program.
Gary Friedmann remains active in environmental and energy issues in his state of Maine, recently leading a coalition of statewide organizations to a State House meeting with the governor and other state officials regarding climate change action; this resulted in legislative passage of a bill seeking to make Maine energy-independent, as a net exporter of renewable energy, by 2030.
Keep us posted on your lives!
Susie Muirhead Bates | sbatesdux@hotmail.com 
Ken Kramer | kmkramer78@hotmail.com