CLASS OF 1980 | 2021 | ISSUE 1
Thank you, wonderful Wes '80 classmates, for all your responses to my late request for submissions – maybe a benefit of our all being stuck at home after a year of the Covid pandemic.
David Garfield was the first to send his update and save the day: "I am still alive. Still an immigration attorney. Still living with my wife Jung Hwa and youngest daughter 17 in Honolulu. She is attending Iolani and loves musical theater and hates ultimate frisbee. Up to 4 grandkids, my granddaughter #4  born last month on my birthday..yay. no more ultimate ugh." 
For many around the world, this past year has been a period of time of great loss. On behalf of our class and Wesleyan, I send our deepest condolences to Wendy Kosakoff '81, "I share with profound sadness that my husband, David Kohane, passed away at the end of February from pancreatic cancer. David and I met at Wesleyan in Clark Hall in 1977 and got married at Russell House in 1982. He was my best friend and the love of my life and the father of our three wonderful sons.
And to Demie Stathoplos, "It's been a time of loss for my extended family: my close cousins, sisters and I lost my mom, two aunts and an uncle in a 3 month period, between November 2020 and February 2021. All were close to or older than 90 years old, but it was still a lot to experience, especially needing to be distanced from each other. I've spent the past 6 years managing my parents' medical and financial affairs, so the death of my mom (after the passing of my dad 3 years ago) has ended a significant part of my day-to-day work. My husband Dan has been working for Boston University from home since March, and my 21-year old son Alex tried online college courses, but found the experience was not for him. It's rough launching as a young adult in the middle of a pandemic. Our dog Karma has seen a lot more of us, but much less of our friends she used to play with. I'm a volunteer climate activist, and have been busy (on Zoom) with 350Mass in my hometown of Newton, as well as with UU Mass Action. I'm also leading a group of city staff and civic volunteers in implementing communication of the city's Climate Action Plan. This past year I gave (Zoom) talks at my church as well as to the greater Boston area about taking action on climate change. I'm also on a leadership team at my church teaching an anti-racism curriculum (The Richmond Pledge to End Racism). I stay in touch with Nancy Stier and Sharon Grady. For Dan and my 20th wedding anniversary, we traveled in July 2018 to Alaska, and got to spend time with Scott Taylor in Anchorage. The trip was amazing, and included both seeing Mt Denali from below, and taking a plane ride to a glacier on the mountain.  Given the work I've been doing on the climate, I'm thinking about how to minimize my air travel in the future. I hope we get to see each other in person in the near future."
Jay Borden, "Amazing what difference in mindset a vaccination can create. Somber to upbeat. Dimly present to planning for the future. The change in Administration helps. I can read again instead of ceaselessly doom-scrolling. Now, I'm right in the middle of planning our first post-vaccination trip to go see my brother in Albuquerque and my youngest daughter in Santa Monica. My wife gets her second jab early April, so we can start looking forward to a little more light. 
Carolyn Sullivan, "This time last year I was visiting relatives in England when I had to cut my trip short due to COVID. Everyone has COVID tales to tell, I'm sure, so I won't go there, but suffice it to say that as an introvert I have been doing just fine. My husband and I have evaded the dreaded virus (knock on wood), I'm happy to report, and are looking forward to getting vaccinated and seeing our similarly vaccinated friends and family SOON! My sister and her husband recently moved to Nashville–it's been almost 25 years since I had family on my doorstep, so that's wonderful. My husband and I are working on our third self-produced album of original songs in our home studio–these projects are always fulfilling, but especially so during the pandemic. Our music falls into (or between!) different genres… Rock, pop, blues, even a little bluegrass/folk… We studied songwriting in Nashville but apply the principles to just about everything but straight-ahead country! You should be able to find us on iTunes or Spotify under Carolyn and Dickie Sullivan. Our last two CDs are "Love and the Cold, Hard Ground" and "Sail On Through." I'm trying to up my audio engineering game via lots of YouTube videos and online courses, which is definitely keeping me out of trouble! I've lost touch with most of the people I knew while at Wesleyan, I'm afraid, but I always like reading the Class Notes!"
Chris Carey, "I wanted to shout out to all my Psi U Brothers from Cleveland, Ohio. I have resided here with my wife Donna since leaving ol' Wes and have two grown boys who both reside and work at opposite ends of California in San Diego and San Francisco. We are scheduled for our Pfizer two shot this week and are excited to go visit them in the coming months. We hope to head east to Middletown sometime this fall and pay a visit to our Connecticut friends Earl Mix and Marshall Stearns, not to mention Bruce Bunnell in Boston where my brother resides. I continue to manage money for my clients providing Financial Planning services as an Independent Advisor and made the switch to independence after 30 years working for the man. I can see this continuing for another 15-plus years God willing. Keep us posted on our reunion timeline, as I would love to see everyone on the grounds of Foss Hill. Maybe Orleans or Todd Rundgren can pay us a surprise concert visit!"
Prompted by cabin fever and a lack of exercise, Faith Fuller (started with class of 1980, diploma reads 1981) wrote: "I am in Mexico, travelling around the Puerto Vallarta area, swimming in the Pacific, taking long walks, and working from my laptop. In 2020 I surpassed my goal of raising $10 million for nonprofits (partly due to the CARES Act releasing additional funds) so I had a productive year, but felt physically run down.  I've been out of the country since January and am taking all the precautions to stay COVID safe; which is not hard with all of the out of door markets.  I work as an independent consultant/contractor and my clients are 3 Substance Abuse Treatment providers in the Oakland/Berkeley area, 2 providers of services to the homeless (one to adults, the other to youth) in Alameda County CA, 3 nonprofits working with black youth in Compton CA and Oakland CA, the National Prevention Science Coalition to Improve Lives; and another who provides in prison programming. Love it!" 
Peter Scharf noted that he came to Pune, Maharashtra after his fellowship at the Indian Institute of Advanced Study in Shimla ended at the end of December. He and his wife are teaching Sanskrit on-line and just announced their spring and summer course in Sanskrit and Prakrit (sanskritlibrary.org/coursesnow).  They plan to return to their home in Iowa in April.
David Claman, "My wife, Sunita Vatuk, and I have been enduring the pandemic in Queens, NY. I've been teaching music online at Lehman College-CUNY since March 2020, and for 12 years before that. At this point I'm thinking of retiring to have more time to write music. I've been able to complete two projects in the past year, although not because the pandemic allowed me more time to do so. In October 2020, I released a CD of my own compositions entitled "Gradus" on Albany Records. I'm quite happy with the variety of music and the quality of performances. It can be streamed on Spotify and other platforms. More information is available at: https://davidclaman.com. More recently, I released something entirely different (for me) on YouTube, which is an arrangement of Wes Montgomery's classic "Bumpin' on Sunset." Aside from me faking that I can play jazz piano, the four other players are excellent young Hindustani classical musicians who I worked with for several months in New Delhi in 2019 while I was on a Fulbright grant and a visiting professor at Delhi University. Their interpretation and improvisations bring new dimensions to the tune. It is on YouTube with an accompanying music video at: https://www.youtube.com/watch?v=DhwH0cPkAJA.
Vic Tredwell, "I remain as Station Manager for the community radio station of Belfast, Maine (WBFY).  We've survived the pandemic well. I set the station up from the start to allow remote programming of shows, so I was seen as prescient when the bug came along and made it required.  Not true, but I'll take it. We have replaced a number of cancelled events with radio versions, such as Belfast's monthly contra dance and the New Years Eve concerts. The station's latest fund-raising project is selling off an amazing collection of 78-rpm records that were donated to us.  Any collectors out there?…."
Alan Jacobs, "I just returned from what was supposed to be a one-month trip to visit my daughter, Avia, in Tel Aviv but it turned into three months because my friends in New York said stay there, the beach beside my apartment agreed, and then I heard that because I'm over 60, I could get vaccinated. I was never so happy to be this age. After the second jab, I had a lovely dinner with Jeff Green '80, who lives in Tel Aviv part-time, and our two daughters, who are about the same age. While Avia and Lia were chatting it up, I turned to Jeff and said, "That's our daughters."  Jeff nodded, "Yep." As for Israel, the good news is it's a democracy — the only one in the region — and as Jews, we can get involved and have real influence. I'm not interested in politics but many of my friends there went out every Saturday night to join protests in Jerusalem demanding Netanyahu's resignation.  The country has many challenges and social ills, but democracy itself is alive and well and Israelis are very active participants in it."
My daughter and I are on right.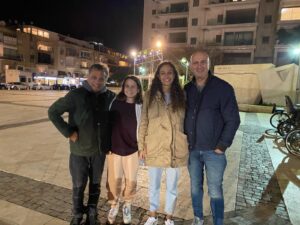 Mark Zitter, "I've taken advantage of COVID isolation to reconnect with some old friends. I have regular 3-way Zoom calls with Scott Hecker (still working in biotech in San Diego) and Paul Singarella (a retired attorney who just moved to Florida). I do the same with Irene Chu (still a graphic designer in the Boston area) and we're trying to rope Julie Burstein into those calls. Julie is working with my wife, Jessica, on some radio programs and podcasts related to end-of-life issues. Julie also has worked with my daughter, Tessa (Wes '21), on two podcasts. My wife and I recently hosted a virtual cooking class and dinner party with four couples, one of which included Daryl Messenger. Last month I chatted with Rick Smith, who lives in DC and is a top pharma consultant. I'm also in touch with Paul Oxholm, Jane Polin, and Melissa Stern (as well as her husband, Jim Friedlich '78). I'm in a busy semi-retirement phase, hosting many COVID-related programs for the Commonwealth Club (https://www.commonwealthclub.org) (including Biden senior advisor Andy Slavitt this month). It was great seeing so many of our classmates during last year's reunion calls. Hope all are staying healthy and sane."
Halsey Frank, "Here's my decennial update: After 34 years with the Department of Justice, I retired as US Attorney for the District of Maine this past February. I never expected to stay that long but found I liked the people and the work, and before I knew it the years were gone. I am taking a break to decide what to do next and would like to find a way to continue some of the civic education initiatives I started as US Attorney. Otherwise, our daughter Laura just moved back to New York City to resume her independence and continue working for a startup.  Our son Alex is on track to graduate from college this May, albeit likely without the customary pomp and circumstance.  My wife Eva continues to do the many manner of things that she has done since she stopped practicing law when we moved to Maine years ago. Our dogs, Jeeves and Henry, keep each other company and us entertained."
Ellen Haller, "I happily retired in July 2018 after 30 yrs on the full-time faculty in the UCSF School of Medicine and am so relieved to not be Director of a Psychiatry Clinic during a pandemic! My wife is Chief of Infectious Disease at UCSF, so it's been a rather busy time for her…The only silver lining in this pandemic is that our son unexpectedly moved back home after recently graduating from college, and he has become a quite successful professional magician including a performance on the Penn & Teller TV show, "Fool Us," and regular Zoom shows for corporations, private parties, and ticketed audiences (danielroymagic.com)."
Amy Natterson Kroll, "All is well here. I've been very lucky as I had a home office set up from when I had a home business 20 years ago, so when my office went remote over a weekend in mid-March, I missed nary a beat. We had our son with us for the first seven weeks of the pandemic, then he drove across the country to start his new job in Utah when things seemed to be getting under control, and two weeks later our daughter and her then 2 year old arrived for 7 weeks. It was wonderful, and exhausting! In the autumn we decamped for the mountains of Idaho where I worked remotely for 5 weeks, and then back to DC, where we have been increasingly reclusive, pending my getting a vaccine. There have been wonderful silver linings, and lots of reminding ourselves of our great fortune in staying healthy (so far).  I have hiked weekly in the parks in DC that I had driven through for 38 years; I have walked through numerous neighborhoods now quiet as life in northwest DC remains pretty much WFH; I have become very proficient at building a campfire in our two firepits; and over last the summer I grew a bumper crop of string beans, onions, rosemary and radishes. Hopefully, society will stay slower, children will continue to play outside and the air will stay a bit clearer once we can all fully emerge."
JACQUIE SHANEBERGE MCKENNA | jmckenna@indra.com