CLASS OF 1972 | 2020 | ISSUE 2
This is written as I enter the third month of sheltering in place. There is no telling whether that situation will remain by the time you read this, but let me at least express the hope that you are all well.
Many of us got the quarantine off to a great start thanks to Steve Goldschmidt, who had the brilliant idea of setting up a virtual class reunion on Zoom. We had more than 30 people on at one time or another, including some folks who have not been seen in a long time.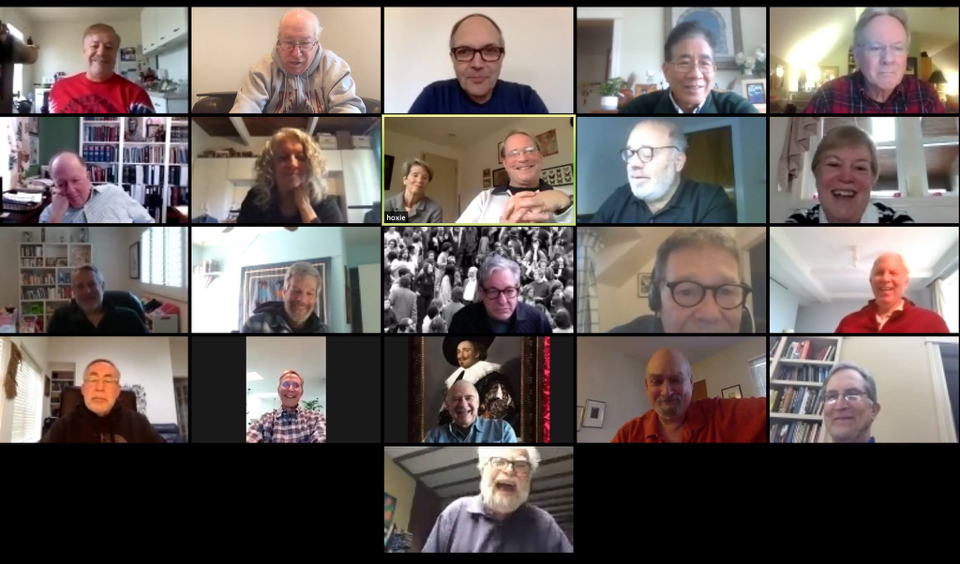 If you can't identify everyone, here is the listing, from top to bottom, moving left to right in each row:
Leon Vinci, yours truly, Rob Newman, Tom Wu, Dave Hagerty, Bob Spence, Connie Hernandez, Jim Hoxie, Steve Goldschmidt, Bonnie Blair, Bob Stone '70, Rick Berg, Andy Feinstein, Mike Carlson, Jon Lindsey, Ron Ashkenas, Tom Edmondson, Mike Arkin, Steve Berman, Hank Shelton, and Mike Kaloyanides '72, PhD '75. You can see from the facial expressions that it was fun. But not nearly as much fun as it will be when we next get together in the flesh, which cannot come soon enough!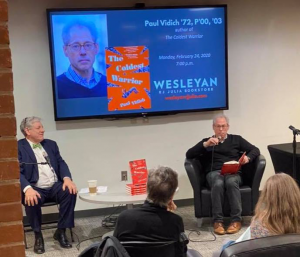 Another great get together took place in February, when Paul Vidich gave a reading from his recently published novel, The Coldest Warrior, at RJ Julia, the Wesleyan bookstore. Many of us had dinner beforehand, and toasted Paul and his success. Among those present (and forgive me if I missed anyone) were Andy Feinstein, Mike Kaloyanides, Sherry Hilding, Gene Salorio, Rich Easton, Jane Kent Gionfriddo, Rob Siegel, and, of course, spouses. At the bookstore, Andy Feinstein overcame his natural shyness and stage fright and conducted a wonderful interview of the author.
Now, a word about Paul's book, The Coldest Warrior. My hat is off to anyone who can bring a book to fruition, and, of course, I will write nothing but praise. But this novel is truly unusual, and I urge everyone to read it. It's a thriller, but it touches upon humanity in the broadest sense, and you will not be able to put it down.
Also marked during the sheltering in place period was the 50th anniversary of the Kent State killings and the Wesleyan strike of 1970. This evoked quite a chain of email correspondence and these reminiscences:
"Kent State was the dividing line. After Kent State, you were either a radical who knew that power could only be met with power or a reformer who thought that change could be made within the system. Prior to Kent State, we could talk about Power to The People but never really mean it. Virtually all of us chose the reformer route, or decided that political involvement was just too dangerous, too frustrating, too hard for us. We are seeing a similar situation from the other side today."—Andy Feinstein
"…But back to the good old days on Wesleyan's campus in the spring of 1970. Everyone did not have the same priorities because there were more pressing priorities that needed their attention. It is still amazing how flexible Wesleyan was in its handling of radical activities and a lot of other knuckle-headed things we did. When I tell people about my Wesleyan-experience, they are amazed. Then when I tell them, how these activists and assorted nuts turned out in life, they cannot believe it. And this is why Bob White, writes and says, 'I love Wesleyan…'"—Bob White
One other bit of news. I have been selected by my section, the Section of Environment, Energy and Resources, to represent them in the American Bar Association's House of Delegates. When and where that House of Delegates will be able to meet in person remains to be seen.
Last, the 50th Reunion is May 19-22, 2022. Reunion news and news about regional events can be found at wesleyan.edu/classof1972. Join the committee and work on outreach, programming, or fundraising. Questions or want to get involved? Contact Kate Quigley Lynch '82, P'17, '19 at klynch@wesleyan.edu or 860/685-5992.
Stay well, everyone!
Seth A. Davis | sethdavis@post.harvard.edu
213 Copper Square Drive, Bethel, CT 06801