CLASS OF 2014 | 2021–2022 | WINTER ISSUE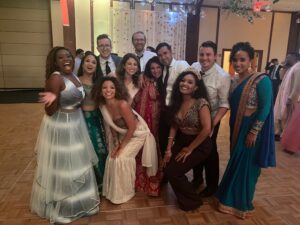 Juliana McLain and her now husband Zach Silversmith officially tied the knot at a beautiful and dancing filled Jain-Jewish fusion celebration in Pier 60 in New York City that I and many Wesleyan alums including Ferhad Sultani, Reina Barnswell, Jake Smith, Esthefany Castillo, Nicole Softness, Jessica Titlebaum, Nicole Okai, Lauren Seo, Will Durney, and Oren Cook had the privilege of attending. The Wesleyan fight song was definitely featured at the end of the night. Mazel Tov!
Jenna Lamm reports: "I've been in NYC since graduation and am now the associate director of Disability Programs at the City University of New York. Would love to connect with fellow alums who are in the field or work at an organization trying to ramp up disability hiring efforts. My students are amazing and many are looking for opportunities!"
Rachel Warner is earning her PhD in 20th-century American literature and gender and sexuality studies from UNC Chapel Hill this spring 2022.
Jay Benedith is leveraging her expertise as an instructional coach and a life coach, and founded J. Benedith Coaching Services (https://www.jbenedith.com/). Through her business, she facilitates workshops for educational entities and coaches Millennial and Gen Z educators to reach their professional goals. Furthermore, she is a contributing writer and podcast speaker for Truth For Teachers (https://thecornerstoneforteachers.com/). Last but certainly not least, she is a doctoral candidate in Educational Sustainability at the University of Wisconsin—Stevens Point and lives in Brooklyn with her partner and their mini-aquarium.
Take care of yourselves and keep shining.