CLASS OF 1997 | 2020 | ISSUE 2
It is mid-May as Sasha and I are compiling these updates and it's been two months since she and I each have been staying at home, working from home, supervising homeschooling for our kids, quarantine-baking, having Zoom cocktail hours, and holding our hands to our mouth when we read the news, hoping for the best for everyone.
First and foremost, we hope that you and your families are safe and healthy. For those of you touched by COVID-19, please know that we are all thinking of you. We'd also like to thank all '97ers on the front lines: health care workers, first responders, nonprofit organizers, government personnel, friends, parents, teachers. We really are in this together (even if remotely).
Min and Alejandro Santandrea wrote that "My Italian factory is finally open but is only making PPE and not shoes. My company, SantM, is taking this opportunity to work with Nemours Children's Hospital to donate masks to the hospital. If you want to contribute to this cause, email me at min@santm.co." Thank you for everything you and SantM are doing, Min! And back in February, they went on a ski vacation with Christian Housh and fam. "We saw Brandon Cook in Brooklyn, video-chatted with Lauren Wolfe and Peter Olson, and had Zoom cocktail hour with Tabitha Williams, Shelby Stokes, Michele Lau, and Neal Jacunski. We've been working with Wesleyan's Patricelli Center for Social Entrepreneurship led by Makaela Kingsley '98."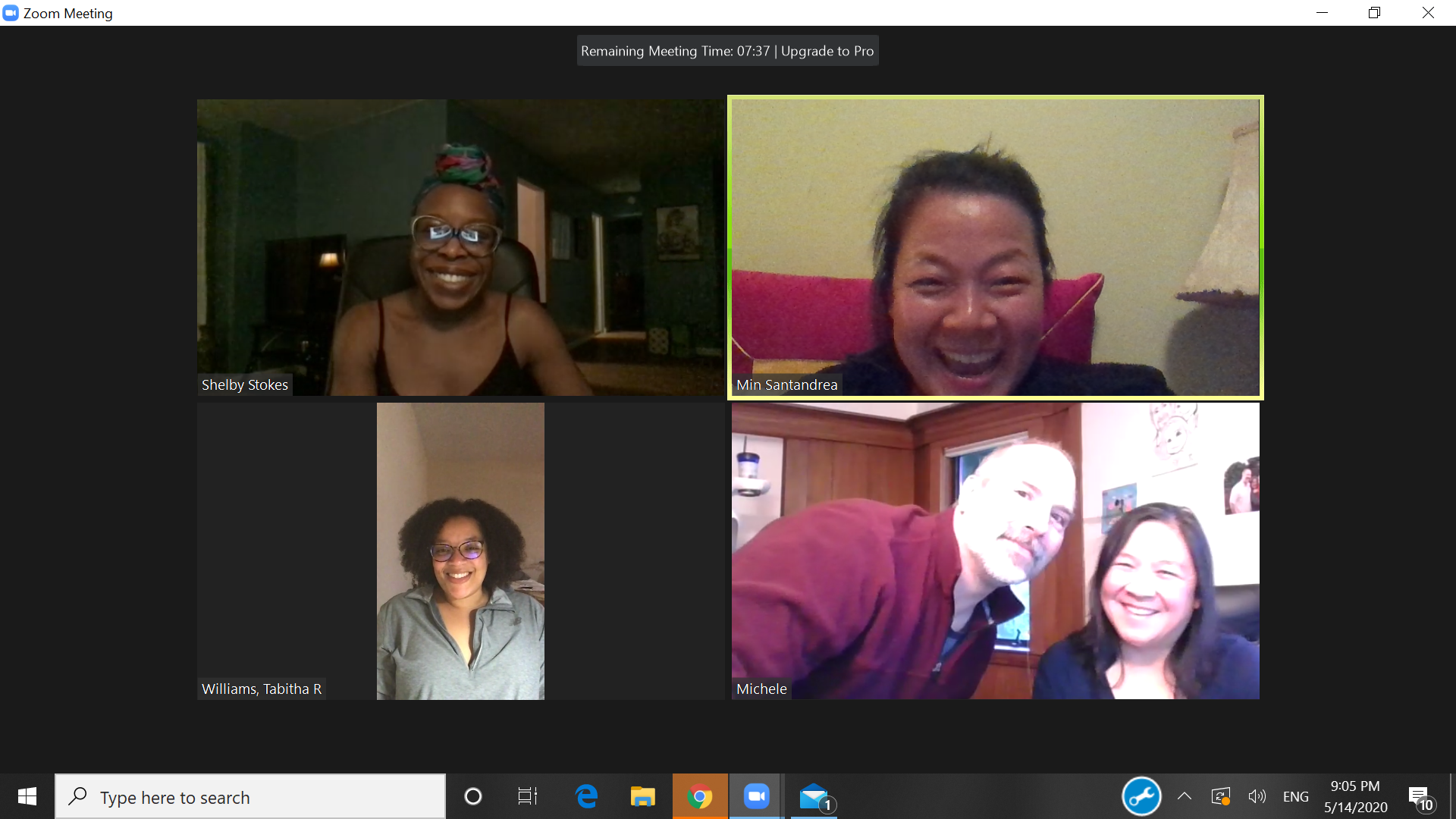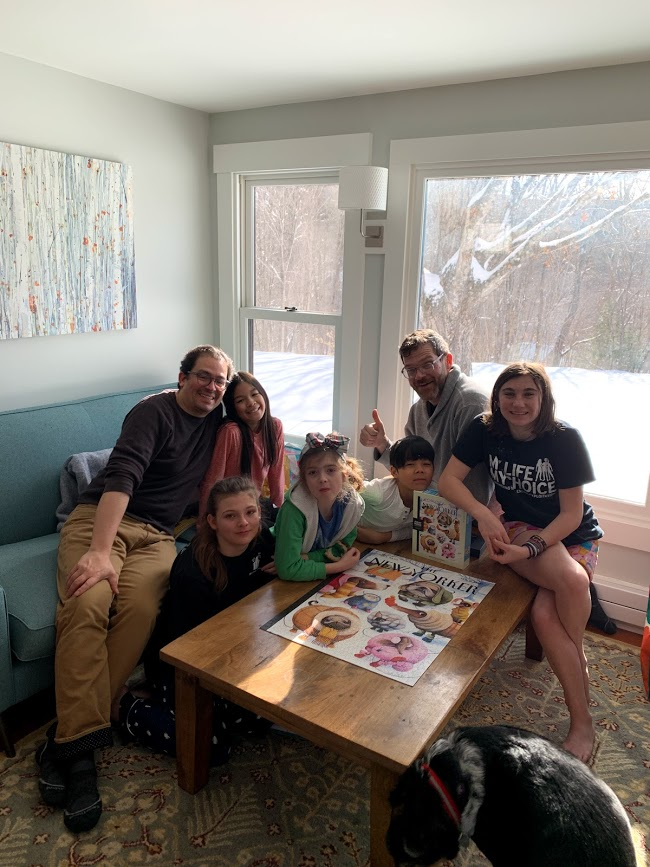 David Vine wrote to us: "Since the onset of the pandemic, I've been inspired by working with Wes Classics Professor Eirene Visvardi, Alix Olson, and other Wes alums as part of a group of 60-plus people from 20-plus countries that drafted a COVID-19 Global Solidarity Manifesto. Little more than a week after a soft launch, more than 2,000 people from around the world have signed the Manifesto. In keeping with a certain Wes spirit, the Manifesto declares, 'The COVID-19 crisis has revealed the urgency of changing global structures of inequity and violence. We, people around the world, will seize this historical moment.' We invite you to add your name to this effort (covidglobalsolidarity.org) "to offer a vision of the world we are building, the world we are demanding, the world we will achieve." Also "inspired by my time at Wes," David has a new book coming out in October that tells the story of the United States' long relationship with war. The book, The United States of War: A Global History of America's Endless Conflicts, from Columbus to the Islamic State (University of California Press), explains a major reason the U.S. government was so poorly prepared for the pandemic. We look forward to reading your book!
Alix Olson wrote in "I am living in Atlanta, Ga., where I just finished my second year at Emory University (Oxford campus) teaching WGSS. I was thrilled to rediscover my pal Sara Pullen and we (and our kids) are now attached at the hip." Emory is very lucky to have you!
Let's congratulate Francisco Tezen! He was named the president and chief executive officer of A Better Chance, a national college prep and leadership development organization. Read the article for more details. We're proud of you, Francisco!
We were thrilled to hear from Lauren Wolfe, who was recently hired as an editor at the New York Times. "I've never written in before, but Wesleyan people are still very much a part of my global family. I've spent the last six years of my career as a journalist covering (mainly for The Guardian) the gang-rape of 50 little girls (aged 18 months to 11-years-old) in a small village in the Democratic Republic of Congo. Alongside NGO and doctor colleagues from DRC, the U.S., and The Hague, we managed to get the perpetrator (and a member of the Parliament) and members of his militia arrested and sentenced to life in prison—and no girls have been raped since. My drive to work internationally and within difficult, broken state systems was born at Wes, and through years of getting to know the amazing people who also went to school there." Lauren, we thank you for the work you have done and the lives you have preserved through your journalism.
Peter Wei is in his first year into his full/early retirement, adjusting and living in a small coastal community in North County San Diego while spending his days working out, tending his garden and becoming the perfect domestic "goddess"—a role predestined by Mei Chin more than two decades ago while at Wesleyan. We couldn't be happier for you, Peter!
Speaking of Mei Chin, she reached out to share some delightful news: "Greetings from Dublin, where the weather isn't sunny, but the prime minister is gay and half-Indian, the government is recently pro-choice, and health care is free. (If you can get a flight, you can have our sofa.) I got married in February, which meant we got the chance to see many friends and family before lockdown. We were going to continue celebrating next month in Connecticut with Wes pals including  Sasha Lewis-Reisen, Peter Wei, Sacha Shapiro Emerson, Michael Ouyang, and Morgan Fahey, but that's been put on hold. Everything is good here; I am cooking and walking, and every day, I say hello to the absurdly tacky Oscar Wilde statue (he has a pink cravat and shiny shoes!) in Merrion Square. Most recently, I've been writing a column for Food & Wine Ireland called Dublin Global Beats; recording a podcast called Spice Bags (three expat women take on the Irish food scene), and starting a magazine, Ampersand: Eating at the Cultural Crossroads. I am sure that there are other Wes people in Ireland, but I don't think we've crossed paths. If you want to reach out, email me jiemeimei@aol.com." Yay Mei-Mei, all this, yay!
Corita Stull says hello "from quarantine, where I am trying to force my four sons to do their schoolwork and also teach for my own job. At least the oldest is graduating, so I can stop telling him to do his work, right? After 20 years of teaching middle and high school, I went back to grad school to become a special education teacher, and also became certified as a teacher of students with visual impairments." Cori is working at the Maryland School for the Blind, and writes that it's her dream job. "Believe it or not, my studies in the Wesleyan film program, which helped me to understand how the brain creates meaning, were a pretty awesome preparation for this job." We are all so proud of you, Cori! And so impressed by you and your boys through this transition.
Derek DiMatteo accepted a job offer at Gannon University in Erie, Pa., in the Department of English as an assistant teaching professor. "I'm very excited about it! So now I'm in the process of selling my house in Bloomington, Ind., and trying to move to Erie, all while wrapping up the most bizarre semester of teaching half on campus and half online." Good luck, Derek! We hope you have a smooth transition and your first semester starts off well.
Lauren Porosoff, author of Teach Meaningful: Tools to Design the Curriculum at Your Core, created a card deck called "Values and Questions" with her husband, Jonathan Weinstein. The cards invite students into conversations about the values they want to bring to their learning, work, and relationships, within and beyond school. Lauren wrote, "I can't imagine what a different experience Wes would have been if we'd had to learn remotely. It makes me appreciate this community and the work Wes faculty is doing to support their students and one another. If there's anything we, as alumni, can do to help, I hope we'll be informed." Agreed, Lauren!
Matthew Way reached out to us: "I last wrote to you regarding my first feature, The Genital Warriors, which has been available on iTunes, Amazon, or Google in 100-plus countries and 20 languages since December 2015 (for example the Village Voice and New York Times reported). After traveling with the movie and landing back in Berlin, I've written my second feature, The Pillow Snake, which features a rap and hip hop soundtrack, including a song I wrote especially for the movie: "Don't Touch the 3rd Rail." Though this song was meant to be rapped by the movie's lead, I instead used it to give birth to my new alter ego, Yóbaby. Quite to our surprise, the music video has accrued almost half a million views until now. So yo, check it." Will do, Matthew!
Alek Lev submitted his film to festivals like The Cannes Film Festival, optimistically assuming that one day, soon, the amazing and (sometimes soul-crushing) and again amazing process of getting independent films to see the light of day will commence once again. Alek is also the vice president of the International Buster Keaton Society (a nonprofit, 501c3, all-volunteer organization), busterkeaton.org. "If you are looking for a film (or two, or 29) to watch with the entire family during these trying times, I highly recommend the work of the Great Stone Face." He's coordinating the 26th Annual Buster Keaton Convention, which—for the first time —will be held entirely online. "I can also report that Noah Garrison, Craig Thomas, Woodwyn Koons, Kassie Bracken, and John Newman are all doing well during these trying times. And a special mention of Joel Viertel who produced and edited The Banker, starring Samuel L. Jackson, Anthony Mackie, and Nia Long. Run, don't walk, to your couch to check it out." We second, third, THOUSAND the recommendation to see The Banker, out on Apple+.
Send your updates anytime…we enjoy hearing from you. We hope you and your loved ones are staying safe and healthy. Take care.
Jessica Shea Lehmann | jessica.lehmann@gmail.com
Sasha Lewis Reisen | alewisreisen@gmail.com