CLASS OF 1966 | 2020 | ISSUE 2
Don Craven has retired, his remarkable career as medical researcher and educator featured in The Wall Street Journal (Jan. 8, 2019), the article noting that Don served "as a professor of medicine at Tufts University and the chairman of the Center for Infectious Diseases and Prevention at the Lahey Clinic Medical Center since 2001. Prior to these illustrious roles, he was the professor of medicine, microbiology, epidemiology and biostatistics at Boston University from 1989 to 2001. Alongside this appointment, he also served Boston City Hospital in multiple capacities, including as director of the AIDS Program, associate director of medicine, director of AIDS Public Health, and hospital epidemiologist. Previously serving Boston University as an associated and assistant professor in the School of Medicine in the 1970s and 1980s, he commenced his career as a research associate and senior surgeon with the U.S. Public Health Service and a research associate with the National Institutes of Health Bureau of Biologics from 1976 to 1979." During his distinguished career, Don published some 200 "articles on hospital epidemiology and AIDS." In January, Jeff Nilson had lunch with Don, Harold Potter catching up with Don in March for "a very enjoyable lunch."
Here is a photograph of Don and Jeff.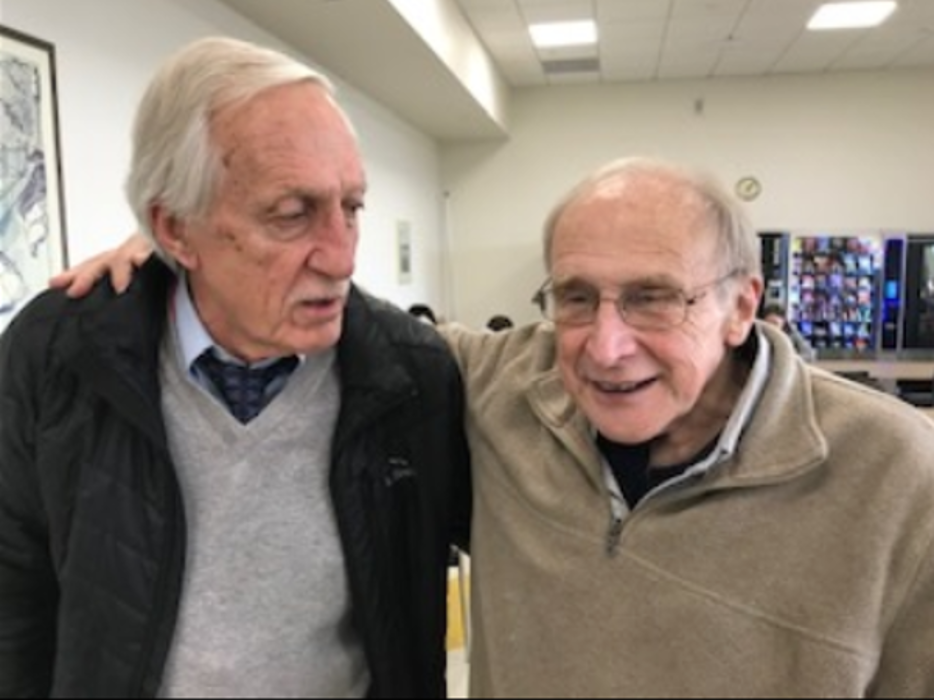 Jeff is still working on his book for children while taking a stab at poetry:
"I am trying to write like the good Dr. Seuss
But my rhymes are too weak and my meter's too loose
I employ anapests while I'm beating a drum.
Ta ta DUM ta ta DUM ta ta DUM ta ta DUM
To write like the good doctor, oh, how I have tried!
But I've ended up committing anapestacide."
On the theme of public service and exemplary careers, Jeff Evans writes: "On March 27, I ended 51-and-a-half years of uninterrupted employment by the U.S. Agency for International Development…." That is 18,769 days with USAID, serving our country from Viet Nam to Sri Lanka, to Russia and beyond. Jeff's journey is not over. He has become "a part-time consultant to USAID's Bureau for Global Health—at least for a few months—self-quarantined but working from home as is my wife, Aija, who teaches Latvian language and culture for the State Department. My goal is to see the last two of my six children graduate from college (one will next week) and get on with their lives and to continue a happy family life."
Jeff's KNK fraternity brother, Stephen Giddings, has followed a similar career path, Steve serving for "25 years as a foreign service officer with the U.S. Agency for International Development," retiring in 2006 but going on to enjoy "'semi-retirement as a part-time consultant'" with USAID "for the past 13 years." Steve writes, "2019 was an eventful year for my family when my wife Stephanie and I celebrated our 50th anniversary with a party in suburban Washington, D.C. in August, attended by all (surviving) members of our wedding party of 1969, including best man and KNK fraternity brother, Jeff Evans, sons visiting from Japan and Kenya and daughter from Kuwait, our two grandchildren and friends from near and far. I also reconnected this past summer with Peter Monro, who lives in Portland, Maine, about an hour from our summer place on the Maine Mid-coast. Peter and I were roommates living with our French family during our junior year in France in 1964-65 as students in the Sweet Briar College program. Finally, I discovered at the annual meeting this past summer that Joel Russ is the president of the newly formed Coastal Rivers Conservation Trust which helps to protect watershed areas in the Damariscotta/Pemaquid area of the Maine Mid-coast."
As Steve notes, ours is a "small world," and quite a wonderful one in that Joel, who among his many contributions to the public life of Portland and to the State of Maine "spent nearly four years as vice president of development (and a stretch as interim CEO) for a Portland, Maine, nonprofit, LearningWorks, which had, among other programs, an English as a Second Language program for immigrants, refugees and asylum-seekers." Joel and Jeff reached out to help Barry Thomas as he prepared for his trip to Burundi. Barry returned from Burundi in early March, sending me a moving account of what he and his partner, Connie, were able to accomplish, a few of the highlights being the launching of a preschool program, providing a nourishing cup of porridge each day to some 450 children and their mothers, and supporting in various ways the ongoing work of D4C.
Bob Dearth writes that he finds Barry's work "inspiring." I find what Bob has been doing, passing along his wisdom and experience, providing guidance, to his Chi Psi brothers at Miami University and the University of Kentucky, also inspiring. Bob's sustained contributions over many years grew out of his experiences at Wesleyan, where we received little guidance, if any, on the dangers of hazing and drinking. Bob knows what he is talking about, which no doubt these young men understand. Well done!
Rick Osofsky captures what many of us feel in reading about the exemplary lives of our fellow classmates: "Barry's story is just amazing and heartwarming…I have to humbly thank both Barry and his wife—they are truly the embodiment of our better angels. It astounds me to discover both the character and humanity of so many of my '66 classmates that I really never knew as we regularly passed each other on campus so many years ago. Though I did know who Barry was, I don't believe we ever met—my loss."
As for Peter Monro, he continues his peripatetic ways: "In September, I walked on the Via Podiensis, heading west from the volcanic city of Le Puy-en-Velay, hoping at least to reach the monastery town of Moissac in about a month. But the hills, steep chasms, wind, cold, and back spasms defeated me in a mere week, so I bailed. I recuperated for three days in sunny Barcelona, leaving just as the anti-Spain riots broke out, to hike for a week on the Camino Frances in Spain heading toward Burgos. Since the weather was warm, my back functioning again, the trails more gentle, and a friend Mary Lynn from an earlier trek to accompany me, a lovely time was had by both of us."
Peter goes on to share the good news that "I've finally gotten around to dispersing my landscape architectural work products—the paper and digital landscape designs, historic site reports, and conservation plans of my 20-year plus practice in downtown Portland, Maine. (I had an earlier 15-year career in newspapers.) When I contacted the Maine Historical Society about their potential interest in my work, I thought they might be interested in my public projects—parks, cemeteries, historic gardens, and the like. But their archivist, upon visiting my office, agreed to take all of my projects in Maine, even including non-historic private residences. I was surprised and pleased. Within a year or so, the projects will all be accessible to the public, digitally catalogued and searchable. I hadn't thought to have a legacy like that." Congratulations, Peter.
On the coronavirus front, Joel Russ writes: "These are most interesting times. I hope you and your family are doing well in Colorado. Carolyn and I are 'hunkered down,' but I get out for a five-mile run (alone) every day, in spite of the recent snow." Essel Bailey and his wife, Menakka, "are housebound in Ann Arbor where UM is very closed down but we are fine as are our kids." Essel notes that "Wes is managing as best we can." Cliff Shedd writes that "Michelle and I and family are holed up and holding up pretty well in Houston, although boredom has been stalking us persistently." For Thos Hawley and his wife, Marijke, the virus has led to quite an adventure. On March 12, they left for a cruise on the upper Amazon only to find themselves four days later quarantined for two weeks in Iquitos, Peru. See the Postcards from Iquitos for Thos's riveting, wry, wonderfully written account.
In closing we celebrate the life of Thomas M. Francis, who died on Dec. 7, 2019. Hardy Spoehr writes: "sorry to hear of To's passing. I played with him on the football team…a great tackle!" David Griffith, also a teammate, tells us that he can still "hear that great deep laugh. He was in Mystical Seven. He was immensely strong, a great football player, and I saw him toss that hammer in practice and tried it myself with him watching…no way. He was a gentle giant with amazing speed and fluid coordination…all you need for that impossible sport!" Thomas led an exemplary life, and then too, he still holds the Wesleyan record for the hammer throw! Here is a link to Thomas's obituary.
LARRY CARVER carver1680@gmail.com
P.O. Box 103, Rico, Colorado, 81332 512/478-8968