CLASS OF 2011 | 2020 | ISSUE 1
I hope 2020 is off to a great start for the Class of 2011. Some exciting updates from our classmates below.
Isabel Magowan writes, "I am a working artist and photographer based in Greenpoint, Brooklyn, and married last June. Thinking of all my fellow Wes classmates and hoping they are doing well!"
Christopher Ceccolini and Jordan Gratch '13 finally tied the knot, nearly 10 years after first meeting at Wesleyan. The two were married on Oct. 19, at Gedney Farm in Massachusetts. They were surrounded by many close family and friends, including 26 Wesleyan alumni from numerous graduation years (2010-2014). Jordan is now a first-year associate at Latham & Watkins LLP in New York and Chris is a clinical fellow in psychology at Harvard Medical School/Beth Israel Deaconess Medical Center in Boston. Chris looks forward to joining Jordan in New York when he finishes his PhD in counseling psychology next year.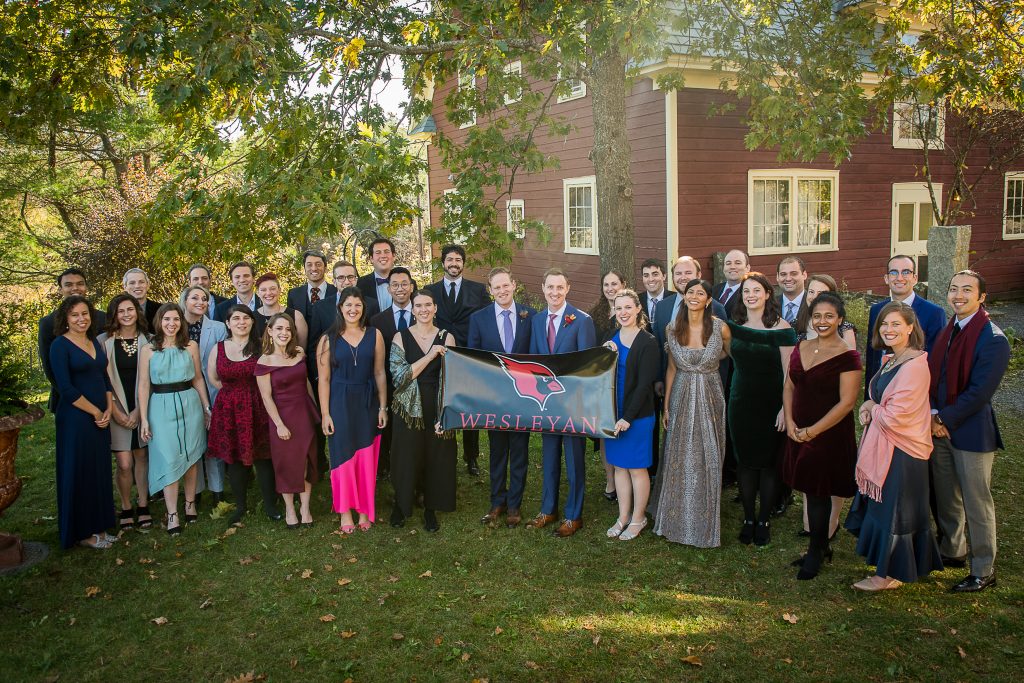 Amanda Faraone lives in Austin, Texas, with husband Alex Anthony '10, and their son, George. She is the new development director for American Short Fiction and is at work on her novel about teenage girls and love magic.
Becky Eidelman writes, "In the fall, I began a two-year master's degree program in urban and environmental policy and planning at Tufts University."
Jared Gimbel became a member of the International Association of Hyperpolyglots (HYPIA) in late 2019. With his video game about Greenland, Kaverini Nuuk Adventures, slated for a 2020 release after many delays, he has begun working on the expansion.
Cheryl Tan writes, "I am still in Singapore! Last year I did four screen projects and a difficult play called Displaced Persons' Welcome Dinner, about humanitarian aid workers in conflict zones. It premiered at the Singapore International Arts Festival and took up 13 weeks (two workshop sessions before the full production). It's a semi-devised work, very tiring."
Marshall Johnson reports, "Back in September I started a new job in astronomy as a staff scientist at Las Cumbres Observatory (LCO) in Santa Barbara, Calif. LCO operates a network of 23 robotic telescopes at seven observatory sites around the world, and, in my new position, I'm working with our NRES high-resolution spectrographs that we operate at four of those sites, in addition to conducting my own research. I now work closely with Tim Brown '72, among others."
Last but not least, Jennifer Spero writes, "I will be marrying Tristan Tully '09 and moving to London!" Congrats, Jen and Tristan!
As always, thank you for your updates!
Allie Southam | asoutham@wesleyan.edu