CLASS OF 1966 | 2019 | ISSUE 3
Let's begin with friendships and Harold Potter's account of a lunch he had (left to right) with Joe Pickard, Bill Machen, and Stan Healy at Mashpee Commons on Cape Cod.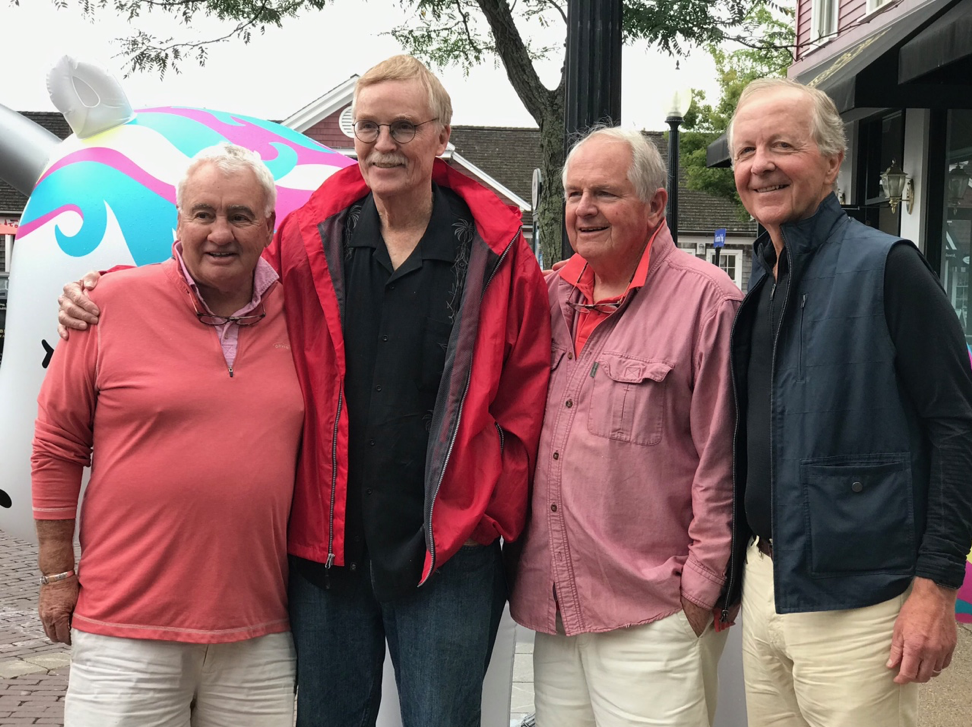 "All were in Psi U. Joe, Stan, and Harry were roommates senior year. All met at Wesleyan and have been lifelong friends.  Joe is a retired investment advisor and lives in South Londonderry, Vt.  Bill is a retired partnership and tax attorney but continues as a consultant to the law firm, Holland @ Knight. Bill resides in Melvin Village, N.H. (Bald Peak) and also maintains a home in Newton, Mass. Stan is a retired small business owner and lives in Mashpee, Mass. Harry is a retired trial attorney also at Holland @ Knight and lives in Wellesley, Mass. The Red Sox fans (Stan, Bill, and Harry) outnumber the Yankees fan (Joe), but we still manage to get along!  We are getting older but getting together never gets old! It all started at Wesleyan."
So many friendships did, but as Tony Alibrio reminds us: "Sad part about [our] age is losing many friends," and we just lost one. Our classmate and my hallmate freshman year on Foss Hill, George Richards "Rick" Churchill Jr., died on July 3. Rick suffered from cancer for some years but never lost that wry sense of humor. Here is a link to his obituary. 
We are also losing those who taught and inspired us, often becoming friends: Joseph Reed, my mentor, Leslie Gelb, and Reginald Bartholomew, David McNally's "two mentors—and heroes really," having recently died. Cherish those friendships, the lives we are privileged to live. Tony has been doing just that: "Life is real good . . . Retired 18-plus years ago and split my time between Lakewood Ranch, Fla., and my lake house on Lake Winnipesaukee in New Hampshire. Had two terrific and memorable experiences this past 12 months. Last October I took my four sons on a safari in Tanzania, Africa, and in June my entire family (21 strong) on a cruise to Bermuda." In September Tony and some friends will "fly to South Dakota and are renting eight Harleys (I'm shipping my new Harley trike), and we will be based in Deadwood City and riding to Sturgis, the Black Hills, Mount Rushmore. Taking advantage of our life span since the view through the windshield is shorter than the view through the rearview mirror."
Another retirement, Paul Gilbert, writing "after 40 years of service as an Episcopal priest, I have retired. I'm devoting my time to sailing, photography, starting a blog—of which you will be aware when it launches—and writing my second book." That book, The Marriage Quest, is available on Amazon, and he promises to let me know when his blog is up and running.  Paul plans to attend our 55th Reunion; mark your calendar. For Robert Rockwell "retirement is…going well after so many great years in banking.  I'm still somewhat involved with chamber/eco development matters.  Best of all, my wife, Monette, is always here to support, help, and advise. But now that it is spring time and the trout are rising, those stars are also in perfect alignment. Hi to all the '66ers and hope everyone is well."Jeff Nilson, save for the tornado that tore through town, finds "most things in Harwich . . . okay. Marietta and our two daughters are nearing the end of their battles with breast cancer. They seem to have won. Grandson William will have his bar mitzvah next month. We are grateful for the beautiful summer we have had on Cape Cod. Our great white sharks agree. There are thousands of seals to feast on.  Life is good."
Alberto Ibargüen's important work with the Knight Foundation continues, his e-mail on July 21 telling us that the "Knight Foundation has long been focused on the decline of journalism organizations and the dangerous reduction of reliable and consistently reliable information available to citizens in our democratic republic.  Earlier this year, we announced a $300 million initiative around an informed society, seeking to rebuild trust in American society through reliable local journalism. Tomorrow we'll announce the assignment of $50 million of that initiative to scholarly research and, ultimately, the development of policy options."
Great to see Claude "Bud" Smith's scholarly work is being drawn upon, Bud writing: "This November the PBS series "American Masters" will present "Words from a Bear," a film featuring N. Scott Momaday, the acknowledged grandfather of Native American literature…With my late colleague Alexander Vaschenko of Moscow State University I co-edited Meditations After the Bear Feast: The Poetic Dialogues of N. Scott Momaday and Yuri Vaella (2016).
"Momaday wrote the Foreword to The Way of Kinship (Minnesota, 2010), the world's first anthology of Native Siberian literature in English, which Vashchenko and I also edited. Another colleague, Susan Scarberry-Garcia, who did her doctoral dissertation on Momaday and who has taught with him at the Institute of American Indian Arts in Sante Fe, will be in the PBS film. Vaschenko and I traveled with Susan in Siberia, and she accompanied Momaday there with a group of Native American students, where he met Vaella and Yeremei Aipin, another author in The Way of Kinship.  All of us were together for a conference for Native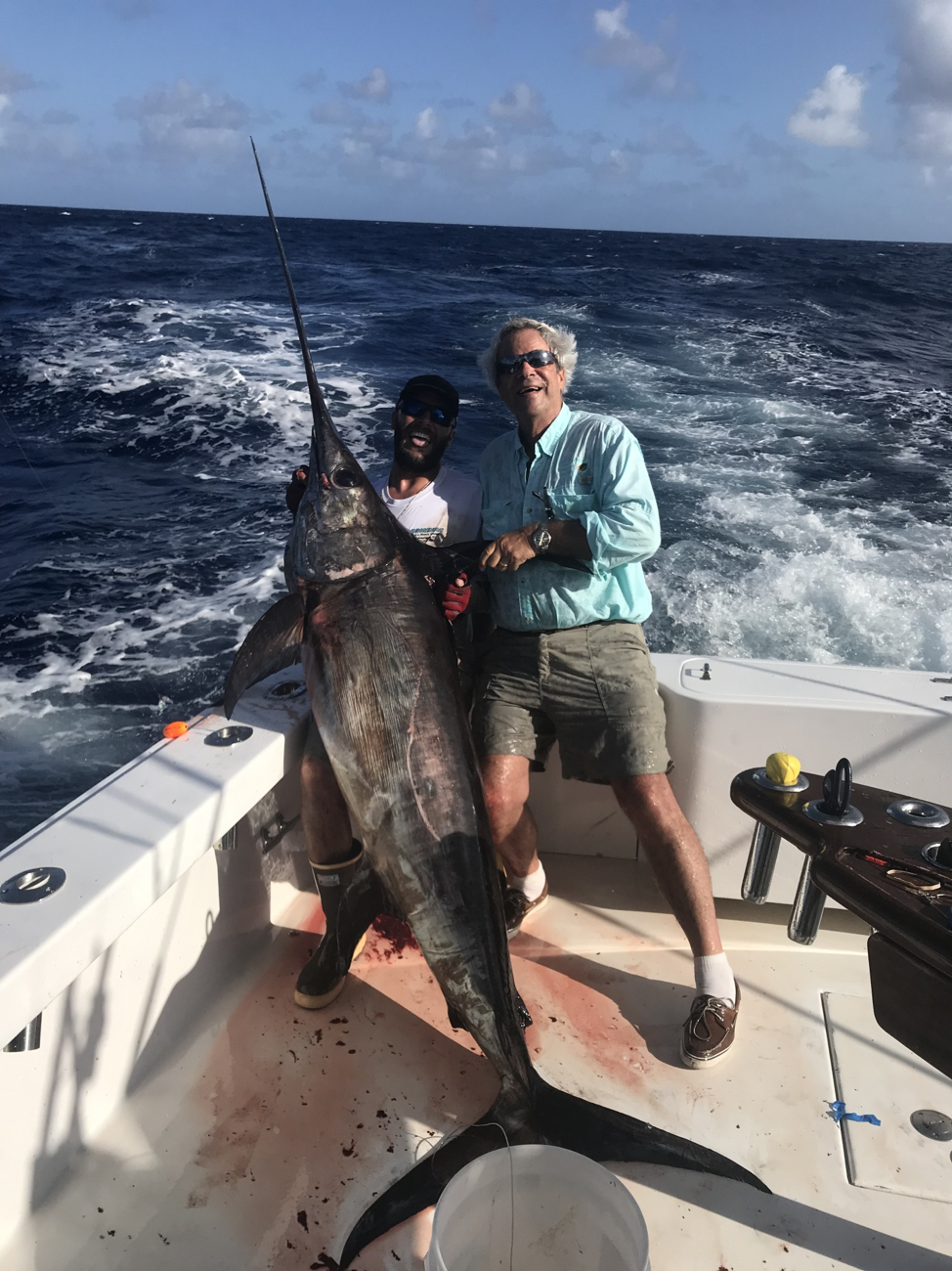 American writers and scholars at IAIA . For years I included Momaday's The Way to Rainy Mountain in my English classes.  He's now 85 and not in the best of health, so I recommend the PBS program highly
If you needed proof that Bob Dearth did catch that "189-pound swordfish," here it is. "Best eating fresh fish ever!"
In closing, these words from Dick Stabnick: "Miss everyone and look forward to our 55th."
LARRY CARVER | carver1680@gmail.com
P.O. Box 103, Rico, Colorado, 81332 512/478-8968