CLASS OF 1984 | 2019 | ISSUE 2
Hello, classmates. I hate to begin our Reunion notes with a sad note, but we just learned that Roger Pincus passed away in mid-February. Roger and I took over as co-class secretaries in 2013, and worked together until about a year ago; he was always pleasant, cordial, and efficient; we worked well together. At our banquet, he was on the in memoriam list and we've confirmed. It was a shock to me and it is a sad task to report it out to you.
Lisa Larson sent an e-mail just before the Reunion with more sad news. Linda Wienski '83 passed away after a long illness and Lisa's husband passed away several months ago.
With that said, it was wonderful to see so many of you at Reunion. I did not attend the Foss Hill roll, but I'm sure it was as successful as always. During the banquet, I passed around a notebook for people to jot down what they have been up to and got the following responses: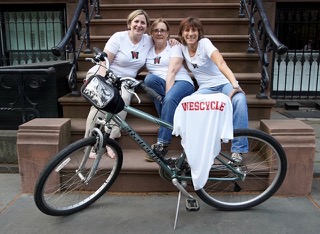 Jane Smith participated in the Five-Borough race in NYC, covering 40 miles along with Valerie Cotler and Suzanne Hodges.
Charlotte Sonnenblick is happy to have her son Henry '21 at Wes. His twin sister Abott graduated from Columbia. Charlotte joined the Corcoran Group as a residential real estate broker in Manhattan after 17 years at Stribling & Associates.
Michael Feldman lives with Diane Holt '86 in D.C. Son Manny is a high school junior. Michael is a principal at Transitions International, an arts policy and cultural diplomacy consulting firm, and is the co-facilitator of the Theatre and Policy Salon.
Stu Remensnyder resides in Amherst, Mass., with two teenagers and his wife (and poodle and cat). He is busy coaching youth hockey and teaching math at Loomis Chaffee school.
Rick Davidman is in New York with two teenage sons. He has been a financial advisor since 1984, working with many artists, including several Wesleyan faculty members. He closed his art gallery some years back and curates exhibitions in public and private venues.
Peter Stine, when not being kept busy by his 3-year-old son Milo, is chair of physics and engineering at Bloomsburg University and is a roller derby referee whenever he gets the chance.
Karen Rosenberg lives in Providence, R.I., and is retiring this summer from the UAW Union after 12 years as an international representative. Next up is a tour of the country in her Triumph Bonneville.
John Miya, who continues to identify as class of '84 despite the extra year in Japan, lives in the "People's Republic of Evanston." He laments that his two sons (who are "coming off the family payroll this year") would not go to O'Rourke's with him.
Kate Heaton is living in Manchester, Vt., with husband and kids, managing the family business and trying to educate people on the climate crisis. Become a Facebook friend of hers, and she will keep you up to date. She reflected that returning to Reunions makes her realize what a special group of people we Wes graduates are.
A few classmates jotted down greetings, but no hard news. Laura Simon commented how quickly time has passed (but everyone still looked good); Dan Kinsey said how glad he was to greet our future selves together; and Bruce McKenna simply enjoyed reconnecting.
Before Reunion, I heard from several classmates who couldn't make it to Middletown. Alison Hausman has started a new podcast called The Pledge, featuring short and inspiring profiles of ordinary Americans who are engaging in our democracy. The first season tells stories of six women in Alabama fighting for progressive change, which is timelier than ever. She also recommends SoundQs, a Seattle based podcast about the region hosted by Deborah Wang.
Simone Zelitch has published her fifth novel Judenstaat, which will be released in paperback in January. Her novel imagines a Jewish state established in Germany in 1948. She established the Creative Writing program at Community College of Philadelphia: simonezelitch.com.
Julia Lopez reports from Philadelphia that she is now the foundations and innovation program manager in the Mural Arts program. She will be the participating theater artist and poet at Hemispheric Encounter in Mexico City (associated with NYU); and will co-facilitate Artist Exchange with Indigenous Communities in Auckland, New Zealand.
Kees Davison writes from northern Virginia that he and his wife, Vera, became grandparents in 2015. Their son, Caio (father of young Byron) begins a doctoral program in physics at VCU in Richmond this fall. Kees retired from full-time work in the Foreign Service in late 2016, but continues to pitch in with the State Department on an intermittent basis to help fill staffing gaps abroad. His assignments as a part-timer have been to Athens, Luanda, Santiago, Maputo, and London.
And that is the news for a very busy month. See you all in five years, and I'll keep you updated in the meantime.
Michael Steven Schultz | mschultz84@wesleyan.edu