CLASS OF 1981 | 2019 | ISSUE 2
This is Joanne sending greetings from Europe, where the pace of life is slower, and people really take time to enjoy the moment. Each year, this time, I have the privilege of accompanying my husband on his summer class to Augsburg and Bergamo. Every direction I look, I see people sitting: drinking a beer or sipping a glass of wine or maybe a summer cocktail; others are drinking coffee, eating cake or indulging in ice-cream—for no other reason than it's a beautiful day! Some are with friends or family; others are alone, just savoring the moment. I think the Danish call it "hygge." The trendy word these days in the U.S. seems to be "mindfulness" though I've yet to see it appear in this particular context. No matter what you call it, everyone looks a lot more relaxed and happierthan the average person you see on a U.S.street. So. . . I'm going to order an Aperol and enjoy the sunshine and atmosphere as I report on our classmates'most recent news. Cin-cin!
This being 2019, the majority of our class will be celebrating a "big" birthday this year so happy birthday to you! I have already made the transition and frankly, I don't think 60 has ever looked this good or productive or healthy. I have determined it shall be a year of celebration, of reachingout to old friends, and taking the time to appreciate those whom I love and cherish. Over the years, it has my and David's duty to report not just the good news regarding our classmates' accomplishments, but also sharing the sad news of their deaths, reminding us as we enter a new decade that life is shorter than we ever imagined, more precious with each passing day, and to be taken advantage of at every opportunity.
In late January, Kaylie Jones, author, teacher and editor, was in D.C.hosting a book event. Several area Wes bibliophiles were in attendance: Kathy Prager Conrad, Mary Downs '82, Patty Smith'82, Jeff Tsu'82, and me. Jeff had to leave immediately so sadly I have no news from him. Mary has been living in D.C.for decades, doing some very interesting work (details of which I did not write down. . .so I cannot impart any further info. Sorry, Mary!) Patty and I enjoyed a sleepover and tried to catch up; we last saw each other in Paris, spring of 1983. We were up until the wee hours—and barely scraped the surface of ourmemories! Patty teaches high school outside Richmond, Va.,(English now, not French) and continues to write; her second novel is due out soon. The next night, Kaylie and her brother hosted a small dinner and just like the old days at Downey House on a Thursday night when Chris McEvoy (please write in with news, Mac!) would put on one of his special cassette mixes, Kaylie, Kathy, and I were kicking up our heels and dancing the night away! She has relocated to San Diego after decades in NYC, where she is thoroughly enjoying life on the other coast. Kathy, who visited me in Bloomington with her husband in April, is off on a new adventure: circumnavigating Mont Blanc this summer, which is an approximately 12-day hiking trip. When not off globe-trotting, she continues to enjoy her work in the field of technology and consulting in DC. Kathy reports that both daughters are doing well: Caroline'14 is still working and enjoying success in the film industry in NYC while Liza '11 recently relocated to Atlanta to work for Stacey Adams' permanent staff.
In May, I had the great pleasure to spend a wonderful weekend of fun, good food, great cocktails and much reminiscence with John "Wally" Walden at the beautiful New Jersey home of Rick Ciullo and his wife Tammy. It's pretty hard to believe that the three of us, friends since the first night freshman year, had not been all together since graduation! Nicest thing? It was as if no time had passed at all—the warm familiarity and good humor picked up where we'd left off; the only thing different was that both Rick and John have had exceptional careers and beautiful families in the meantime. (Rick has two daughters in college, and John has two sons, just a bit older and already out in the world.) John, who lives in London, Ontario,continues to work in the tech industry and Rick is still on top of his field in the world of insurance.
Livia Wong McCarthy writes that she will be spending some time with Belinda Buck in Newport, R.I.,in August before meeting up with Kathy Prager Conrad, Deb Chapin, and me for a now-we-are-all-60 weekend celebration there. We are looking forward to catching up and reenacting our Sunday coop dinner nights—but minus the Hearty Gallo Burgundy. For sure.
One day this spring, I was home eating lunch, listening to the BBC when suddenly I heard classmate Chrissy Winkelbauer Kelly being interviewed about her work in and personal experience with smell loss. She has been heavily involved in the creation of AbScent.org, a patient advocacy group and charitable organization that, says Chrissy, "will change the way people with smell loss adapt to their condition and help themselves achieve a greater quality of life." At the time of this writing, an app, an international research project and more are in the mix. "I wouldn't have done it without the help of Miriam Block, childhood friend and (web) coding genius," she adds. Congrats to Chrissy for helping bring focus to and shedding light upon this underreported health issue.
Paul Robertson "attended the International Conference on Software Engineering this May in Montreal, which meant Icould drive to Albany from myhome in Amherst, Mass.,and take Amtrak—so much nicer than flying! At the conference I was presenting two papers about how my team at Sony does its work, developing software tools for the studios doing games for the PS4. The research and academic writing felt very odd after all these years!"
Brenda Zlamany continues to enjoy professional success in the arts world. 100/100: The Itinerant Portraitistwas chosen as an official selection at this year's Berkshire International Film Festival. Brenda is also getting back on the road with the last two parts of her latest chapter, Climate in America. Part One took place earlier in Key West, Fla. Part Two took place in June in Sonoma, Calif.,where she was in residence at the Chalk Hill Artist Residency, working on portraits of vintners, seasonal workers, firefighters, and others who call Sonoma County home. Part Three will begin in August in Utqiagvik, Alaska,during the 2019 Alaska Eskimo Whaling Commission Whaling Captains'Convention before she moves on to Denali National Park, where she has been awarded another artist's residency. Check out Brenda's website for further information.
Delcy Ziac Fox attended a function of the Wesleyan 1831 Society in NYC where everyone toasted Barbara-Jan Wilson and wished her a happy retirement. At the event, Delcy caught up with David I. Block, Liza Page Nelson, David Resnick, Paul DiSanto, Joe Fins '82, and Lloyd Parodneck '83 and reports that a great time was had by all.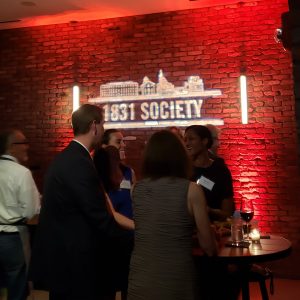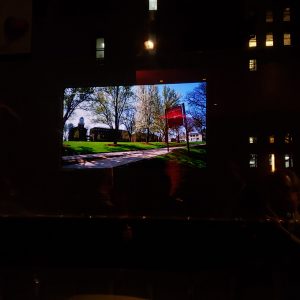 Congratulations to Allison Williams, who headed back to Wesleyan in July as the new vice president for equity and inclusion/Title IX officer. Allison has had a storied career which includes similar jobs at Denison University and Oberlin College. In addition to administration, she also worked as a chemistry faculty member for 24 years. Outside of work, Allison is a mom to two teenagers, a semi-professional oboist, and a die-hard fan of Cleveland and Ohio State sports teams. In an interview with the Argus, Allison said, "I'm really excited about coming back. I love Wesleyan!" One of the many things she is looking forward to is building on existing programs such as the Mellon program and WesMaSS and to "take those programs and the work that's been done on (faculty) searches and support them and make them stronger."
Keep the news coming!
David I. Block | david.I.block@gmail.com
Joanne Godin Audretsch | Berlinjo@aol.com