CLASS OF 1966 | 2019 | ISSUE 2
How many Wesleyan classes can boast a renowned entomologist? Ours can, Andy Moldenke. Andy and his wife, Alison MA'66, "retired 10 years ago from Oregon State University where they have spent most of their careers after getting their biology PhDs from Stanford." "Both of us," Andy writes, "are still actively teaching at OSU, Andy advising several grad students and working with Citizen Scientists on Entomology and Forest Ecology high in the Cascade Mountains while Alison is tutoring foreign graduate students in English. After a number of years of globe-trotting to Australia, South Africa, Chile, and the Far East we are now pretty much centered in Corvallis, Ore. Andy has even donated his beetle collection with thousands of species to the museum at OSU. Our son, Kelsey, is an urban planner currently under contract to the Quinault Indian Nation (in nearby Washington) to plan the move of their settlement from the seashore to a nearby site safe from tsunamis and rising seas due to climate change (flooding is already occurring due to sea-level rise). Andy's most fun comes with leading field trips in the mountains and continuing field research on pollination and bee ecology." A distinguished career continues.
"Things are great here," reports Richard Stabnick, here being West Hartford where Dick lives with his wife, Cheri. "Still practicing law full-time. The firm specializes in worker's compensation defense. We do about 60 percent of all the defense work in the state. We are a midsize firm with three senior partners and five junior partners (including one daughter) and six associates and 25 support staff." Cheri and Dick have "one grandson by our second daughter who is a school teacher in Connecticut," and Dick, who gets "back to Wesleyan often as I am in court in Middletown once or twice a month . . ." spends "most of my free time working on or about the yard here in Connecticut and in Rhode Island (three acres on the beach is a lot of work). Play golf but handicap is going up from five to now nine! Need to play more but grandson prevents that."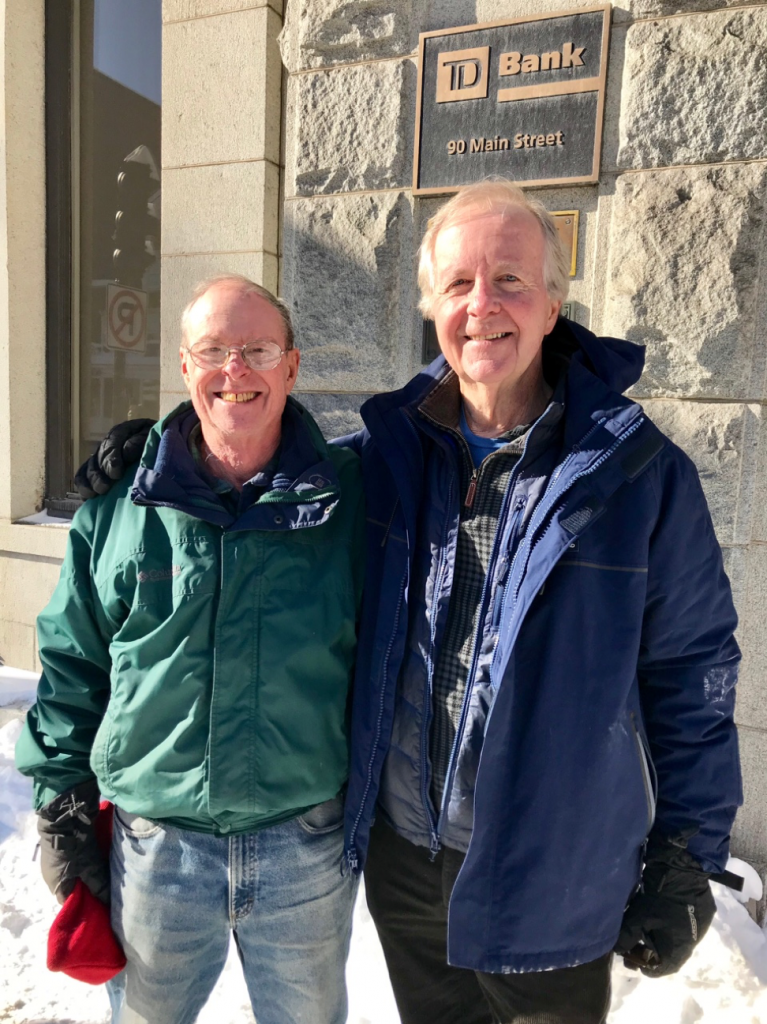 Rob Chickering and I have known each other since fifth grade in Sherborn, Mass.," writes Harold Potter. "We both went to Framingham High School . . ." Recently, Harold had "lunch with Rob and his wife, Rhoda . . . in Montpelier, Vt. Toured the state capital before lunch. The hallways were teeming with earnest legislators. Democracy in action. Heartening when contrasted with Washington. Rob is still playing tennis and shoveling snow."
You will recall that Bill Dietz and his wife, Nancy, visited Hardy Spoehr last year. Recently Peter Spiller did as well, Hardy reporting that they "had a wonderful time—a bit of a reunion on the water!" Hardy ends enticingly with this: "an invite for more '66ers to visit us."
Congratulations go out to Alexander Blount whose book, Patient-Centered Primary Care: Getting from Good to Great, will be published by Springer in July and is already available on Amazon." Unlike many of us, Sandy's "latest news is about work rather than retirement adventures. After 20 years in mental health settings and another 20 years of teaching physicians and psychologists to provide patient-centered team-based care in primary care settings, I left UMass Medical School at the age of 70 to be a professor in a graduate school, training psychology doctoral students to work in primary care. I am cutting back to focus full-time (or my version of it) on consulting and training." Donald Craven also continues his important work "at Lahey Clinic Medical Center in Burlington, Mass., which is merging with Beth Israel Hospital in Boston." As Don points out, "Still lots of work is needed on education and prevention and early treatment of infectious diseases." As for forthcoming books, Jeff Nilson, is seeking an agent to publish his first children's book, which begins captivatingly: "Name's Picky. I'm a grass pickerel.I'm shaped like a cigar with fins. I have a big mouth and a nice smile. I have daggers for teeth, and they give everyone in the pond nightmares. I'm the scariest fish in the pond. And the loneliest. To be less scary, I eat only plants—pond grass, lily pads, water lettuce. Very tasty. But there are two problems:I have to floss all the time. And still no one likes me." Can't wait.
As for retirement, Douglas Robins may hold our class record, Doug writing: "On June 1, I will celebrate being retired for 30 years. I used to work at Hartford Financial Services in Hartford. Currently, I am still busy with a lot of community service work, and I occasionally volunteer at our local Canton Historical Museum. I enjoy riding my bicycle around northwest Connecticut and nearby Massachusetts as much as I can. In September, my partner Joe, our dog Sammy, and I are planning a vacation trip to Colorado. It will be a first for Joe and Sammy. I haven't been there since just after I retired in 1989. Places I am looking forward to revisiting are Silverton, Ouray, Aspen, Leadville, Estes Park, Fort Collins, and of course New Raymer." Hope to see Doug, Joe, and Sammy in Rico.
Reports on two "bucket" lists. Bob Dearth "has been working on my 'bucket list' of salt water fish to 'catch' and was successful this past November with a charter boat out of Bud and Mary's Marina in Islamorada, Florida. The 189-pound swordfish, caught 1,600 feet down in the Gulf Stream 25 miles south of Islamorada provided lots of wonderful meals. My Blue Marlin catch still eludes me although I have three different strikes that could have resulted in the fight of a lifetime, but they all failed to hook up. I'll keep trying . . . I have my oldest grandson graduating high school next week. Pretty exciting too." Essel Bailey writes: "If you have a bucket list and do not have the Galápagos Islands on it, I urge you to consider it. The history of science and evolution started with Darwin's visit to this volcanic plateau/island group in 1834 and has continued to evolve and amaze over time; the animals do not know fear of people; they have unique characteristics and the guides are terrific. Menakka and I went with a child and 12-year-old grandchild and the enthusiasm for snorkeling/swimming with turtles and seals and fish were exciting for all, as were the amazing and unique mammals and birds. A new book The Genius of Darwi'has a great history and continues the story into the 21st century." Essel, it's on the list.
I found Howard Brodsky's talk at our 50th Reunion about his work with CCA Global Partners, which he co-founded and serves as its chair and co-CEO, inspirational. Other have as well. On May 19 the World Affairs Council of New Hampshire will honor Howard with its 2019 Global Leadership Award. As the news release tells us: "CCA Global is a national and international leader and trendsetter in cooperatives. Building on their people before profits vision and model, the company helps family businesses effectively compete with large businesses by pulling them together under the cooperative model. Brodsky's mission has always been to help entrepreneurs succeed in an unpredictable global market by providing them with the scale and innovations they need to survive." Congratulations, Howard!
LARRY CARVER | carver1680@gmail.com
P.O. Box 103, Rico, Colorado, 81332 512/478-8968