CLASS OF 2008 | 2019 | ISSUE 1
Class of 2008 Scholarship
Celia Hurvitt '22, Blue Hill, ME
The Class of 2008 has been taking the world by storm a mere 10 years after graduation! Jeffrey Stein is working as a public defender in D.C. While at Wes, he swam and, until this year, held two school records in the 200- and 400-freestyle relays. He has since replaced swimming with distance running. In November, he won the Marine Corps Marathon and was featured in NBC News and the Washington Post!
Kat Cho is publishing her first young adult novel, Wicked Fox, this year with Penguin Random House. It is based on her Korean heritage and draws from the myth of the gumiho, a nine-tailed fox who can become a woman to lure in men and eat their livers in order to live forever.
Bex Allen writes, "After 10 years in sweet home Chicago, I picked up and moved to Seattle, where I now work in corporate and foundation relations for UW Medicine."
Lauren Goldman spent New Year's Day in London with Caroline Janin and her dog, Josephine.
Jinny Jang married her partner, Scot Knickerbocker, in a small Washington, D.C., courthouse ceremony in October. Kate Letourneau and Andy Lubershane '06 welcomed daughter Eve Shayna Letourneau in December. Eve has fat cheeks and a good attitude.
Sam and Sage Ruth decided to throw away their carefree DINK [double income, no kids] life, and welcomed their son Maxwell "Max" Alexander in November. Learning the fight song is next on his list of major developmental milestones.
Elissa Kozlov writes, "I accepted a faculty position at Rutgers University (jointly appointed to the School of Public Health and the Institute for Health, Health Policy and Aging Research). My family and I are planning to move to northern New Jersey in May. Any Wesleyan folk living in the Jersey 'burbs?"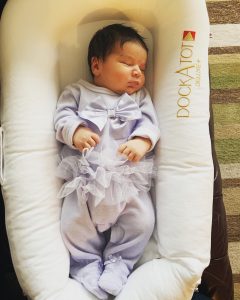 Lyz Nardo Levy's daughter, Mila, arrived on Dec. 5, weighing in at a whopping eight pounds, 12 ounces! Lyz and her husband, Dor, are very tired, but over the moon! Lyz writes, "She really is a laid-back baby. Tipsy Scoop continues to grow and we plan to open our second liquor-infused ice cream 'barlour' in Brooklyn this spring!"
Alicia Collen Zeidan | acollen@wesleyan.edu