CLASS OF 1997 | 2018 | ISSUE 3
Thanks for your updates, Class of 1997!
60 Minutes producer Alexandra Poolos has been nominated for an Emmy for her most recent story, a profile of the Russian opposition leader Alexei Navalny. Alexandra, we're so proud of you!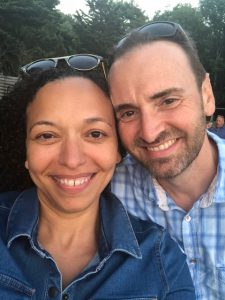 It was great to hear from Monica Santana Rosen, who wrote in to share, "It's hard to believe, but my husband and I celebrated 21 years since the day we first met, which was just after Wesleyan graduation. We have three kids, two boys and a girl, ages 14, 10, and 6. I'm running my own consulting firm and just about to celebrate two years in business."
Min and Alejandro Santandrea launched a new shoe brand, SantM, and had the launch party during New York Fashion Week in the former studio/home of Jean-Michele Basquiat that was owned by Andy Warhol. "We had a great Wes turn out. Thy Pham flew in from Seattle to help us. Shelby Stokes, Soraya Kernizan, Susan Lee, Susan Ha, and Josh White '84 were there. Rebecca, the daughter of Professor Emeritus John Paoletti, represented the Paolettis. Also, received a great support from Christian Housh and his wife, Tassia Thomas, Tyler Moriguchi '95, Michele Lau, Lauren Wolfe, Charlson Choi, and Maggie Suniewick." Check them out at santm.co (we totally did!) And, because it's such a small world . . . turns out Min's kids and Sasha's kids go to the same elementary school in NYC. And we are having coffee as soon as she's back from Italy (ah, the shoes!).
We have exciting news from Matt Mulvey and his wife, Katie Sacksteder. They welcomed another boy, Finn Mulvey, into the world in June 2017. Katie and Matt sold their company, BeneVir Biopharm, Inc., to Janssen Pharmaceuticals (Johnson & Johnson) in July of this year, which made headlines in the hot field of cancer immunotherapy. They will remain at the helm of the company for the foreseeable future and are excited about all of the resources available at Janssen to accelerate the development of their innovative cancer treatments. But, they are most happy about being able to spend more time with their kids now that they don't have to raise capital anymore. Congratulations, Matt and Katie! And good luck with your work discovering new therapies to fight cancer—how amazing!
Your class co-secretaries have an update. We got to spend the day together in July in NYC. Sasha and her son (age 7) and Jess and her two youngest sons (ages 9 and 6) went to lunch at Russ & Daughters at the Jewish Museum and then to the American Museum of Natural History. We lucked out on the unusually cool weather that came right after a quick summer storm. Roaming around the city together felt magical. And we cannot wait till the next Wes Reunion with all of you (mere seconds away, in 2022)! Until then, send us your photos and updates.
Jessica Shea Lehmann | jessica.lehmann@gmail.com
Sasha Lewis Reisen | alewisreisen@gmail.com