CLASS OF 2016 | 2018 | ISSUE 2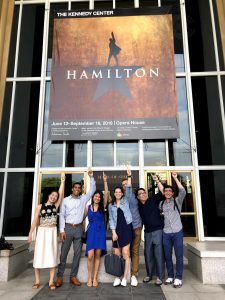 Melissa Leung wined and dined with Son Tran '95, Taran Carr, and Sarah Mi before watching Hamilton on its opening night in D.C. 
Ceci Cereijido-Bloche is in rehearsals for a show called The Hunt, going up at HB Studio in July. It's a series of five one-acts, each with a different take on the idea of a sci-fi world with different gender dynamics (think Handmaiden's Tale).
Matt Chilton just finished a run of eight performances of an original production of An Iliad as The Muse, a role bridging improvisation, composition, and acting, at D.C.'s Atlas Performing Arts Center. He is working on sound for Specially Processed American Me, a multimedia play and workshop series focused on Spam in Korean and Korean-American food, culture, and memory, while playing electric sax in a femme-domme math rock ensemble, Wasabi Fox, and working in nonprofit admin.
Eki Ramadhan has been working for the Southeast Asia office of the Abdul Latif Jameel Poverty Action Lab for almost two years. He had a chance to work with Jenna Juwono '09, who is now pursuing a graduate degree in the Netherlands. He deferred his admission to a grad school in the States to 2019 and is working as a senior research associate and eager to welcome recently-graduated Aqila Putri '18 to the J-PAL team at the end of June .
Mads O'Brien is wrapping up her job(s) at Stanford University, where she works part-time as library GIS support (basically being a QAC tutor all over again) and part-time at the front desk of the Rumsey Map Center for rare and antique maps. She gets to geek out over really awesome cartography everyday—ask her about it! This fall, Mads is heading back to Connecticut to pursue a master's of environmental science at the Yale School of Forestry & Environmental Studies, where one of her personal goals is to learn how to fly drones for aerial photography. Mads is excited to reconnect with her people on the East Coast.
Since graduation, Sean Mihaljevich has been working as a research analyst at the Federal Reserve Bank of New York but will soon be returning to his home state of California to pursue a JD at Stanford Law School. He comments, "It is unfortunate that I have to leave many of the close friends I made at Wesleyan behind, but I am excited for what the future holds!"
Ellen Paik placed second with her team in the Global Finals of the Goldman Sachs Analyst Impact Fund, securing a grant for a nonprofit called New Story, an organization that aims to incorporate 3D printing technology to alleviate global homelessness. The grant will go towards constructing the first ever 3D-printed community, to be built in El Salvador by 2019. Check out the amazing work of New Story on their website!
In August, Madeline James will be leaving D.C. and moving down to North Carolina to start a PhD program in history at UNC-Chapel Hill.
Aaron Morgan works in D.C. for Fund II-UNCF STEM Scholars Program, a $48 million Initiative that supports African-American students pursuing careers in STEM and technology.
Ellen Paik | epaik@wesleyan.edu