CLASS OF 2008 | 2018 | ISSUE 2
Hello, '08! It was so great to see so many of you at Reunion and meet some of your families. Here are some notes from those of us who couldn't make it back and from those of us who made good on promises to submit.
Nick Benacerraf is working towards a PhD in theatre and performance at the Graduate Center, CUNY. His directorial debut, Seagullmachine, premiered at La MaMa in April and May. The show was created by The Assembly, including alumni from the Class of 2010). His set-designing practice (nickbenacerraf.com) had shows at Brooklyn Academy of Music and Lincoln Center. He was sad to miss Reunion, because "finals suck," but sends love to friends.
Peter Hill writes, "After eight years fighting the good fight in the nonprofit sector and NYC government, I returned to grad school to get an MBA and explore ways to make cities work better using technology. I graduated from Harvard Business School the day before our 10th Reunion, and I'm moving out to Ann Arbor this summer with my husband. He'll be teaching there, and I'll be consulting at McKinsey in Detroit. I'm new to Michigan so would love to connect with any Wes people in the area. First, though, I'm enjoying a rare summer off to travel the country and reconnect with old friends."
Adam Tinkle has been appointed director of the John B. Moore Documentary Studies Collaborative at Skidmore College, where he has been teaching since 2014. He writes, "One of the great joys of working here has been in working with visiting fellows for our annual Documentary Storytellers' Institute, which I've helped to steer since its 2015 inception. Among these fellows are Jake Nussbaum '10, Asa Horvitz '10, Gedney Barclay '09, and Sylvia Ryerson '09. Anyone with any connection to nonfiction media and the documentary arts should look me up in Saratoga—it's an incomparably lovely place to spend a summer."
Last summer, after almost a decade of grad school/post-doc in Ann Arbor, Leah Weinberg and Scott Horowitz '07, MA '09 finally packed the cat into the car and drove west to start the next chapter in Colorado at the University of Denver. Both are loving the Front Range life, and cordially invite any Wes folks passing through Denver to drop them a line. 
Alpay Koralturk couldn't make it to Reunion due to an urgent business trip in Turkey, but wrote, "My first company, Gram Games, just got sold to Zynga." Grace Overbeke is pursuing a PhD in theater and drama at Northwestern University, and this July, will be marrying Mr. Matthew McMunn! Evan Barton just joined a new gym and is writing an essay about rereading the Harry Potter series.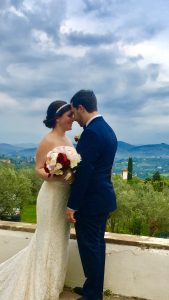 Lyz Nardo, COO of Tipsy Scoop, celebrated the first anniversary of the Tipsy Scoop Barlour in Kips Bay. She writes, "In addition to 15 year-round flavors of boozy ice cream and sorbet, we are serving up lots of seasonal offerings including an entire summer of rosé wine-based flavors and collaborating with many restaurants like American Cut." In May she was married outside of Florence, Italy, and is expecting her first child on Nov. 30.
Lucy Bickerton finally closed the books on the classroom portion of her medical education at SUNY Downstate and took the first step of her licensing exam two days before her baby boy, Calvin Vara, showed up one month early! Ilona Kramer, Elena Feroz, Stephanie Calvert, and Stephanie Fungsang celebrated at the baby shower just a few hours before she went into labor. She is loving motherhood and is excited to start clinical clerkships in July.
Another applicant to the class of 2040 arrived in April—George Fredric Jones Cruickshanks was born on April 4 to Francie Jones and Lauchlin Cruickshanks. Proud grandparents include Karen '77 and Don Cruickshanks '75.
Nick Weiss-Richmond and three collaborators, have created My Astronaut, an eight-episode mockumentary web series that answers the question of what one dim-witted boyfriend does to keep his girlfriend and his life from changing forever. Episode one was released on May 3. Season one starts with two bewildered filmmakers arriving to profile Maggie Placek, an underdog candidate for a civilian mission to Mars, but they soon find that her boyfriend, Micah Pevsner, might hold the key to a story far more compelling than a simple 30-second candidate bio. Episodes will be released on YouTube and Vimeo every Thursday, and the series has already received positive press from Staten Island Advance and The Daily Fandom.
Alicia Collen Zeidan | acollen@wesleyan.edu