CLASS OF 1997 | 2018 | ISSUE 2
Hi, Class of 1997! We hope you had a lovely summer. Cyrus Bryden writes: "I have been living in Charlotte, N.C., for about 13 years and my partner, Pina, and I have three children (ages 12, 11, and 8). I am employed by the Public Company Accounting Oversight Board and regulate predominantly in the financial services and energy industries. I am an active coaching volunteer for my children's sports teams (lacrosse, soccer, and baseball). This summer, I hope to reconnect again with David Katz and his beautiful family in Destin Beach, Fla."
Brent and Alison Keimowitz Spodek are in the Hudson Valley, where Alison is an associate professor of chemistry at Vassar College and Brent is the rabbi at Beacon Hebrew Alliance. His synagogue held a benefit concert with Dar Williams '89. Photos are online at facebook.com/beaconhebrewalliance. This summer Brent and Alison spent time with Ilana Sumka in Belgium, where she lives with her family.
Josh Suniewick writes: "Maggie and I hosted a Wesleyan reunion party at our home in Hastings-on-Hudson, N.Y., on Memorial Day weekend. We had so much fun at our 20th last spring that it seems to be the only way to spend Memorial Day weekend. The best part was not only being surrounded by so many Wes friends, but seeing the next generation of 23 possible Wesleyan students having such a blast together." Go to magazine.wesleyan.edu to view a group photo that includes Maggie (McLean) Suniewick, Josh Suniewick, Amani Willett, Maya Kremen, Joanna Starrels, Niko Higgins, Yaron Ben-Zvi, Tony Schloss, Alex Grashow, Carter Bays, Emma (Ditrinco) Sollars, Emma Cooper-Serber, Katharine Bailey, Kimberly King, and Mike Lenore. Other WesSpouses in attendance were Alejandro Luciano '96, Juno Shaye '98, and Ben Selkow '96.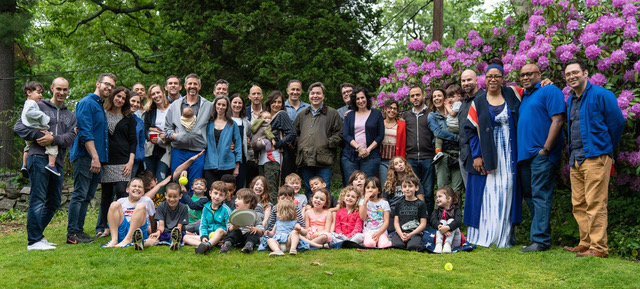 In other news, beginning July 1, we have four new AAEC officers leading the Alumni Association Executive Committee, including Kimberly King, vice chair.
That's all for now! Take care and feel free to send us your updates and photos, which can be posted to the class notes website.
Jessica Shea Lehmann | jessica.lehmann@gmail.com
Sasha Lewis Reisen | alewisreisen@gmail.com