CLASS OF 1981 | 2018 | ISSUE 2
Greetings from Brooklyn. We will start with an erratum: My fellow SiSPer Ariel Rubissow Okamoto wrote last issue that she is with her husband in the Bay area, which is decidedly on the left coast, not the east coast. I'm sure most of you had figured that out. And daughter Tira is working on the San Francisco Pre-Disaster Challenge of Resilient Design. Our apologies for sloppy proofreading.
Good news department: Paul DiSanto and Gordon Cooney joined former Wesleyan Lacrosse teammates Peter Guenther '77, Dan Lynch '80, Bruce Bunnell, and number-one fan Seta Nazarian '79, along with thousands of Wesleyan faithful at Gillette Stadium, to watch the Cardinals win their first NCAA National Championship.
Joan (Fishman) Herrington is chair of the department of theatre at Western Michigan University. She works professionally as a director and dramaturg, with a recent stint at the Oregon Shakespeare Festival.
David Lynch joined the Washington Post in November as global economics correspondent and writes about trade and globalization, including the various fronts in the president's trade war.
Steven G. Blum spends most of his time worrying about other people's financial lives, teaching other people's children (at Penn and Wharton), and fending off challenges from his own kids. He would love to hear from any classmates who live with teenagers and have any ideas whatsoever.
Lora Brown Premo is a freelance writer in Colorado Springs. "I have gotten it together again after being widowed in 2011 (my second husband)." She is very proud of her son, Jason, who spent six years in the Air Force as a cryptolinguist with multiple tours in Iraq and Afghanistan. He took six months off to run the get out the vote effort for Bob Kerrey of Nebraska's Senate run in 2012. He attended Amherst College on a full scholarship and graduated in 2016, Phi Beta Kappa, with the economics department prize for best thesis. He double-majored in economics and math has accepted a full scholarship for the economics PhD program at Northwestern University. Makes a mother proud!
After five years enjoying all that Japan has to offer, especially the glorious hiking just a short train ride away and rambles by the river nearby, Elaine Kurtenbach has moved to Bangkok to continue as Asia business editor for The Associated Press. It's a first time to live in and explore Southeast Asia after a career spent mainly in China and Japan.
Dan Greenberger won a third Writers Guild Award for his work on CBS, and by sheer coincidence, the award was presented by his Wesleyan roommate, Bradley Whitford. He said, "It really was one of the proudest moments of my life. Go Wes!"
Brenda Zlamany's 100/100, an exhibit of 100 watercolor portraits of residents of the Hebrew Home at Riverdale,is scheduled to open on September 17 in NYC.
Charlie Spiegel reports on the June wedding of Nancy Traub Chirinos to Greg Larson. The wedding took place on Billy Goat Hill across from the couple's San Francisco home. Nancy is a licensed marriage and family therapist. Happily, Charlie's family law mediation office is only one block away from Nancy's office. He's also active in promoting resistry.net and travels to Republican congressional districts in California's central valley once a month thrrought November. His partner's grand=niece starts at WESU this fall so he expects to travel back in September
Picking up his daughter from her junior year at Hofstra, Charlie found himself saying, among other wishes for her senior year, that he hopes she graduates before her school has its mass gun shooting, a sentiment he wrote about to Press Secretary Sarah Huckabee Sanders. "Sigh. Resist."
Alyson Myers directs a scientific team in the Gulf of Mexico to farm seaweed at large scale for carbon-neutral fuel, feed, and other products with the Department of Energy. She's yet to be swept overboard in spring seas.
On a sad note, Mitch Briskin died on May 27, after a long illness. Mitch's son, Will Briskin '21, just completed his freshman year at Wesleyan. His wife, Laura Gardner, notes that "I lost the love of my life, the sharpest man I've ever known, the best companion ever. Our children lost a thoroughly devoted, fun-loving father, a constant in their lives (and occasional nudge). Friends lost one of the funniest and most dynamic intellectual sparring partners they've ever known. Yet we also gained insight into true courage and grace; how love eases even the worst suffering; how being present is all that is needed."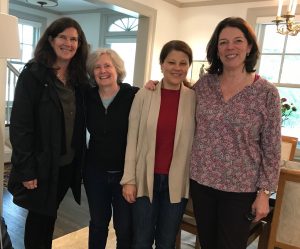 Ellen Jewett, Katie Fox, Jessica Barton, Alyson Myers, and several of Mitch's sophomore roommates, got together in D.C. Ellen said, "We toasted Mitch and all our fond memories of that year."
Amidst this morbidity, I'm reminded that Annie Dillard called art "anti-entropic." Things fall apart, yet art pushes back with creation of more things as others decay. We, too, fall apart. We decay. Yet many of us continue to create, through our work and our art. We become anti-entropic forces in our own right. And, we have procreated. Our children continue to defy entropy with their works and deeds, whether at Wes like Will Briskin and many others, or in cryptolinguistics, or in whatever your children do.
And, just before going to press, we also learned that Kevin Osborn and Peter Wojnar passed away. We will have a more complete entry on Kevin and Peter in the next issue.
Here's to fighting entropy. And, to "less-bidity."
David I. Block | david.I.block@gmail.com
Joanne Godin Audretsch | Berlinjo@aol.com