CLASS OF 2014 | 2017 | ISSUE 3
Jalen Alexander has returned to NYC to work as a data specialist with College Board's Access to Opportunity team which focuses on creating new pathways for student academic preparedness and college readiness. Jalen chairs the Wesleyan Center for African American Studies Advisory Board, and coordinates outreach for the Invisible Men Summer Experience Grant Program, which annually grants two Wesleyan students $5,000 each to pursue professional summer opportunities that they otherwise wouldn't be able to afford.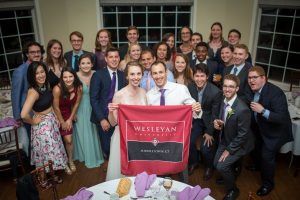 Let's take a moment to congratulate lovebirds Mary Foster and Jeffrey Legunn '13 who recently got married at the Tradition Golf Club in Wallingford, Conn. They started dating while at Wesleyan, and have been together ever since. Leah Rosen '13, Ross Berger, and Adam Watson were in the wedding party. Mary works at PepsiCo in their supply chain department, and Jeff works in the private equity division at LGT Capital. They live together in NYC.
Tennessee Mowrey left the Bay Area in October. "I will go east without using a plane until I get to the Bay Area again, collecting all the sounds I can find—city sounds, linguistic sounds, travel sounds, musical sounds, environmental sounds. When I return to the Bay Area I will make a soundscape that will bring the listener east around the world in 24 hours. Check it out! Follow my journey on my website at headedeast.art or on Instagram @headed.east."
Jennelle Herrick celebrated her one-year anniversary on Maui working for the leading high-end developer in the real estate industry, Discovery Land Company, at the Makena Golf and Beach Club. She obtained her Hawaii real estate license and is a member of Realtors Association of Maui. Jennelle's night activities include poetry, occult studies, and launching a tarot card business for those seeking spiritual development guidance. Her Instagram is @bluewolfeoracle.
After adventures in D.C. and Brussels, Andrew Gottlieb moved back to Connecticut. Getting involved in the local political scene, he met David Knapp '49 and Matt Hoey '78, on whose campaign Andy is volunteering to defeat Ken MacKenzie '82 in the race for Guilford first selectman.
Jeremy Edelberg moved to Hong Kong to continue his career with Citigroup, after working for the company in New York since graduation. He's hooked up with the Wesleyan alumni community, and enjoys the travel opportunity around Asia, having been to 10 different new countries.
I am very proud of you all. Hold each other close and become beacons of light for each other. The Wesleyan way is one of compassion and kindness. Let us share this with the world, especially in these times.
Mary Diaz | mcdiaz@wesleyan.edu