CLASS OF 1993 | 2017 | ISSUE 3
Hi, everyone. I hope you are doing well. We have exciting news to share, including career updates and a new baby. It is hard to believe that our 25th Reunion is approaching, and that it has been nearly a quarter century since we haunted Mocon and Foss Hill. We hope you will consider returning to Middletown to rekindle old friendships, explore the new parts of campus, and hang out with fellow Cardinals this May.
Jacob Bricca writes, "I'm living in Tucson with my wife and son, and teaching at the University of Arizona. Focal Press will be publishing my first book, Documentary Editing: Principles and Practice, next February. It's based on my 20 years of experience cutting documentaries, and features interviews with editors such as Geoff Richman (The Cove), Kim Roberts (The Hunting Ground) and Mary Lampson (Harlan County, USA). I'm currently cutting two documentaries: Marriage Cops, which chronicles the exploits of female police officers engaged in marriage counseling sessions with couples of all kinds in northern India, and my wife Lisa Molomot's documentary Missing in Brooks County, a portrait of a Texas city far from the border where an interior border checkpoint is causing scores of migrant deaths.
Scott Robbins writes, "I am still in Poplar Bluff, Mo., where I am a partner in a five-lawyer firm. My practice focuses on representation of rural water and sewer districts, as well as the general practice of law in small-town Missouri. I was recently elected to the Missouri Bar's Board of Governors, where I look forward to helping preserve Missouri's non-partisan court plan, which has been adopted to avoid judicial elections by more than 30 other states."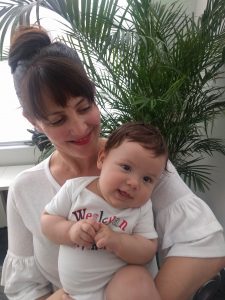 Ivan Sheldon writes, "While my favorite job is taking care of three spirited daughters, I also feel lucky to be working in the thriving Chicago technology scene. Specifically I am advising a number of large firms on highly automated driving/the future of mobility and mentoring leaders of small start-ups. Speaking of start-ups, it was particularly fun to meet Leeatt Rothschild '02 and learn about her great social impact company, Packed with Purpose (packedwithpurpose.gifts). The firm offers corporate gifts with products made by organizations that help individuals and communities in need."
Antonia Townsend writes, "Jack Townsend Marshall was born May 3, 2017. Recruitment starts young. I'm still running my lingerie business, Enclosed. I've recently seen David Derryck, Erica Terry Derryck '95, Chris Mulhauser '92, and Jenny Work Blattner in San Francisco and Lucius Outlaw when I visited D.C."
SuZanna Henshon | suzannahenshon@yahoo.com 
Sarah Estow | sarah_estow@hotmail.com