CLASS OF 1956 | 2017 | ISSUE 3
Congratulations and wishes of happiness to Ron Benson, on "[his] marriage to Shirley Chitty, she 79, me 83, the second for each of us. Her first was 53 years, mine was 55. Each of our spouses had long bouts with dementia, and we met in a support group for caregivers. We began dating about three years ago, after each of our spouses had gone home.
"It is surprising and invigorating to touch strong affections that had not been a part of our lives for a while. In addition, the second wedding for me was an entirely different experience. The first time, I spent the ramp-up period in Seattle, while my bride-to-be carried the load of planning and executing the event. I hopped off a Navy plane in Atlanta on July 2, to be married on July 3 in Athens, Ga. This time I have had the pleasure of being in on the planning of every nuance and floral stem. Though the vows were much the same, their weight and significance have been subjected to greater introspection.
"We will be living in Peters Township, a suburb of Pittsburgh."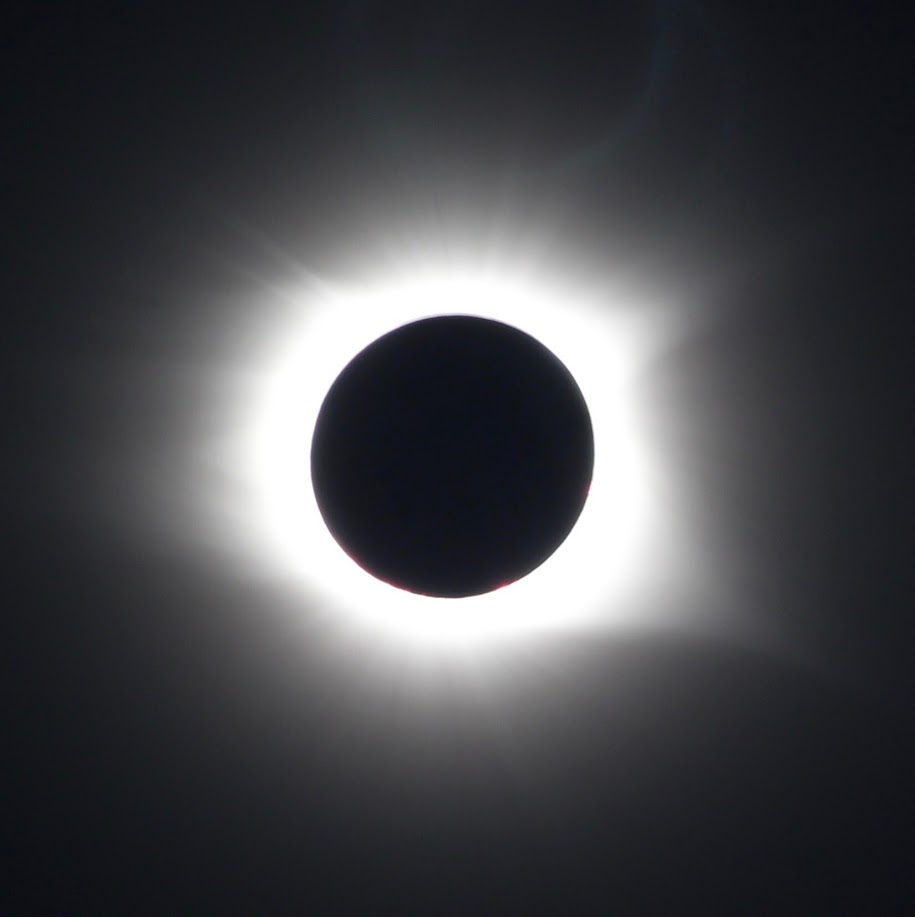 The event of the Chien family's year was August's coast-to-coast total solar eclipse. We moved our annual family reunion from New York's Catskills to a lake house in southeastern Tennessee we had rented the previous October—giving us 10 months to fret about the weather. Forecasts were dire, but we awoke on eclipse day to cloudless skies. Our eclipse was picture perfect! It was Ann's and my 11th total, but the first for 13 of our gang of 20, ages 16 to 94, and including four Wesleyan grads: Al '52, yours truly, Chris '83, Judy '84. It was especially gratifying for our granddaughter Jeannette, whose only previous try was foiled by rain in Shanghai in 2009. Now 16, she mused, "I've waited half my life for this."
More about the eclipse.
Walt Ebmeyer writes, "What a wonderful way to do the eclipse.  A few friends here at the old folks' home planned to drive to Charleston. Even if it snowed, we could still have fun in The Holy City. But more and more people got sick as the great date approached, and we ended up watching a partial on the roof."
Jim Gramentine gave it the old college try. "The day before the great event found my wife and me having lunch in Beatrice, Neb., with Shelia and Bob Runyon and their strapping grandson, Gabriel. That morning we had inspected Homestead National Monument, an official site for observing the eclipse, only to determine that by sunrise it would be hopelessly crowded. Therefore, we and the Runyons agreed to go our separate ways.
"By mid-morning the Gramentines had stumbled upon Fairbury, Neb., which seemed to have it all: few people, a large, treeless field, several porta-potties, and even a nearby McDonald's. Partially cloudy when we arrived, the skies began to darken and then gently to rain.
"The horizon was brighter to the north, so on we drove to a dirt road traversing a corn field, only to move again yet two more times. In spite of the overcast, we enjoyed as much of the partial eclipse as we might have had we stayed in Milwaukee, but by 12:55 p.m. the sun had been swallowed, though not by the moon.
"We returned to Fairbury to drown our sorrows in Big Macs, only to find that the town had been true to its name. All who stayed had viewed a perfect eclipse. Would that some other life-altering celestial event had changed my restless nature before we flew to Nebraska."
Alas! From John Foster: "Hate to say I'm not an umberphile, a word I suspect you must have created. I have been accused of having my head in the clouds occasionally though. Thanks for keeping flickering flame alive for the '56ers." (Actually, someone else made it up, though it's not yet in the dictionary.)
But, Jim Wagner writes: "Betty and I saw the eclipse from Charleston, S.C. My brother-in-law had just moved there, so we were able to combine eclipse viewing with a nice visit. It was touch-and-go with variable clouds all day, but they parted just at totality and we could see the corona and the spectacular 'diamond ring effect.' It wasn't clear enough to see planets or stars near the sun, but a bonus was visible lightning and audible thunder from a thunderstorm several miles away!"
Finally, from Frank Cancian: "Since our retirements from academic jobs in California, Francesca (a sociologist) has become a psychotherapist (part-time), and I've focused on the documentary photography I did with anthropology. Our kids, Maria and Steven, often use the Spanish they learned during many months in Mexico, and granddaughters, Emma and Rosa, are now in their 20s. We all travel a lot.
"My photos, taken in Italy in 1967, are now getting lots of attention there. See my websites: frankcancian.net and museomavi.it.
"I owe thanks to the memories of three Wesleyan people many of us knew: David McAllester, Sam Green, and Jack Paton '49."
That's all for now, folks.
George Chien | gchien@optonline.net