CLASS OF 2010 | 2017 | ISSUE 2
Greetings, Class of 2010, I hope you enjoy the following updates from our classmates around the world:
Micah Weiss and Nomi Teutsch '11 were married on May 14. Aaron Freedman has the following report on the celebration:
"Hanukkah/Christmas arrived in May this year as the kickoff of wedding season for many 2010ers. The Meat Locker (167 Vine: Micah Weiss, Gus Seixas, Zach LeClair, and Sam Bernhardt) and Pine Palace (266 Pine: Sarice Greenstein, Joshua Wood, and I) were both in attendance along with many other '09, '10 and '11 grads from Nomi's crew at the #micahandnomi nuptials. Summer camp weddings are always a good decision. Here's to many more barn weddings with artisanal kosher pizza by David Schumeister. "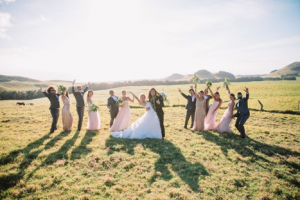 Jonna Humphries has some exciting job news: "I joined Moog Music Inc., and, in addition to marketing for the brand, lead up marketing for our future of music and technology festival, Moogfest. I'm now based in Asheville, N.C."
Emily Hoffman has a wedding of her own to share: "On July 3, I married Alex Kane, a freelance journalist, at the Bronx Museum of the Arts with many of my Wesleyan friends in attendance. I have been working as an attorney at the Community Service Society of New York since September 2014."
Also joining in on the wedding news is Michael Keoni Defranco, who got married on Hawaii's Big Island at Kahua Ranch this past June. Many Wes friends were in attendance including four groomsmen: Jason Krigsfeld, Nick Ajello, Eli Bronner, and Kwasi Ansu '09. It looked like a great time was had by all.
Michael Pernick submits the following: "Despite the craziness in the world, I'm doing my best to enjoy life as an attorney in NYC and be part of the resistance. Over the last few months I've been doing a lot of pro bono voting rights litigation. In my free time, I'm fighting the Republican health care repeal bill (I was born with a heart defect and I've had three open heart surgeries), including traveling to D.C. in May to speak at a press conference on Capital Hill with a few Democratic Senators criticizing the Republican bill."
Hallie Coffin-Gould graduated with her MBA from the Tepper School of Business at Carnegie Mellon. She will be pursuing a career as part of Thermo Fisher's Leadership Development Program. She is engaged to Drew Morris and they are living in Pittsburgh with their two dogs.
Lucas Hidalgo is living in NYC and is working at George Washington High School in upper Manhattan as a youth advocate and site coordinator for the 21st Century Community Learning Center.
Peter Hull graduated from MIT in June with a PhD in economics and has moved on to a one-year postdoctoral position at Microsoft Research in Cambridge, Mass. Peter will then head off to U Chicago—first for a one-year post-doc, then as an assistant professor in the economics department.
Finally, Tony Zosherafatain is living in NYC and regularly sees many Wes friends. Tony is hard at work directing and producing I am the T, a documentary about transpeople around the world (iamthetfilm.com). The Norwegian chapter of the film, I am Isak, was accepted into the Emerging Lens Cultural Film Festival, My True Colors Film Fest, and the Thessaloniki LGBT Film Festival. Tony is also aiming to direct a documentary about transpeople's experiences in Trump's America. In his spare time, he's enjoying traveling to new places and gradually checking off his bucket list.
That's all for this issue! As always, feel free to pass along your life updates anytime.
David Layne | dlayne@wesleyan.edu