CLASS OF 1999 | 2017 | ISSUE 1
Greetings '99ers! We're either so busy surviving the throes of the "sandwich" years between caring for younger children and aging parents, or everyone in our class is starting a company in stealth mode and doesn't want to talk about it. Only a handful of submissions this time. If you enjoy reading this column, please take a few minutes to send us your update for the next column. Most of us recently turned 40 or are about to. Why not share what you're doing for your 40th? It's only through your submissions that we have anything to write! On to the news:
Eli Beckerman was excited to share the news that he got married this fall in the Berkshires, to the lovely Lauren Greenberg. The couple was thrilled to celebrate with Greg Brodsky, Matt Thomas, Adrienne Woike, Amy Schneider, Justin Lee, Roger Yang, and Ben Welch '98. Eli also shared that Zi Mei, who got married last fall, "is the beaming new father of Hunter."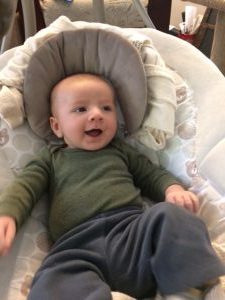 Jennifer Massie finished her second master's in August (first one was social work, second one in behavioral health). And on Oct. 6, her first child, Eli Joseph Massie-Sage, was born.
Darryl Uy and Bob are enjoying newlywed life during their first winter in Lewiston, Maine, where Darryl is the new director of admission at Bates College. I (Kevin) still enjoying the madness of balancing life in a growth company (Zocdoc, best way to find a new health care provider!) and a growth family (three kids between ages of 4 and 5).
C. Darryl Uy | darryl.uy@gmail.com
Kevin Kumler | kevinkumler@gmail.com