CLASS OF 1958 | 2017 | ISSUE 1
I received 16 responses to my latest pleas for items of interest. David Hild wrote of a visit to Colorado. His oldest grandson was married in Vail. He and Alyce are well, but his travel is limited due to a bad hip.
Mel Cote has purchased a new condo and is staying in Art Geltzer's house while renovations are completed. Mel spent New Year's Eve with Dennis Allee who is itching to get to his place in Florida.
Heidi and Tom Mosher moved to a cozy condo by the water in La Jolla, Calif. He celebrated the holidays in La Quinta with his happy family of 15.
Roger Turkington reported three achievements: he turned 81, his poetry (400 poems in two volumes) is available from Friesen Press or Amazon, and he was awarded the World Freedom Medal for his work in medical research. He modestly credits Wesleyan for having some impact on his career.
Burr Edwards and his Finnish wife, Pirkko, helped celebrate Finland's 100th birthday on New Year's Eve in Helsinki. He witnessed a rare sight: Finns conspicuously enjoying themselves! Possibly because it was the warmest NYE for 50 years.
Ed Kershner joined Bart Bolton for lunch on New Year's Day at his home in Upton, Mass. Bart, Ed, Charley Denny, and I plan to share a meal some time in April when Bart and Ed travel to Sarasota.
One more retiree, Bill Higgins, has forsaken teaching and practicing psychology. He and his wife have moved to Weaverville, N.C., to be close to their twin grandsons. He is active with guitar lessons and coursework at the Lifetime Learning College for Seniors.
Dan Woodhead would like to gain the assistance of any members of our class who believe that Wesleyan should have a Latin motto. His suggestion is Vincit Qui Patitur (he who endures conquers). Any support or suggestions would be welcome. Respond to Dan or me and I will forward to him.
I will summarize a long note from Ezra Amsterdam. First, his tennis is improving, especially his backhand! He is still very active professionally. He is a distinguished professor of cardiology and internal medicine, an associate chief cardiology and master clinical educator. He has published his ninth book and lectures around the U.S.
Unusual note: Bill Richards has had a fish named for him. Peristedion richardsi was described and named by Dr. Kawai of Hokkaido University of Japan. This species was found at a depth of 400 meters south of Indonesia.
Bob Terkhorn and his wife, Kay, are very active with the Denver Art Museum. He is travel planner for their major support group and will travel to Ohio and Scotland this year. A lot of work, but great fun, he says.
Art Geltzer describes his granddaughter's dilemma regarding her college choice. She considered Wesleyan, but chose Northeastern because it was urban and she thought she would be more marketable. My granddaughter had similar thoughts.
Dick Goldman and wife Patti are wintering in Key Biscayne, Fla. Dick sold his Massachusetts home and moved to an apartment in Chestnut Hill. He is still practicing law at Sullivan and Worcester in Boston and recently completed his fifth year of teaching law at Boston University.
Toni and John Corkran celebrated their 54th wedding anniversary on Jan. 4. John reports that Bob Furber was a key supporter of the restoration of the Van Vleck telescope and was an honored guest at its rededication. He feels that Bob deserves much credit for persevering despite some health issues. John also mentions that son Tim '90 finished his first full year as head of Capital Day School in Frankfort, K.Y.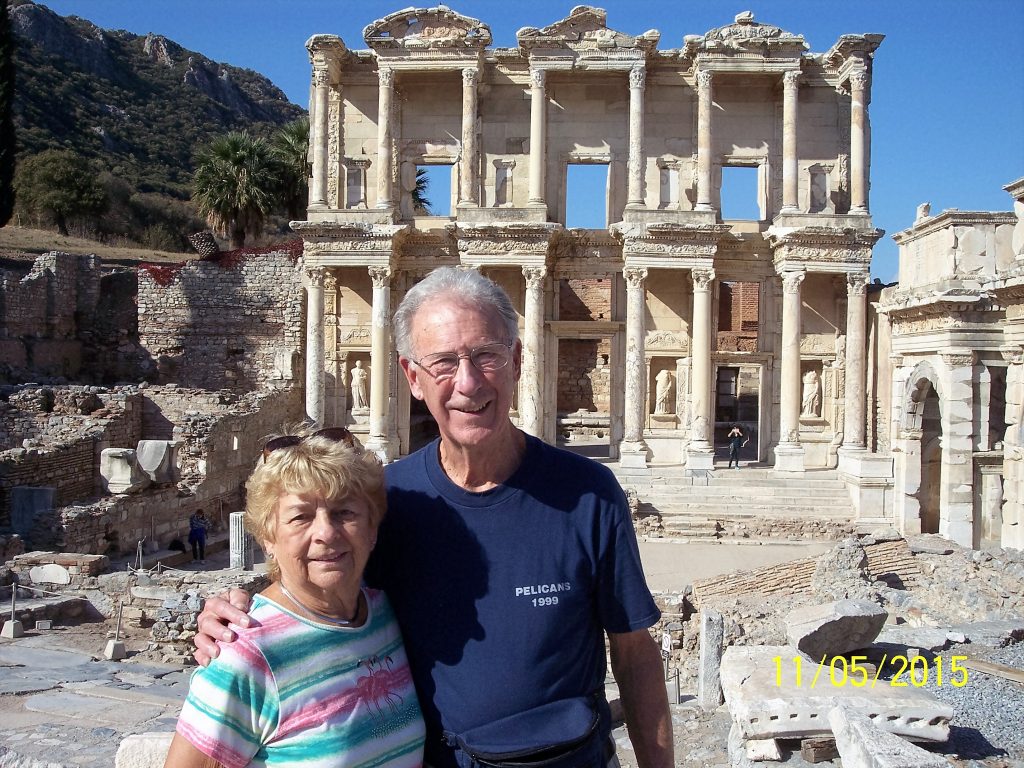 Brenda and Rick Pank will attend a One Day University at Fairfield University. He likens the experience to humanities at Wesleyan circa 1954 sans blue books, papers, and finals. Great topics covering Mozart, da Vinci, Einstein, and creativity. I know I will be on the lookout for this in my area.
Another very interesting experience was reported by Tony Codding. He and a companion left for Athens last October on a trip with the theme, "In the steps of St Paul." After two days in Athens, they boarded a Greek ship and headed for Thessaloniki in northern Greece. Tony had lived in the area for three months in 1951. His next trip is to the Panama Canal.
Kay and I are still in good health or at least believe we are. Children are at a distance so we must travel occasionally. Getting better at bridge and slipping at golf; party skills remain first class. Thanks for your input.
Cliff Hordlow | Khordlow@gmail.com
Apt. 103, 4645 Winged Foot Court | Naples, FL 34112; 239/732-6821