Ali Felman works in, on, and around people as the senior people associate at Intersection, an out-of-home media company. She is basically a professional RA, but with fewer cool parties and more emails. Per her last class note, you can find her in Brooklyn, with everyone else.
Noah Mertz has been bopping between the mountains of California, Mexico City, and Boston for the past few years, where he has been working in outdoor education and local political organizing. He's settling in Albuquerque, New Mexico, to begin graduate studies in French literature and philosophy, and to work with a friend on an environmental project called we.grow.eco (www.wegroweco.org), through which they facilitate youth education and coalescent community events that prompt folks to reconsider the way we act and interact with and within our ecosystem. He tries to pick up one piece of trash (at least) a day.
Adam Rochelle is in LA producing and performing with Matan Koplin-Green '15 as the delusional pop duo Paper Idol. He also makes jazztronica music and glitch-pop remixes as PRNDL, and is still joyfully producing for Kidz Bop. Additionally, he has completed his transformation from dog person to cat person.
James Wilson and Luke Lira started a company called reUser (https://www.reuser.app/) together! reUser makes it easier for universities, hospitals, corporate campuses, and their members to reUse takeout packaging, while saving money and reducing their environmental footprint in the process. They just helped Wesleyan relaunch the Eco-to-go program at Summerfields to start reUsing again on campus. Now, once each student is done with their container, they use the reUser app to exchange it for a digital token that they can keep conveniently on their smartphone until they need a new container. They are super excited to be able to give back to Wesleyan and come together to fight for a better future!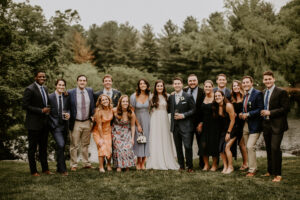 And finally, Meredith Smith and Andrew Mehr married May 22, 2021. Many Wes classmates were in attendance.