Bill Dietz writes: "Hardy Spoehr is a class treasure. Many of you already know that, but I did not appreciate what a treasure he is until we had a lengthy visit with him and Joyce in Hawai'i. Nancy and I were on Maui in late December for the wedding of our son's best friend since second grade, and moved from Maui to Oahu for an additional vacation. We had gotten in touch with Hardy to arrange a visit, and he became our tour guide for the island of Oahu.
"His immersion in Hawai'i and its history is extraordinary, fed in part by his parents' interests and engagement with the island. His father was an anthropologist who studied in Micronesia, so Hardy and his sister lived in Saipan and the South Pacific as children. His father became the director of the Bishop Museum (1953), a fabulous museum located on the original grounds of the Kamehameha School. The museum is dedicated to the history of Hawai'i, and his mother developed a chart of the genealogy of the Kamehameha royal family that is on display at the museum as well as at Queen Emma Summer Palace. Hardy was an early advocate of the need to focus on the health of native Hawaiians. For 25 years he was involved with Papa Ola Lōkahi, the Native Hawaiian Health Board, established by the native Hawaiian community and chartered by the federal government to oversee planning, training, and educational initiatives focusing on improving the national health and wellbeing of native Hawaiians.I was fortunate to have lunch with several of his successors—their respect and admiration for Hardy was palpable.He was also the executive assistant to the Kaho'alawe Island Conveyance Commission, asking for the return to Hawai'i of this island near Maui that was used as a weapons range until 1990.
"Here are a few other insights (among many provided by Hardy) from our visit. Hardy's piping comes from a long history of English engagement with Hawai'i. Piping grew out of the interaction of Scots with the Hawaiian Islands, and Hardy has written a detailed history of piping (Upoho Uka Nui O Kekokia — Scotland's Great Highland Bagpipe). As he points out in his book, Hawai'i's first national anthem was God Save the King, and Hawai'i Alohais set to the tune of a traditional Scottish hymn. The Hawaiian flag has a Union Jack in the upper left corner, and eight red, white, and blue stripes representing the eight major Hawaiian Islands. Hawai'i still has a number of bagpipe bands, and Hardy is a long-standing member of Celtic Pipes and Drums of Hawai'i. He can be spotted in several of the band's scrapbook photos. Consistent with the Hawai'i-Scotland connection, the pipe bands and others celebrate Robbie Burns' birthday. Check out the tune written for his father—Alika Spoehr Hulaby Ka'upenaWong and performed on Burns Night 2018. Hardy was master of ceremonies that evening. Exceptional."
After a distinguished career of 40 years, Daniel Lang has retired from the University of Toronto where he served "variously" as vice-provost, vice-president, and professor of economics. Well, not really. Shortly after retirement, Dan writes, "the president asked me to stay on as senior policy advisor on a part-time basis, which I continued until his term ended a year or so ago. If anyone is wondering what being a senior policy advisor entails, the serious answer is to sit in the back of the room and listen. The less serious, but also truthful answer, is to sit on committees and attend meetings that the president, for whatever reason, wants to avoid.
"Next, in a new and politically inscrutable twist, the minister of colleges and universities asked me take on a job planning and setting up a budget for a new provincial Francophone university.We are heading into the final lap, after which I can hand this over to a real Francophone. I still serve on the boards of governors of a polytechnic college and Roman Catholic seminary, both a very interesting relief from the pressures of a large international research university. Although, for intrigue, the seminary beats them all.
"I still teach a graduate course in public economics, and supervise a few graduate students, mainly because they are smart, and their research topics are interesting. When ambition gets the upper hand, I publish a paper or two, most recently on the economics of human capital in Mongolia as it shifts from a Soviet model of education to a Western market model. I am not sure the shift was the better choice.
"Diane MA'70 and I spend a lot of time playing bridge and tennis and walking the dog. I am in the later stages of my bridge-playing learner's permit, but she is sharp as a tack. We have a big eco garden with lots of fruit trees, vegetables, and plants that make bees and birds happy. Diane is the gardener-in-chief and fearless foe of any squirrel or rabbit that dares to trespass. I provide the stoop labor.
"Our kids surprised us. Kate, who was insistent that she would go to college only in Canada, refused to attend any school other than the UofT, which she did. Now she works at Mount Holyoke and recently earned a master's from Wesleyan. Tim, who wanted nothing to do with a Canadian school, went to Swarthmore, but later got an M.Eng and PhD from the UofT, where now as a sustainable energy engineer. Go figure! Like cats, they always end-up on their feet.
"After taking three long trips into the Arctic in Canada and Greenland, last September we headed for Canada's west coast. We spent a few days in Vancouver, walking, biking, and taking water taxis to get around. For a North American metropolis, Vancouver is remarkably easy to navigate without setting bum in a four-wheeled vehicle. From there we flew north to Prince Rupert, and next took an all-day ferry to Haida Gwaii, where we stayed in a Haida wilderness lodge in a place called Tlell (population 180) on the northeast coast of Graham Island. The Tlell River was 40 feet out the front door. Fifty yards out the backdoor was the Hecate Strait, which separates Haida Gwaii from the mainland. Haida Gwaii, until recently, was called the Queen Charlotte Islands. It was renamed as part of a reconciliation agreement between the government and the Haida people. The islands, many of which are uninhabited and protected as land and marine preserves, are a temperate rain forest. After a series of protests, unchecked logging of the 'old growth' forests came to a stop. The forests and coastal waters were then placed in the hands of the Haida people. We hiked in the forests and along the beaches, and took a Zodiac boat to one of the smaller islands with a Haida 'watchman' to visit a deserted village. On the way back our guides, who like most people in Haida Gwaii hold multiple jobs, stopped and recruited us to give them a hand emptying their crab traps. The entire Haida Gwaii experience was like entering a new, different, and endlessly fascinating world. For this spring, we are planning a hike along the Camino de Santiago de Compestela."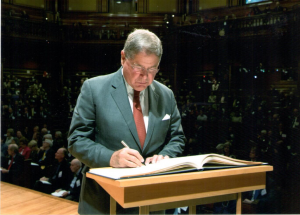 Well-deserved accolades. Robert Barlow is being "honored for his 12 years of service with the naming of the Free Clinic of Central Virginia's lobby." David Griffith alerted me that Alberto Ibarguen "was recently made a member of The Order of Isabella the Catholic by order of the King of Spain." I reached out to Alberto who writes: "Not sure what to tell you about it, except it's true. I was honored to receive it. It's right up there with an honorary doctorate from Wesleyan and election to membership in the American Academy of Arts and Sciences (see photo of me signing the ledger first signed to AAAS founder, John Adams).
"I'm lucky and privileged to be healthy and active at the head of Knight Foundation, where we've helped Detroit come out of bankruptcy, Philadelphia reimagine many of its public/civic spaces, and Miami become a center for the arts. I'm proudest of having imagined and helped fund and organize the Knight First Amendment Institute at Columbia University, about which you'll hear more as the laws of free expression on Internet get litigated.
"The foundation was also an early supporter of Wesleyan professor Erika Franklin Fowler's research into negative campaign advertising. When we started, we had no idea how big a topic this would become until recent elections shenanigans. We're now one of the foundations supporting teams of independent scholars looking at the 2016 election data. It's the first-time Facebook has allowed their proprietary data to be examined by outsiders.
"Again, I feel privileged to be able to do this work, and lucky that Susana and I are headed for our 50th anniversary, our son, Diego '97, is a Wesleyan alumnus and First Amendment Counsel at Hearst, we love our daughter-in-law and have three amazing grandkids. Life has been good."
David Griffith also takes us back to the Wesleyan team that in 1963 set a New England record for the 400-yard freestyle relay, writing: "Van Kennen was the lead off swimmer . . . and gave us such an enormous advantage that all we had to do was put in a creditable performance to win it. I don't recall if it was Clark Byam or Thos Hawley in second or third, but I anchored.Dietz was the alternate." David gives this glimpse of one of our class's greatest athletes: "VK won the 50-yard freestyle NCAA finals in 1966 . . . an event for swimmers from all schools . . . Yale, Stanford, UCLA, Wisconsin, Indiana . . . VK beat 'em all . . . it was at the Air Force Academy. VK then went up to our family mountain cabin in Alma, and from there he hitchhiked with his skis and boots up to Vail for some serious alpine skiing."
The day after David's note, I received one from that very Clark Byam, who lives in Pasadena but often visits Austin, having a daughter there and one in San Antonio. Clark, who as David points out is a "very highly accomplished [lawyer], really," is "still working at the same law firm, now for 46 years in September, but have cut back on my hours." He will "be fishing in Alaska in June for a few days and then my wife and I will be in British Columbia for couple of weeks in July."
Jeff Nilson writes, with characteristic wit, that he is "still taking nourishment and dressing himself," planting herb seeds, "pray[ing] that they might germinate to Saint Fiacre, the patron saint of gardens," celebrating with his wife, Marietta, their daughter, Margaret's, defeat of breast cancer, and taking great pleasure in their grandsons, Isaac (14) and William (11).
Robert Dearth and his wife, Barbara, are celebrating their 50th wedding anniversary this June while keeping up with their grandson, Sebastian, who is visiting colleges this summer. Bob "attended my graduate school's 50th reunion (Darden Graduate School of Business, University of Virginia). It was a hoot."
Bill Dietz calls our attention to Willie Kerr's eloquent description of Bob Rosenbaum quoted in Bob's obituary (Wesleyan, Issue 1 2018): "His stability in unsteady times, his disinterestedness in factional times, his clarity of vision in beclouded times, his grace in ungracious times helped bring Wesleyan through, not just intact, but enhanced." Wise words in our unsteady time.
Our 50th Reunion was such a success that a number of our classmates, led by Rick Crootof, thought of getting together for mini-reunions, a chance to catch up while cheering on those celebrating their 50th. As the Class of 1967 gathered in May of last year, I joined Rick, Dave McNally, John Neff, Will Rhys, and Sandy Van Kennenin the celebration. Rick, Dave, Will, and Sandy, joined by Frank Burrows, attended this year's Reunion, a good time being had by all as you can see from these photographs taken by Rick. Our class seems to be the only one with a significant presence in non-Reunion years. Please think—Hardy Spoehr is—of attending the 50th Reunion of the Wesleyan Class of 1969 and the mini-reunion—we hope a perennial event—of the Class of 1966 in May of 2019. (Photos below by Rick Crootof)
Larry Carver | carver1680@gmail.com
P.O. Box 103, Rico, Colorado, 81332 | 512/478-8968