CLASS OF 2009 | 2022| FALL ISSUE
Hi everyone! This is Asia Neupane and Ally (Heaney) Lamson—we're really glad to be your class secretaries! Please send any news and updates (or any other ideas) to us anytime this year so that we can include it in the upcoming newsletters. Asia is based in New Haven and Ally is in Philadelphia. Please definitely let us know if you are in these areas too!
Congratulations to Michael Green for developing Lynit, an outlining tool to assist writers in structuring and developing their novels. Michael also finished writing his first book, The End of Nobility, which he has been working on since the age of 15. The book will be released in early 2023.
Paul J. Edwards writes, "Happy to report that I will be starting as an assistant professor of English and dramatic literature at New York University after two years as an assistant professor at Southern Methodist University in Dallas, Texas. As well as my engagement to Rebecca Kastleman, assistant professor of English at Columbia University."
Eugene Wong was named CFO of Boston-based start-up Hometap.
Michelle Katz writes, "Last fall, my partner Robert DeSimone and I finally tied the knot at the Bronx Zoo. Rachel Berkowitz, Nina Cohodes, and Joseph Melendez '07 were all in the wedding party, and many Wes alumni, ranging from the classes of '92 to '10 (with heavy '09 representation, of course) were in attendance. And, after more than a decade in Brooklyn, we've moved to Philadelphia, as I am starting rabbinical school this fall. Would love to grab coffee with any other Wes Philly folks!"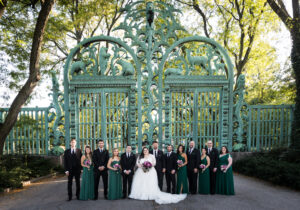 One of those Philly folks is Ally (Heaney) Lamson who is working as an insurance broker for Gallagher, raising three Spanish-speaking daughters, and occasionally playing beach volleyball.
Oriana Korol has been "working as a nature-based therapist for over a year in Canby, Oregon, at the Center at Heron Hill" and was expecting her first child in August!
On August 21, 2021, Ryan Walsh married his wife Kristen at Valley View Farm in Haydenville, Massachusetts. Several Wesleyan hockey alums were there to celebrate, including: J. J. Evans, Bryan Wieland, Scott Burns, John Wierzba, Mike Dorsey '08, and Michael Ruderman '11.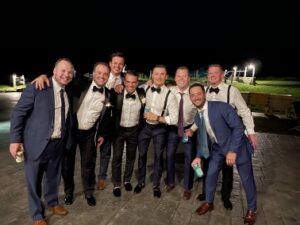 ALLY (HEANEY) LAMSON | allyheaney@gmail.com
ASIA NEUPANE | asianeupane@gmail.com