CLASS OF 1998 | 2022 | FALL ISSUE
Hello, fellow '98ers,
Lately I've been thinking a lot about the world; about Wes and the broad-reaching education we got there; about my fellow classmates (you!) who encourage(d) each other to think and grow and "fight the patriarchy" and make the world better. And I'm grateful for that experience, and for all of you out there who are bringing all that skill and caring and thoughtfulness and brilliant braininess out in the world around you. Keep it up and keep getting support from the world around you (in whatever form) as much as you do your part supporting outwards.
Just a few notes to share this time, all very smile worthy:
Pastor Yolanda Denson-Byers and her wife Tasha welcomed a new child in July 2021. Baby Kalan is a bright and cheerful child—Wesleyan Class of 2039.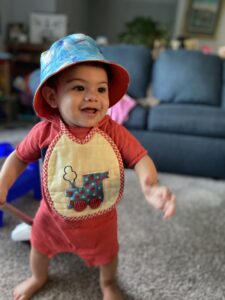 Juniper Hill is still living in Würzburg, Germany, where she works as professor of ethnomusicology and lives with her mathematician-cyclist husband Jesse and two daughters. This year she is immensely enjoying a long maternity leave after the birth of a beautiful strapping baby girl in February. She delights in long walks in the local beech forests and in the Alps and in bike rides along the Main River and local Weinberg (literally 'wine mountains,' or hilly vineyards). Occasionally she bumps into other Wesleyan folk at Sacred Harp sings. When she returns to work next year, she's looking forward to bringing in some international postdoctoral fellows to research the music of immigrant communities in Germany and Central Europe.
After scrolling through all the joyous Reunion & Commencement photos on Wesleyan's Instagram, Marcus Chung is getting very excited to see everyone at our 25th (what, 25th?!) Reunion next May. He hasn't seen many Wes friends recently thanks to a certain global pandemic, but he did start a new role as chief operating officer at Coyuchi, a bedding and bath brand that's focused on premium product that's also good for the planet. It's a role that marries his experience in supply chain along with corporate sustainability. He's enjoying learning about regenerative agriculture, carbon capture, and also pillow shams!
Okay these brought me smiles except for maybe that 25-year thing—"what?!" indeed! But what an occasion to celebrate! Twenty-five years of making the world better in our always-unique Wes way . . . . Here's to 25 more.
Best,
Abby
ABBY ELBOW | aelbow@gmail.com