CLASS OF 1983 | 2022 | FALL ISSUE
Hi Class of 1983.
Yikes, the deadline is fast approaching and too much summer fun is getting in the way of responsibilities. Hey, I'm finally living on the edge! Life is good, dare I say normal, and it feels like the world can breathe again. At least for those of us fortunate enough to have access to medical care, food, shelter, and water. I'm not supposed to be political here, but dang, I'm tired of the news! Be well, safe, and enjoy the journey. Here now is what you all have to say . . . (I believe this is an online version . . . so the links should all work—it's all new to me.)
Alice Jankell has co-founded Putnam Theatre Alliance, and the collaboration of multiple theaters has commissioned three playwrights to each write a piece about land ownership in the Hudson Valley in the tumultuous years between the French and Indian War and the American Revolution. Alice will direct, and they'll weave the pieces together into one epic play: Three writers, three bold protagonists, three unique perspectives, one big journey. Coming next year.
Ruth L. Schwartz is humbled and proud to have created what has become the leading global resource for lesbian/queer dating, relationship, and sexuality education at the Conscious Girlfriend Academy, www.consciousgirlfriendacademy.com. She's also excited to be going to Sappho's birthplace on the isle of Lesvos, Greece, in September, and contemplating a move there.
Kate Rabinowitz went to her first reunion since graduating. "It was so great to see people, who all looked radiant and as I remembered them. . . . Adding [to] the depth of the years we have continued our journey. The school has expanded in so many ways, yet it maintains its essence of sharp intellectual and creative pursuits."
Andrew Bennet's son really took a shine to Wesleyan, applied Early Decision, and was accepted. If everything goes according to plan, he graduates next May—right after our 40th Reunion. With two such auspicious events at once, Andrew will travel 'en famille' for that extended weekend from Madrid, Spain, where he lives. Andrew married a lady from Madrid 25 years ago and has two kids. He put a stop to his career in advertising since the start of COVID and enjoys having time to smell the roses. He writes, "I wouldn't say I'm retired because I may well work again if the right opportunity comes along but I am not looking and only want to work again for pleasure. In the meantime, I also am helping as a volunteer for some midsize animal conservation groups in Spain with their communications and fundraising."
Nicholas Herold and partner Emily have been in Maine for three years, hosting short vacation stays at their Portland Victorian home, in South Portland, and in Eaton, New Hampshire. They are also real estate agents (residential and commercial), but their main focus is how to keep providing an awesome experience for their guests. They operate their nine-room home like a hostel: guests in five bedrooms and three shared bathrooms, and he enjoys morning gatherings in the kitchen drinking coffee and eating quick bread. Last year they spent time in Portugal, Holland, and Belgium, and are super excited to travel to Chile in November.
After 36 years (!) of working for the New York MTA, Glenn Lunden is now a (very, very minor) YouTube star. The MTA asked him to host a three-minute video explaining why the MTA does so much track work in the New York Subway on three-day holiday weekends. Follow the link to learn a little bit about what he does as a subway planner https://www.youtube.com/watch?v=ARBIDMVzKtQ.
Taya V. Glotzer shares: Hackensack Meridian School of Medicine Professor and Director of Cardiac Research at Hackensack University Medical Center Named American Heart Association's Researcher of the Year (hackensackmeridianhealth.org).
Claire Gleitman writes: "I've just published a book, titled Anxious Masculinity in the Drama of Arthur Miller and Beyond: Salesmen, Sluggers, and Big Daddies (Methuen Drama, 2022). In addition, after 28 years as a professor of dramatic literature in the English department at Ithaca College, I've moved to a new role: 'I'm now the dean of the School of Humanities and Sciences at IC. It's a big change for me, but I hope it will be an interesting one. My older son just finished a master's degree in history and is working as an academic adviser and instructor at a tribal community college in North Dakota; my younger son works with at-risk youth and young adults in upstate New York. My husband, David, is happily retired after many years as an associate dean at Cornell University."
Tim Brockett is partially retired and a significant portion of his time is his. He uses his newfound freedom to "pursue happiness" as Alexander Pope and Thomas Jefferson promised. His happiness projects include: creating and maintaining lovely, multi-acre, classical French and English gardens in Montana, working a few months of the year selling books online, reading the 10-volume set Gateway to the Great Books, and keeping a journal and traveling.
And here is one last note item that somehow I missed from several issues ago. Apologies to Heather Rae who recently sold everything and relocated to southeastern Florida to build a functional health and genomics practice (cutting-edge science to assess root causes of chronic health conditions: environmental toxins, nutrient levels, variants in enzymes (genes) of inflammation and detoxification, cellular voltage, and membrane lipids). Anyone interested in going beyond protocols and cookie-cutter medicine is welcome to contact her: HeatherRaeINHC@protonmail.com. Heather—having just started with a foundational practitioner here, I'm super excited to hear of your news! Best of luck and to those wondering what is this . . .  I'd say check it out!
Finally, some '83ers sent in photos. Take a gander!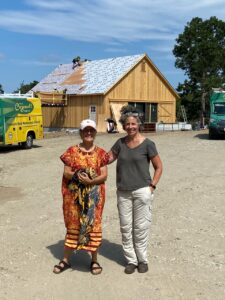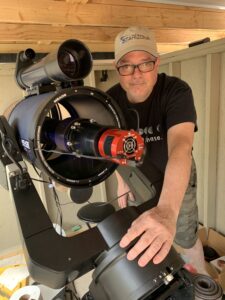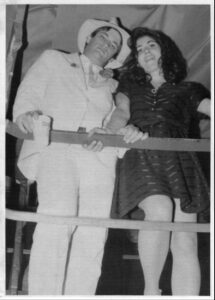 Stay safe, be well, and namaste.
P.S. You can look at the Wes magazine and class notes anytime at https://magazine.blogs.wesleyan.edu/.
LAURIE HILLS | triosmom@hotmail.com