CLASS OF 1981 | 2022 | SPRING ISSUE
Greetings from Brooklyn!
I'm seeing themes in this edition of our notes.  Many of us are going strong, as we continue to do what we do, while others are winding down, and even retiring.
For example, Paul Robinson tells us that he was recently notified "I've been granted a patent (for you computer techies, it's related to the Spectre vulnerability reported a few years ago).  This is my fifth patent overall but my first solo, which is a nice career capstone."
John Hester reports that he is happily retired and enjoying traveling.  He landed in Summerville, South Carolina.
Dave Smith writes that "After 32 years of federal service, I retired from the U.S. Environmental Protection Agency. I plan a combination of loafing, strategic environmental consulting, travel, and home projects going forward. While I enjoyed my time with EPA, having real time for nature, family, my guitars, and novel reading is a wonderful change. Best to all!"
Meanwhile, Michael Getz and his wife Tiziana is delighted that their daughter Melissa "had a wonderful, carefree, pre-omicron wedding in early December of 2021."
That's where we are in life, I guess, as we trudge deeper into the second half of our first century: winding down, retiring, and marrying off our children.
Others of us are still going strong with our careers as well. Ramon Pineda writes that he is happy to have changed jobs and is now working for E.W. SCRIPPS in Corpus Christi, Texas. "With NBC, CBS, CW, and Telemundo affiliates, we produce more news than any other broadcaster in the area." Ramon adds, "News matters to us and we are always looking for great journalists who wish to join our family in Corpus Christi or the other 40-plus markets we serve."  If you know a journalist in the area, please let him know.
Barry "Pono" Fried continues to offer his unique tours of Hawai'i's culture, nature, history, language, music, food, wildlife, sacred sites, beauty spots, and less visited country villages, on Maui, Kaua'i, and the Big Island of Hawai'i.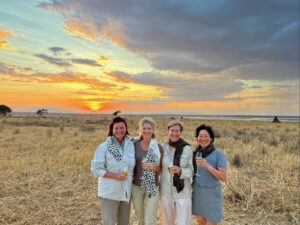 Some of us travel and get together, which we cannot take for granted these days. Belinda Buck Kielland, Livia Wong McCarthy, and friends celebrated Belinda's 60th birthday two years late in Tanzania this October, "when there was a small window of opportunity to travel. There's nothing better than the gift of time with dear friends and roommates." B and Liv wrote that they hope to see more Wes friends soon.
Delcy Fox also wrote that she was "fortunate to celebrate Christmas with my family in the Netherlands, where my son is on a two-year assignment. Since the country was on total lockdown, we took day trips to Germany and Belgium. In November 2021, I enjoyed viewing the Jasper Johns exhibit at the Whitney Museum in NYC with Gary Shapiro. We reminisced about when Jasper Johns came to Wesleyan. In January 2022, I had a Zoom dinner with Miriam Stern Sturgis and her husband Gary Sturgis '77. Miriam and Gary recently welcomed their fourth grandchild, Adina Clare Paulsen. Throughout 2021, Miriam and I did Israeli Dancing together (via Zoom) every Sunday."
As for myself, I can't leave well enough alone. Like many of you, I suppose, I can't seem to stop learning about all sorts of things and accumulating more and more certifications within my craft. After decades of work as a financial professional, I am now a recently minted CFP® Registrant (who does that at 62?). I have also become a certified tax coach through the American Institute of Certified Tax Planners.  I also continue to help on the Emergency Committee for Rojava, as they continue to be under threat of ethnic cleansing, and worse, from both Turkey and ISIS. My 17-year-old is still deciding where to go next fall, which has a lot to do with why I'm not joining others of you in winding down quite yet.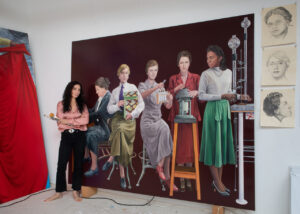 The weekend before these notes were due, my wife and I saw a dance performance at the Brooklyn Academy of Music of T.S. Eliot's "Four Quartets." Yes, the idea is audacious, and was accomplished brilliantly.  I came home to an email from fellow Brooklynite and classmate, Brenda Zlamany, letting me know that her portrait depicting five pioneering women scientists from Rockefeller University will be permanently installed at Rockefeller University, with an unveiling scheduled on April 14th.
And that's seems to be our world: finding windows of availability for travel, seeing friends and classmates in person, or using Zoom and other remote means to get together, moving our work and careers forward, or winding down (by choice, I hope). In our 60s, I am keenly aware that entropy works. As B and Liv remind us, let's not take things for granted, and work, against entropy, as much as possible, in gratitude.
DAVID I. BLOCK | david.i.block@gmail.com
JOANNE GODIN AUDRETSCH | berlinjo@aol.com