CLASS OF 1980 | 2022 | SPRING ISSUE
Thank you to our class contributors—new and old. It's so wonderful for you to share your major achievements, your firsts, your lives postretirement, your family news, your challenges, and your joys.
Susan Gray '81 has directed and co-written a shocking and informative documentary, Earth Emergency, on climate change and environmental feedback loops (which amplify the warming even further, something that is not being taken into account by policy makers). With captivating illustrations, stunning footage, and interviews with leading climate scientists as well as support from Greta Thunberg and Jane Fonda among others, this revealing film, narrated by Richard Gere, examines how human activity is setting off dangerous warming loops that are pushing the climate to a point of no return—and what we need to do to stop them. A clear immediate call to action. The film is available on PBS Passport, indefinitely for now. Even better, the film is divided into five segments, one for each of the climate feedback loops described, and you can find it for free on Susan's website: www.feedbackloopsclimate.com. There is also the link to the launch with the Dalai Lama and Greta Thunberg on the events page (1:20mins), which included clips from the film and interviews with their scientists along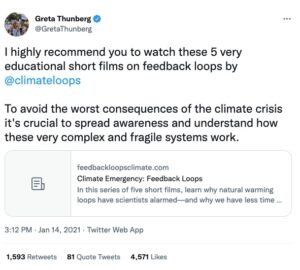 with his holiness. You can find a free curriculum on the website so teachers can teach with the film. The film is being seen around the world on global television in places like Latin America (the Disney Channel), throughout Europe, and soon in Asia and Africa. It was shown to the astronauts on the International Space Station as they looked down at our fragile blue ball and to the British Parliament. The Smithsonian Natural History Museum did a summer film series based around the short films on the web, the International Rotary Club is using it . . . His Royal Highness, the Prince of Wales (Charles) invited Susan and her team to COP26 to show it to his Terra Carta Sustainable Markets Initiative event in Glasgow. Please watch it and spread the word and think of what each of you can do to make a difference.
Janet Grillo noted that she is one of those people who has not contributed in a long, long time. She marked her 10th year as a full-time arts professor at NYU Tisch School of the Arts, Undergrad Film & TV Program, where she has had the privilege of instructing children of a few fellow alumni. She's about to direct her third, independent, fiction-feature narrative film this summer and splits her time between Upper West Side and Upstate New York, mid-Hudson Valley, where there's a thriving arts community and lots of great hiking trails. Janet is a critically acclaimed filmmaker, Emmy Award–winning producer, and former studio executive. She directed the award-winning Jack of the Red Hearts, and wrote/directed/produced the critically acclaimed Fly Away. Trailers can be seen on her website: www.feedbackloopsclimate.com.
For firsts, Alan Jacobs, managing director of Archer Entertainment Group: "I figured 62 is just the right age for my first marathon, so I ran New York in November 2021. Okay, 'ran' is a bit generous but I did finish and, pardon the very Wesleyan word, found the experience transcendent. Sadly, I am now hooked on this activity and about to run a half marathon at the Dead Sea with my daughter, Avia, who lives in Israel. Loving my new life in New York City, busier than ever with work, and launching a nonprofit to benefit Israeli filmmakers."
Greg Brown is pleased to report that he retired on January 3, 2020, from his position as CFO of Swarthmore College, after over 40 years in government and higher education administration. He added, "My husband (Linton Stables, Rice '74) and I look forward to decompressing, traveling, and doing volunteer work. I owe a debt of gratitude for my career to my Wesleyan mentor and work-study boss, Jean Shaw at the Center for the Arts, and to her husband Ralph (Biff) Shaw '51. We try to visit with them whenever we're in Connecticut."
After a long career in IT (which actually makes money), Jessica Ziegler said, "I finally get to paint (which doesn't make money but makes me happy).  I am living in NYC, about to celebrate my 26th wedding anniversary and apply for Medicare—clearly, lots of time has passed!  My daughter is in graduate school here and finally got to go back to in-person classes this semester.  My father died of COVID last year, just before the vaccine was available, but luckily everyone else in my family is fine."
Mitch Nauffts: "First-time poster, longtime reader. After 27 years with the Foundation Center/Candid, I retired as publisher/editorial director of Philanthropy News Digest in June and am happily embarked on the next chapter of my life. My wife, Lisa Leventer (Brown '82), and I live on the Upper West Side, our longtime home, and are lucky to have our two sons, Andy (Queens) and Pete (Brooklyn), nearby. Our apartment has a cozy guest bedroom, and we invite all—but not all at once—to visit."
Will(y) Rowe: "I decided to retire from Booz Allen Hamilton in March 2021 after a 25-year run to rewire and refire. My wife Teresa '81 and I are still in Annandale, Virginia, and were thrilled when Jon Nimer and his wife came by for a visit in the fall.  I host occasional Zoom calls with Jon, Dave Engstrom, Ken Freeman, Dave Loucky '82, Rick Levine, Joel Tillinghast, and Dan Connors. If you'd like to join, please email me at rowewt@cox.net."
Ellen Haller, MD, professor emerita, Department of Psychiatry and Behavioral Sciences, UCSF Weill Institute for Neurosciences wrote, "I'm truly loving life as a retired person! My days are spent doing one or more of the following: pickleball, tennis, strength classes, cycling (California is gorgeous for riding—my favorite bike ride I'd have to say the AIDS/LifeCycle, which is a seven-day fundraising event from San Francisco to LA that I've done seven times so far. It's been canceled the last two years, but we'll be doing it again this coming June. It's an epic ride with tremendous beauty and it's an important cause. Typically, the event raises about $15 to $17 million, which goes to free health care for people with HIV/AIDS in San Francisco and LA), ice hockey (yep, I still play!), and fun classes on topics like opera, Broadway theater, and history. My wife is still working and is extremely busy as the chief of infectious disease at University of California San Francisco. (She says, it's a shit show! The main thing is to just do everything one can to stay safe. She does think that things will improve this spring for sure but as to what comes next, she says who knows.) It's been a full two years of 'yikes!' Our 25-year-old son is a professional close-up card magician and is quite successful in NYC and on YouTube. (danielroymagic.com)
Isabelle (Baudry) McDonald: "Hello from Falmouth, Massachusetts, in Cape Cod. My husband Tom McDonald '79 and I ('79 as well, although I came in as '80) are retired and living here full time since March 2019. I finally closed my private practice of many years as an educational therapist/learning specialist so that I could focus on doing more creative projects and taking care of my parents, who also moved here last year (my dad, Francis Baudry '51, graduated when Wesleyan was still a men's only college). Seems like there are not enough minutes in the day to do everything I'd like, although COVID has caused us all to slow down, and savor what we have right in front of us. . . .  Am so lucky to live a mile from the sea, am an avid pickleball player, gardener, and am teaching myself jazz piano and music theory, which has been on my list for many years.  My child Kamerin (Katherine) McDonald '11 is living with their partner Jen in Amherst, Masssachusetts, teaching voice/piano/guitar out there. Life is going by way too fast. . . ."
Suzy Shedd: "I left my job coordinating accommodations for students with disabilities at Goddard College in November 2021. I'm now very happily back in private practice with friends of mine. We are a multidisciplinary team providing evaluations and therapeutic support for neurodivergent people and their families. Otherwise, I can say Vermont is a great place to live in a pandemic. My partner (Bob Purvis '72) and I have had no trouble accessing our vaccines and boosters, and living in a rural area makes social distancing easier.
Meg Lyons shares her ideas on modernizing an 18th-century home in Connecticut Magazine and The Stamford Advocate (January 11, 2022 issue). Lyons, owner of Meg Lyons Architects, studied architectural history at Wesleyan. "I am at heart a modernist because I live in the 21st century, but at the same time, I have a love for the history of architecture and believe in honoring what came before," she said. "Merging the historical and the modern together creates a sweet spot." Also mentioned in the article is Marcia Santoni '83, P'25.
Marty Saggese: "In January, I just passed my 20-year anniversary as executive director (CEO) of the Society for Neuroscience in DC. My whole career has been in government and nonprofits, though I never would have expected to be with one organization for so long. And surely, I would never have expected years 19 and 20 to be the most difficult. But since our main work is to organize an annual scientific conference for 30,000 attendees from around the world, because of the pandemic our annual meeting was cancelled in 2020 and we were forced to go all virtual in 2021, resulting in millions of dollars in financial losses in each of the past two years, and a real effect on the value we have been able to provide to our member-scientists. During the pandemic, as our 100-person staff has been working from home now for nearly two years, I've found mentoring my staff team to be the most rewarding part of my job at this point in my career. And it gives me the chance to give back some of the valuable mentoring that MY mentors gave me earlier in my career. This has given a focus to remaining connected to others in this crazy time, even when you don't see them in person every day. Meanwhile, I'm staying safe and healthy so far. Here's hoping to see Wesleyan friends at an in-person reunion at some point soon!"
Jim Kent: "This year I have mentored three Wes students on career ideas, and strongly recommend the experience.  They are so bright, energetic, and enterprising, it gives me hope for our otherwise polarized world. My daughter accepted an offer to join the MFA program at Columbia University in playwriting, now making our family a triple Columbia threat: My wife and I both did graduate work there, and in a twist of karma, my daughter found a 5th-floor walk-up (gasp) two blocks from where I lived as a grad student."
Gary Gilyard: "My wife and I have been blessed with grandchildren #3 and #4 this past fall. Both girls, one 6 months and one 5 months, from our oldest and middle daughters. We are so fortunate to have them both move back so we see all four all the time and get to be a part of their everyday lives. My orthopedic practice is great, I'm still loving every day, and as of now have no plans to retire. Our youngest daughter Shelby '16 is in San Francisco. I truly wish the best for everyone out there from the class of 1980."
Jeff Green: "I am finally in Australia, where I met my first grandchild who was born in the beginning of the pandemic. I continue to work in emergency medicine in Milwaukee and Ashdod, Israel, and I started the application for an Australian medical license. I'm planning an endless summer kind of thing, but instead of surfing, it's doctoring."
John Singer told us that he and his wife Karen are enjoying their first winter as snowbirds at their place on the beach just outside of Charleston, South Carolina.  "Karen still practices law full time. I'm taking a sabbatical from teaching, and working on two projects. The first is creating a new curriculum and approach for teaching trial advocacy to law students. I've received invaluable assistance on this effort from classmates Brad Moss and Romi Albin as well as my CSS professor, Rich Adelstein. The second is a law review article addressing the need to classify personal care assistants as a necessity for disabled athletes who need assistance to get through the activities of daily life to be able to compete. The inspiration for the article is the blind-and-deaf swimmer who was a gold medalist in Rio and who trains where I do, Master's Swimming in Baltimore. The swimmer withdrew from the Tokyo games after the U.S. Paralympic Committee refused to permit her to have someone help with critical activities that she is incapable of doing on her own, like getting from her room in the Olympic Village to the dining hall. I also had an abbreviated trip to Colorado to visit and ski with my son, Charlie, earlier this month.  I was actually skiing fairly well when I caught an edge, took a tumble, and tore some groin muscles (I could feel something give as I was falling). This resulted in my first trip in a ski patrol toboggan since I was 15 and training to be a junior ski patrol (I remember the trip being more fun when I was 15). Fortunately, there was no structural damage, and I should fully recover with time. That evening, while watching the Olympics and seeing Michaela Shiffrin fall, I commented to Charlie that I clearly was not the only person who caught an edge and fell while skiing that day. Charlie's incredulous response was, 'Dad, are you really seriously comparing yourself to Micheala Shiffrin?' I replied that Michaela and I both: were skiing; caught an edge; and fell. I conceded that any comparison between our skiing pretty much ended there though. Nothing like children, even adult ones, to keep you humble."
Wendy Davis Beard, "I am continuing to transition from full-time promoter of my husband's practice as a full-time painter to me becoming a full-time writer of my memoir of recovery from both a massive paralyzing stroke and terminal cancer diagnosis in 2007. I continue to develop this account in poetry, prose, and pictures, with the most insightful encouragement and criticism of our classmate, New York–based, award-winning poet Page Starzinger (see her website, https://www.pagehillstarzinger.com,   for her poetry and link to published collections). Unfortunately, our plans to catch up with Page over New Year's were postponed due to COVID.  John and I are currently putting our renovated Wesleyan Chapel studio residence up for sale with the intention of moving to the British countryside, where we loved spending most of last year in lockdown. I look forward to seeing more of you all in America, the UK, or even Australia, where we will continue to divide our time. This was just published on Associated Press's blog for former AP staff, from my ongoing memoir of recovery from paralyzing stroke in 2007."
The Story of Everest'88 Climb—and Her AP Scoop from Lahasa
In 1987, I was asked to join the support team of Everest'88 on its trek into Base Camp from Tibet in the spring of '88. After leaving the AP I had been working full time on the promotion and fund raising to enable the team to accomplish its ambitious goal of establishing a new route up the northeast face of Chomolungma, without supplemental bottled oxygen, fixed ropes or sherpas, to celebrate the 35th anniversary of the first successful ascent of Everest in 1953 by NZ Edmond Hillary and sherpa Tenzing Norgay, led by retired British Army Commander Lord John Hunt.
I ignorantly yet fortuitously asked him (not knowing the appropriate parlance of the climbing world) to be the honorary expedition leader of Everest 88 enhancing its link to '53 which was celebrated internationally for not only being the first to reach the summit of Everest, but for Jan Morris holding the news back to break – in London on the coronation day of Queen Elizabeth. Lord Hunt is quoted in Stephen Venables' book: Everest, the Kangshung Face, that Hunt had been asked countless times to be the expedition leader of subsequent expeditions to Everest, but never an honorary Expedition Leader, which I had made up as I had the title of "medical director for medical student Mimi Zieman whose learned skills were put to the test at base camp as several climbers returned with badly frostbitten fingers, toes and in Venable's case a nose (after spending a night exposed to the elements – not making it back to his teammates' tent after his solo summit).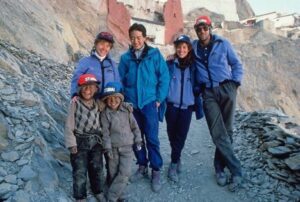 Whilst I was no longer working for AP, I got in touch with the Beijing office to invite them to a press conference with the team at our hotel before the team embarked on a trek through Tibet facilitated by an expensive permit from the Chinese Mountaineering authority – at a time when no Western journalists were allowed access to Tibet after news had surfaced of riots abductions, and violent loss of life in the Tibetan capital and spiritual home of the Dali Lama.
I agreed to make contact when the support team returned to Beijing ahead of the climbers who were still acclimatizing, making advance base camps and assessing their best window of opportunity for a push to the summit.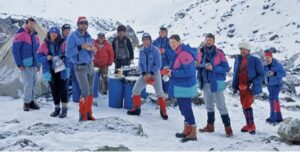 There was much interest in the support team's inclusion of Tenzing's son Norbu. Hillarie's son Peter, an accomplished Alpinist in his own right, had declined an invitation to join the climbing team, it seemed on the grounds the plans to establish this new route seemed too dangerous if not impossible. Ed Webster, another American, Paul Teare, a Canadian-American, joined Robert Mads Anderson (an American NZ based expedition leader) and the British mountaineer Stephen Venables, who Lord Hunt had recommended as essential for this climb honoring the accomplishments of the very "British' expedition of '53.
After our progress had stalled due to heavy snowfall at the expedition's pre-base camp where some of the Sherpa's expressed their unwillingness to proceed with the risk to their precious yaks, the support team left the expedition to return to NY via Lhasa, but not before being stopped shortly before the capital by Chinese police who were most suspicious of Norbu's passport as they incorrectly imagined he may be a foreign an agitator and or organizer. Fortunately, the Chinese mountaineering minder with us explained away the misunderstanding: rifles were lowered, passports returned, and we were allowed to proceed to the Holiday Inn for our first showers, pillows, mattresses and sheets in weeks where because of the clampdown on travel, the staff far outnumbered us, their only guests. When we went to dinner there would be several wait staff in line behind each chair.
But outside the situation was more ominous as army trucks paraded around Potala Palace with armed soldiers standing still and expressionless in the back, their rifles held close to their uniformed chests. Women would approach me, point to my camera and mime making a land line telephone call (as there were no mobiles then) imploring me, I assumed, to get the news out of what I'd seen, but without the language skills or real knowledge of any changes in Lahasa's makeup. I could report nothing more than what I'd experienced with my own untrained reporter's eyes, but when I returned to Beijing, the story came out as Wendy Davis says: "After bloodiest fighting in Lahasa" or something like that!
My good friend in NY AP Photos, Brian Horton, saw this on the wire and sent me a fax to our hotel (also mentioned in the feature, as the sight of our second press conference). Horton kindly and wisely warned me to be careful until I left China as I was still basically a guest of a foreign country until I returned to America. I had too much experience trying to beat UPI in picture placement to give anyone but AP a direct quote anyway! I also remembered our expedition leader Robert A. soberly advising me to hope for the best, yet prepare for the worst, which would obviously require me to return to China to sort out the repatriation of any dead or broken bodies, which we all know happens.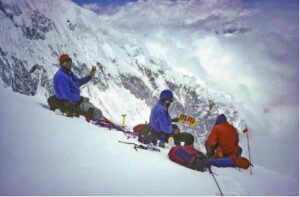 But, finally after weeks of waiting, for a reply to my faxes with the Chinese authority to confirm or deny the climbers were missing, as they were long overdue, I received the great news to share with the families sponsors and press that all were fine except the frostbite that Steamy Vegetables (aka Stephen Venables) had suffered after his successful summit bid with the support of Robert, Ed and Paul. While truly significant in the climbing world if not a must run story as international news. Stephen had not only taken a summit selfie holding up his climbing axe (before selfies were a thing) and before he began hallucinating which made for good illustrated copy on front pages of many British and European newspapers and subsequently in America after AP ran the photo and text. AP among others subsequently covered the final expedition press conference at the Explorers' Club in NY where along with the climbers I had been made a member in relation to this expedition which carried a flag from the Explorers Club, as well as a flag from the United Nation's as Miklos Pinther, senior cartographer from the UN, had joined the support team with the ambition of remeasuring Everest to put to rest the debate about its status as the highest mountain in the world.
With the conclusion of the press conference and team's return appearance on Jane Pauley's NBC morning news program, my career as an Alpinist support member and publicist was over. Good thing, as a major stroke in 2007 left me unable to even trek but still in good stead to write as well as walk and roll with a career in London! Robert has continued both his career on the mountains and marketing, lecturing across the US while Stephen, whom I meet up with in the UK, is a regularly published author now booked as both a lecturer and expedition leader of less ambitious expedition travel. Norbu Tenzing is Vice President of the American Himalayan Foundation which is based in San Francisco. He works closely with charities benefiting the Sherpa community. A couple years ago we met at the premier of "Sherpa" at the Sydney film festival, where he was as a special guest. I am still in touch with Miklos who has since retired from the UN after denied the opportunity to bring his measurement equipment to Tibet by the Chinese Authorities. Mimi is a pediatrician in NYC.
I have lost track of the others except aware that Ed who (long before Oscar-winning documentary Solo was made) established so many new routes across the US there's a book documenting them. He lost a life-changing number of fingers to frostbite denying the same trail blazing solo climbing life he'd led before Everest '88 when he put his bare hands on his metal camera to take a "once in a lifetime" photo. but has been quoted as considering his loss of fingers as a constant reminder of just what a tremendous team effort E'88 accomplished.
Most of us have married and had children, but this is the first time I have written about my first and last report from Everest and AP scoop from Lhasa in 1998! By virtue of our very exclusive access to Tibet!—Wendy Davis Beard
I am very sorry to inform the class of the passing of our classmate Greg Allcroft, on December 13, 2021. I received the news from Larry Levy who wrote, "He was a guy who was always in your corner and always had your back. His old Framingham pals including me, miss him." Read his obituary here.
JACQUIE SHANEBERGE MCKENNA | jmckenna@indra.com