CLASS OF 1978 | 2023 | SUMMER ISSUE
Nancy Chen has moved from Bozeman, Montana, to Calgary, Canada, with her husband Jack. Her daughters live on the West Coast: one soon finishes her PhD program in water conservation at UC Irvine, and the other writes fiction based on Greek mythology and history. Nancy writes that entering her elder years, she has pivoted her leadership coaching toward her passionate niche of emerging elderly women.
Geoff Ginsburg reports that he has finished his tenure at Duke Medical School and has moved to the National Institutes of Health where he is chief medical and scientific officer of the All of Us Research Program.
Barry Gross has retired from his 30-year career in the high-tech industry in Silicon Valley and has moved with his wife Pam "to a great mid-century in Stony Creek, Connecticut, with a koi pond in the middle. Middletown is just up the road, so what comes around goes around I guess!"
Lucy Mize reports that she and her kids have all been separately traveling—she to Spain to deliver a paper at an urban health conference; son Thaddeus '17 to Amsterdam; and daughter Belle '22 to the Annapurna Loop Trail. Lucy is finishing a coaching certificate at Georgetown, significantly along in her doctoral degree program in public health, and still working full time, "and doesn't feel like the work has slowed at all." Lucy included Wes pictures of her kids, herself, and her father David Mize '51: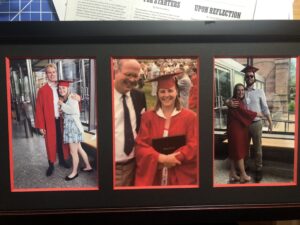 Dave Wilson continues his jazz saxophone career, releasing his sixth recording as a leader last year—Stretching Supreme—a tribute to John Coltrane, which reached a high of #31 in the Jazz Weekly countdown. He remains in Lancaster, Pennsylvania, with his wife Lisa.
SUSIE MUIRHEAD BATES | sbatesdux@hotmail.com
KEN KRAMER | kmkramer78@hotmail.com