CLASS OF 1978 | 2022 | SPRING ISSUE
Greetings friends. As I write these notes, Russia has just invaded Ukraine and the world stands in disbelief. Maybe you, like me, are hoping and praying for a more peaceful world as we go into very challenging times. It's unbelievable to hear words like World War III just as we were beginning to enjoy pre-C0VID activities such as family visits, travel, and celebrations. When this Wes magazine lands on your doorstep in a few months, who knows what will be going on but for now, I hope you and yours are healthy and safe.  Here's what some of your classmates are up to:
Kevin Rose and his wife, Annie, downsized right before the pandemic from their home in Ipswich to a condo in Newburyport, Massachusetts. Their son, Danny '19), was part of a cyber software start-up in Boston that got bought up and has relocated to NYC.
Lucy Mize is based more in Vermont than Virginia this year. She is still at USAID but also started a doctoral program at Indiana University in Global Public Health Leadership and her daughter expects to graduate from Wes this year.
Pete Lewis attended the memorial service for Coach Peter "Kosty" Kostacopoulos in Machias, Maine, in July 2021, where there were about 50 attendees split between family, neighbors, and Wesleyan alums, including: Tom Miceli '81, Robb Sansone '79, Todd Mogren '83, and Frank Hauser '79.  Pete said there were many nice words spoken and a few laughs (including the eulogy line that "no umpires chose to attend"!).
Sadly, Sheryl Ann Smith, PhD died suddenly and unexpectedly just after Valentine's Day 2022. Sheri, as she was known to her Wesleyan classmates, teammates, and friends, was loved by many and will be greatly missed. Here are several tributes to her memory: Jodi Wilinsky Hill, a former roommate, shared, "Sheri was a cherished wife, mother, friend, and sports psychologist. She was a talented, accomplished athlete, gardener (her orchids flourished in her Wesleyan dorm room—no small feat), and beloved daughter, sister, and community member. Sheri was blessed by beauty and grace, patience when needed, the ability to compete equally well individually or as part of a team and had an infectious laugh. She will be missed beyond measure."  Maureen Walsh '79 wrote, "Sheri was one of the original trailblazers in women's athletics at Wesleyan, and in one of the relatively early coed classes. She stood out as a loyal and generous teammate and friend. Sheri played on several 'first' female teams: ice hockey, soccer, outdoor track, and lacrosse. In ice hockey, she took her beautiful and accomplished figure-skating skills to become a fearsome ice hockey player during a time when the ability to skate backward with confidence put you on the first line." Suki Hoagland, Sheri's skating partner at Wesleyan and longtime, close friend, wrote:
"Dear Wesleyan family of 1978,
I write with a heavy, heavy, heart to share that our dear, wonderful, amazing, Sheri Smith-Schneider passed away this week. I am writing this remembrance hoping to celebrate Sheri's extraordinary life but knowing I must first express my profound grief. To say a bright shining light has been extinguished is such an understatement. Life can be so unfair, cut way too short, delivering a gut punch you never saw coming. We have all weathered so much, and now this. Sheri's death is still so raw I can barely think, and I imagine class notes are not supposed to be the forum for expressing such overt emotion, but as Dr. Sheryl Smith-Schneider would have surely counseled, 'let it out, acknowledge, communicate . . . it's ok to not be ok.'
"So, I want to share my journey with Sheri, as just one person of the thousands she surely touched. And while I feel awkward centering this note on my life, I hope it sheds light on Sheri's gifts and you can revel in all the ways she gave to you.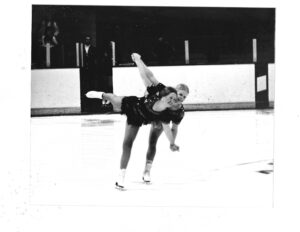 "When I arrived at Wes, fall of '74, I had just bid farewell to my figure-skating career. I had trained up until the day I left for Middletown and the adjustment was hard. Early on I ventured to the rink and found Sheri. Having been a pairs skater I missed the joy of sharing the ice, feeling the air breezing across my face, gliding fast, holding on to someone else.  Sheri picked this up right away and offered a perfect solution. We would choreograph a similar pair routine and perform it in between periods of hockey games. Which we did and it was fun! It helped me let go of one life and embrace a new one.
"Four years later, at graduation, I was holding it all together. I had loved my time at Wesleyan so much, sharing an incredible journey with all of you. I was sad, but eager to start my new life.  Do you remember that glorious day, blue sky, bagpipes as we processed in celebratory red robes across Andrus Field?  After the ceremony, as we hugged and took pictures and relished our accomplishments . . . I saw Sheri and burst into tears. How could I ever thank her for all she had given me? I would miss her so very much. I just sobbed.
"We kept in touch, delighting in each other's lives—marriage, motherhood, doctorates, careers . . . . But by our 30th Reunion, I had used myself up and was struggling with debilitating mental illness. My depression was so overpowering I could barely move. I had flown all the way from Switzerland, and I wanted to enjoy our gathering, catch up, reconnect, celebrate, but I simply could not. Sheri saw through my façade, knew I was struggling, knew I was sick, knew I needed help. She scooped me up, left our reunion, drove me to her home, snuggled me into bed with a warm blanket, closing the curtains, turning off the lights and whispering, 'It is ok, just rest.'
So, dearest Sheri, I guess it is your time to rest. I could never thank you enough.
"During the past few years, as we both recovered from our illnesses, Sheri's stage-four cancer and my bipolar disease, we were exuberant about 'getting our lives back.' We connected often, more grateful, and keenly aware of how precious every single day is.  But . . . I just spoke to Sheri the other day. She was just a phone call away. . . and now she is gone. We have lost a treasure. So, to all of you, let us celebrate this extraordinary life and ensure Sheri's legacy lives on.—Suki Hoagland"
Sheri's obituary can be found here.
Carpe diem and please send us your news.
SUSIE MUIRHEAD BATES | sbatesdux@hotmail.com
KEN KRAMER | kmkramer78@hotmail.com